Different Types of Shoes for Men | Men's Shoe Styles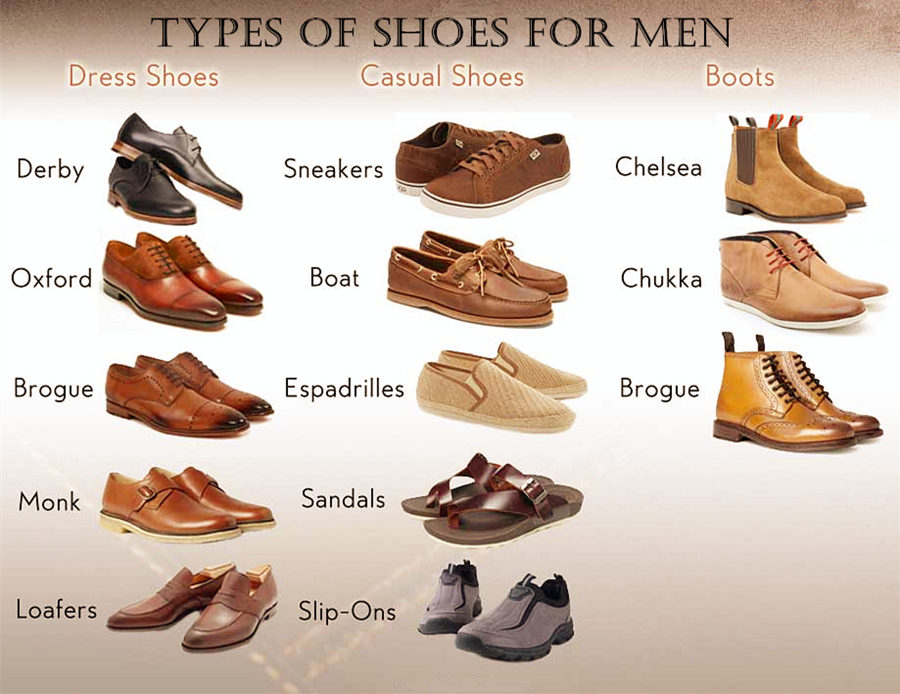 Men's shoe styles can vary widely, so it's good to have a knowledge and understanding of the different options available. Some types of men's shoes are more suitable for certain occasions than others, so take a look at our guide to make sure you make smart footwear choices.
Men's Shoe Styles: Casual Shoes
  Casual men's shoe styles come in so many different varieties that you never have to choose just the same type of your vacation/ outing/ brunch or whatever.
1. Sneakers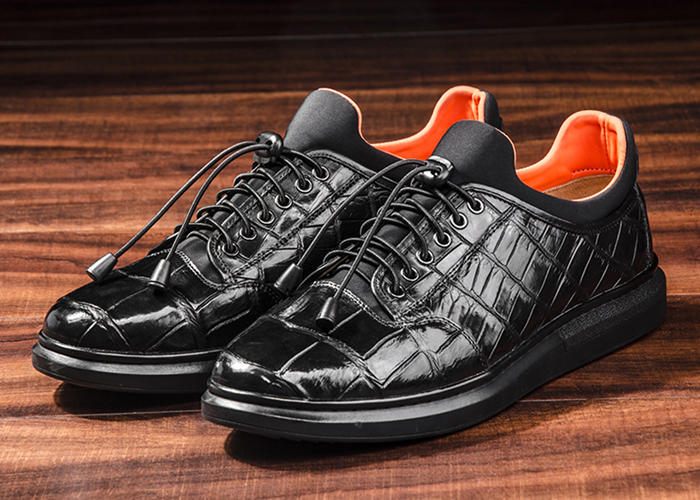 These shoes are also known as athletic shoes. These shoes are specifically designed for sports or physical exercise related activity. However, they can also be worn as casual shoes. They are available for men as well as women. Sneakers fall in the category of soft shoes, which are mostly equipped with rubber soles. A good bottom sole can be made from different types of rubbers like solid rubber and gum rubber.
2. Slip-On Sneakers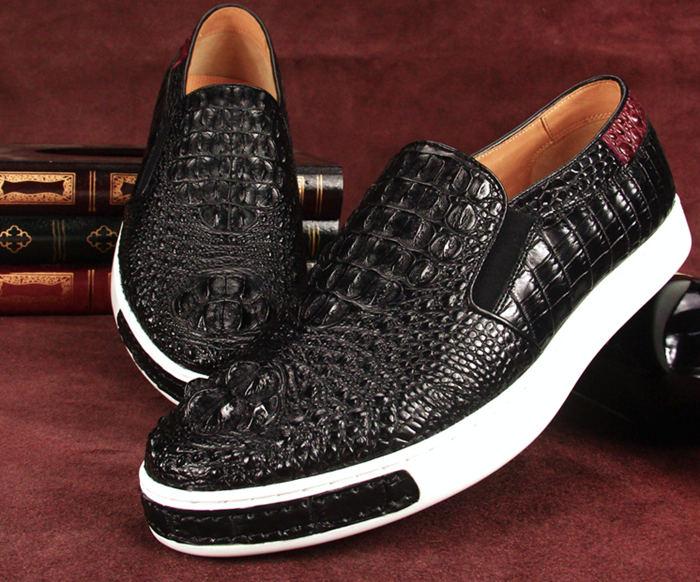 These are basically sneakers but without laces – again simple yet fashionable. These are also perfect walking shoes for men.
3. Sandals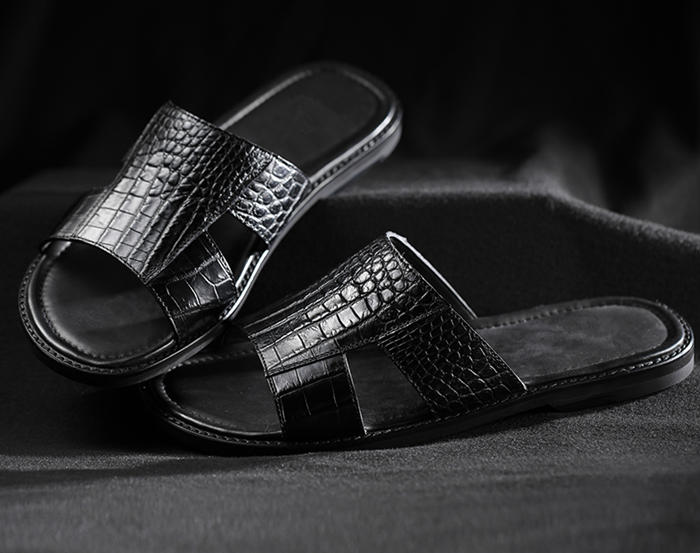 Sandals are one of the essential men's shoe styles that you need, especially in the summers. Days on the beach, walk in the park or a casual stroll in the streets, sandals are the perfect companions. Sandals can be very fashionable as well if done right.
4. Boat shoes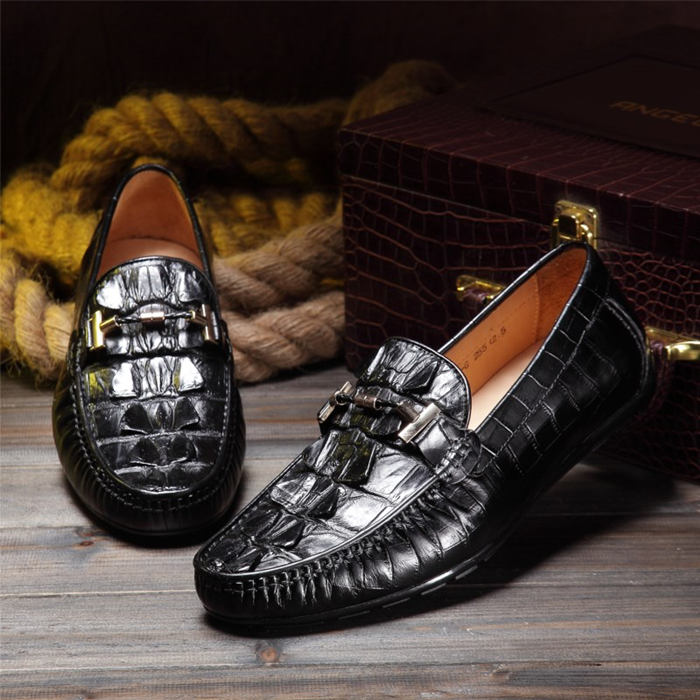 These shoes are also known as deck shoes or topsiders. These are generally made from canvas and leather material. The main characteristic of this shoes is that the upper section of this shoe is made in such a way that repels water and also tends to be stain proof. They are hand sewn and topstitched. They came in both lace and lace-less versions. The herringbone pattern is carved into them.
5. Espadrilles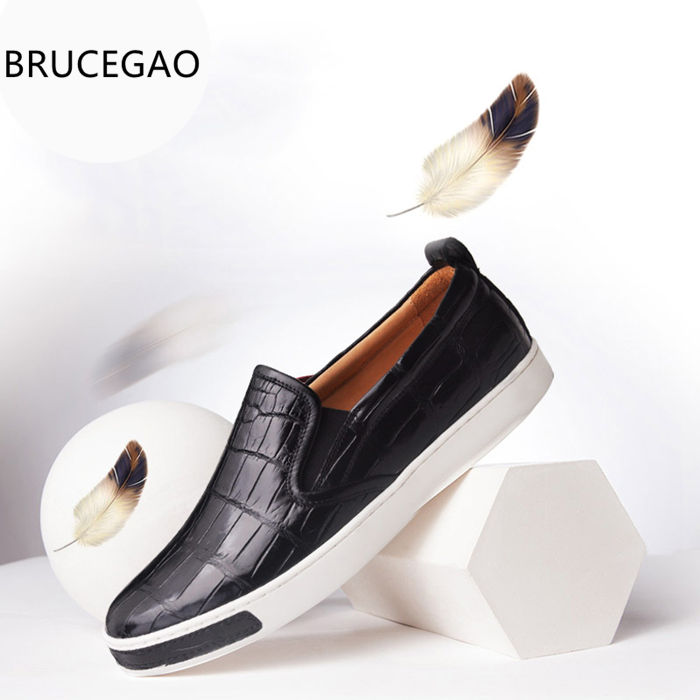 These men's summer shoes are just perfect for your casual outings. These shoes are not only comfortable but incredibly fashionable as well.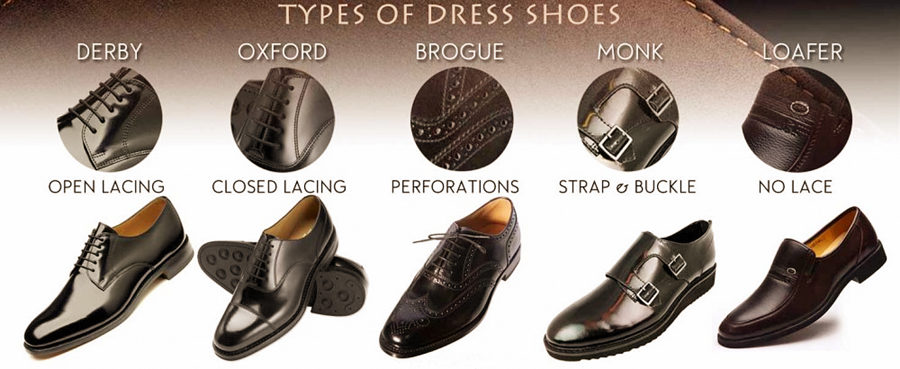 Men's Shoe Styles: Dress Shoes
  Dress shoes may be worn formally or smart-casually. These are the kind of shoes you need to wear with tuxedos, suits, and blazers. For the sophisticated, classy, formal or polished look, choose a pair of dress shoes. The different types of dress shoes include derby, brogues, oxfords, monks, and loafers. Here's how they are different from one another:
1. Derby Shoes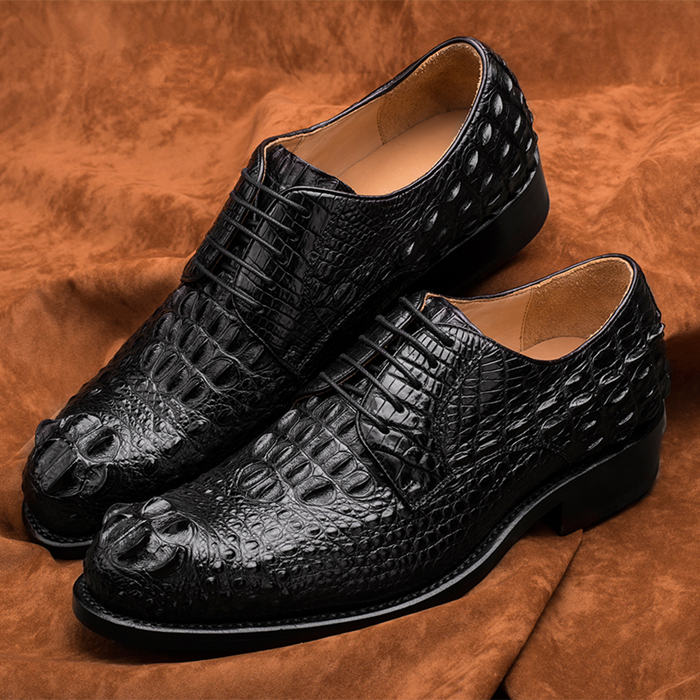 Derby shoes are one of the most common men's shoe styles which can be identified with their open lacing style. These are the shoes for you if you have big feet. These shoes are meant for the formal occasion but they can be matched with casual outfits as well. Latest men's dress shoe styles may come and go with different textures and what not, but a classic pair or Derbys is always in vogue.
2. Brogues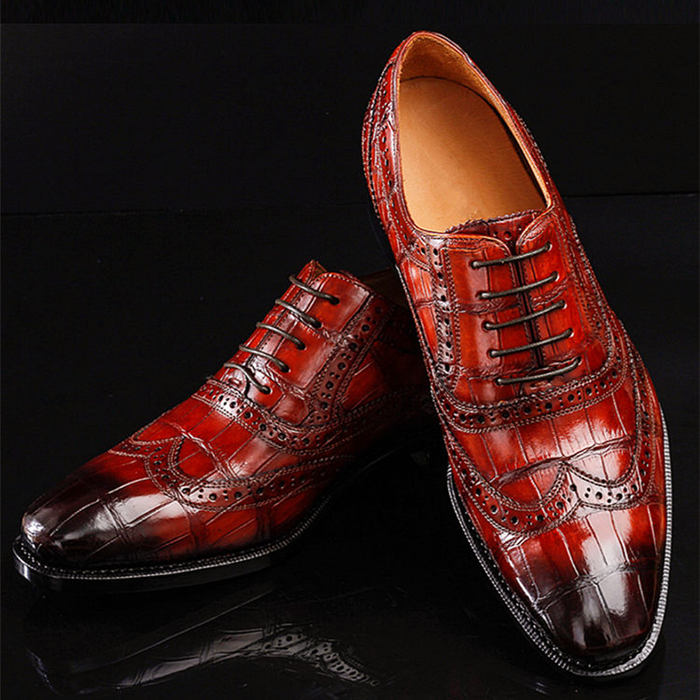 These shoes have perforations and this is the only requirement to be categorized as a brogue. It can be even a derby shoe with perforations which is referred to as a brogue shoe. They also possess separation at the visible edges of the material. They are worn as outdoor footwear. Today they are also worn as casual shoes.
3. Oxfords or Balmorals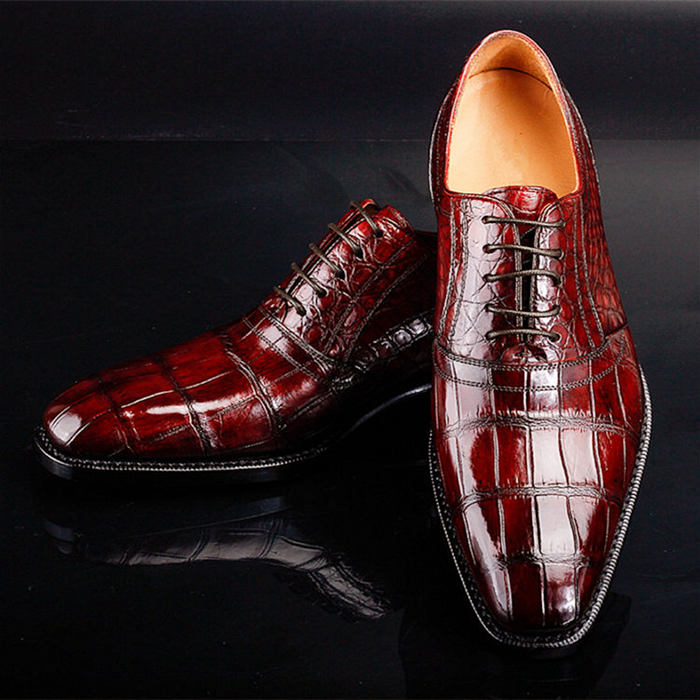 These shoes are meant for men. They are characterized by their round toes and are usually with a cap. They have a close lacing style. These shoes are considered good options for a formal business wear. These shoes are also known as Balmorals shoes named after the Queen's castle situated in Scotland.
4. Monk Shoes
  Monk shoes have no lacing and typically have a strap and a buckle. There are two varieties of monk shoes- single monk (with a single strap and buckle), double monk (with two straps and buckle) There are triple monks as well, but they are not used widely. These are one of the men's shoe styles that are bold but timeless. These shoes can be worn both formally or casually.
a. Single Monk: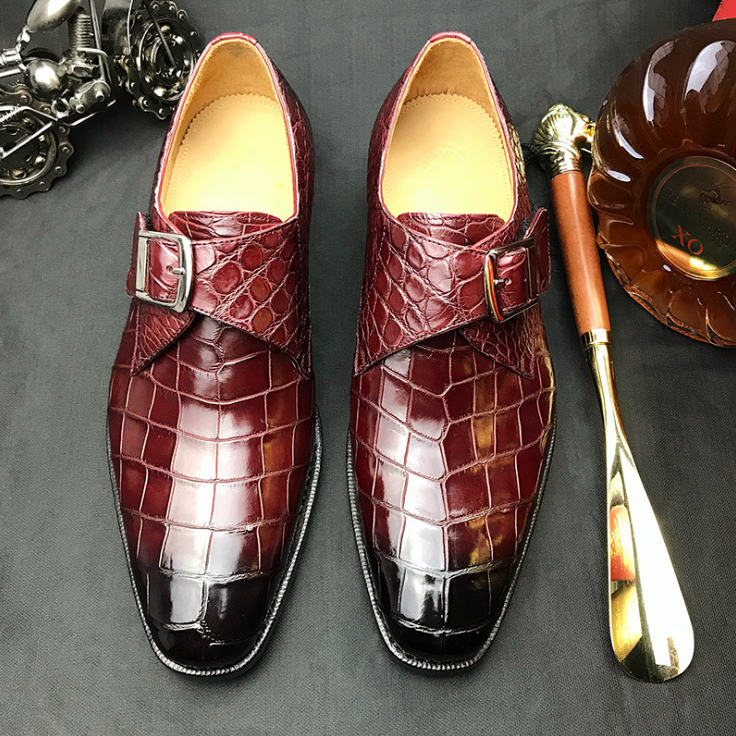 b. Double Monk: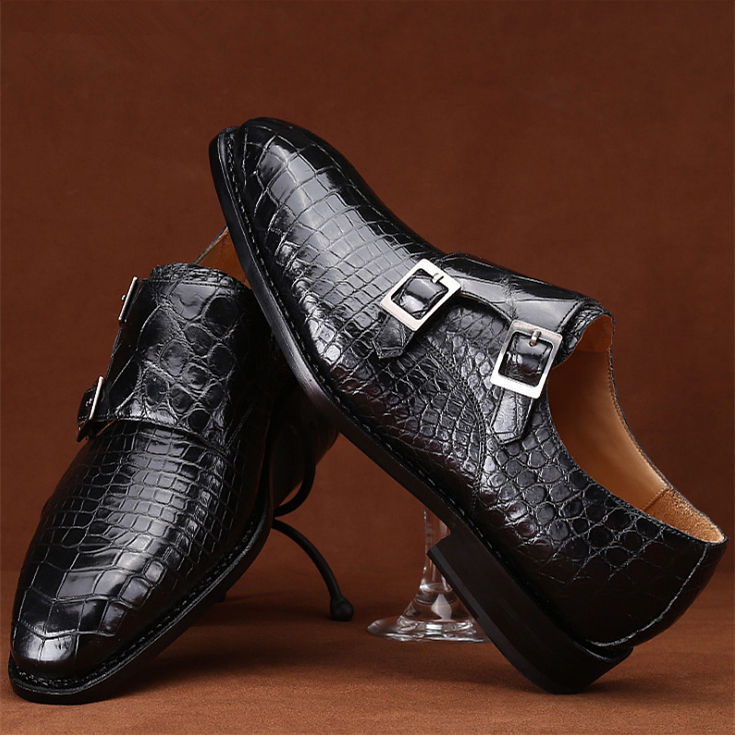 5. Loafers
  Loafers are lace-less shoes that are timeless when it comes to their appeal and style. Loafers can be worn with formal clothes only, through various variants of loafers (in terms of their style and material) are worn casually as well. There are three common types of loafers:
Penny Loafers
Bit Loafers
Tassel Loafers
  I personally prefer penny loafers over a bit or tassel loafers because I feel that tassel loafers are bit overrated and bit loafers feel really old school! Although, tassel loafers are currently very trendy. They even work as men street style shoes.
a. Penny Loafers: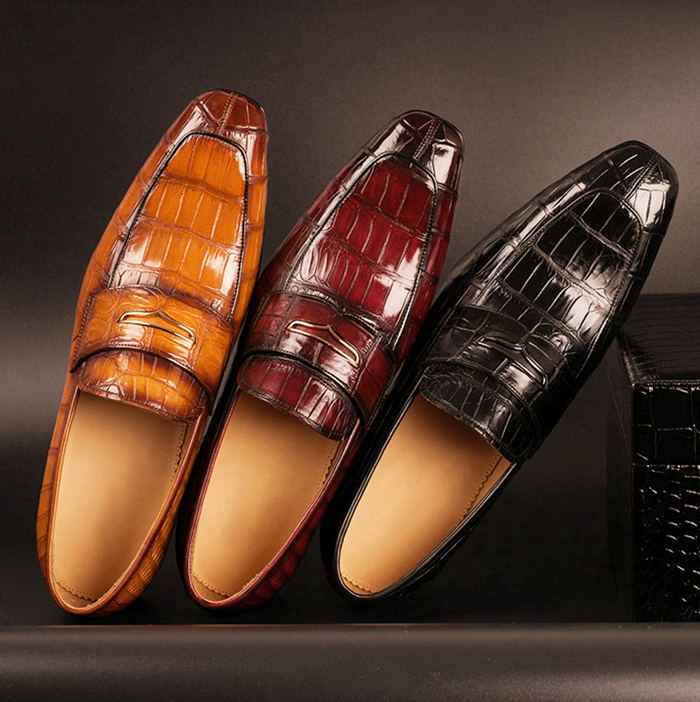 b. Bit Loafers: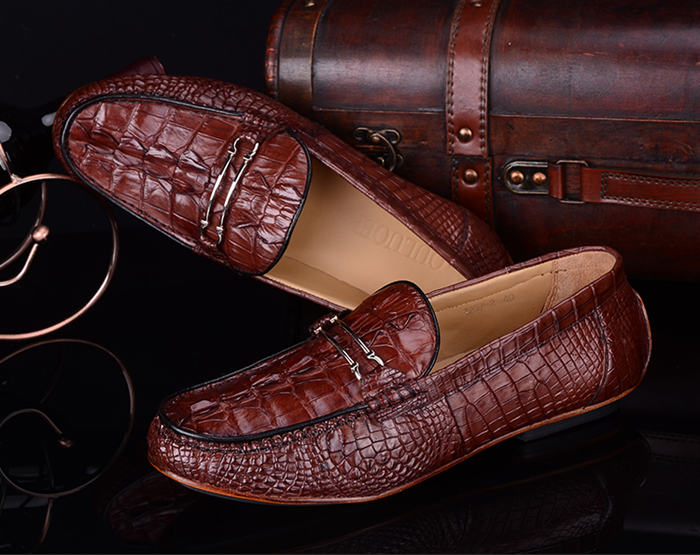 c. Tassel Loafers: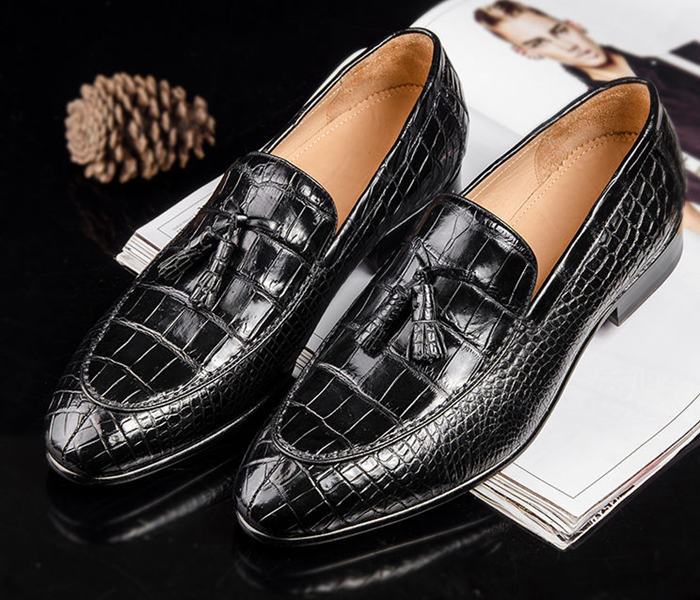 Men's Shoe Styles: Boots
1. Brogue boots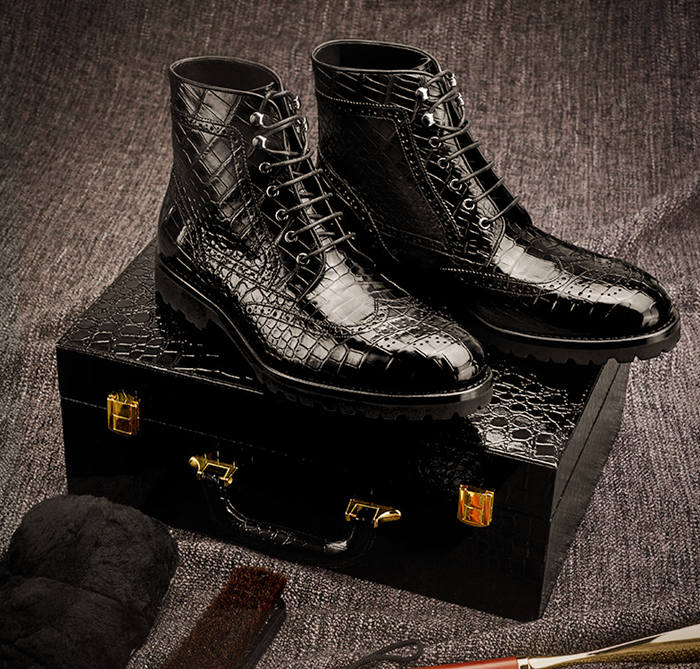 Brogue boots are boots that have "broguing". They're not every man's style, but if chosen well, they look really cool!
2. Chelsea boots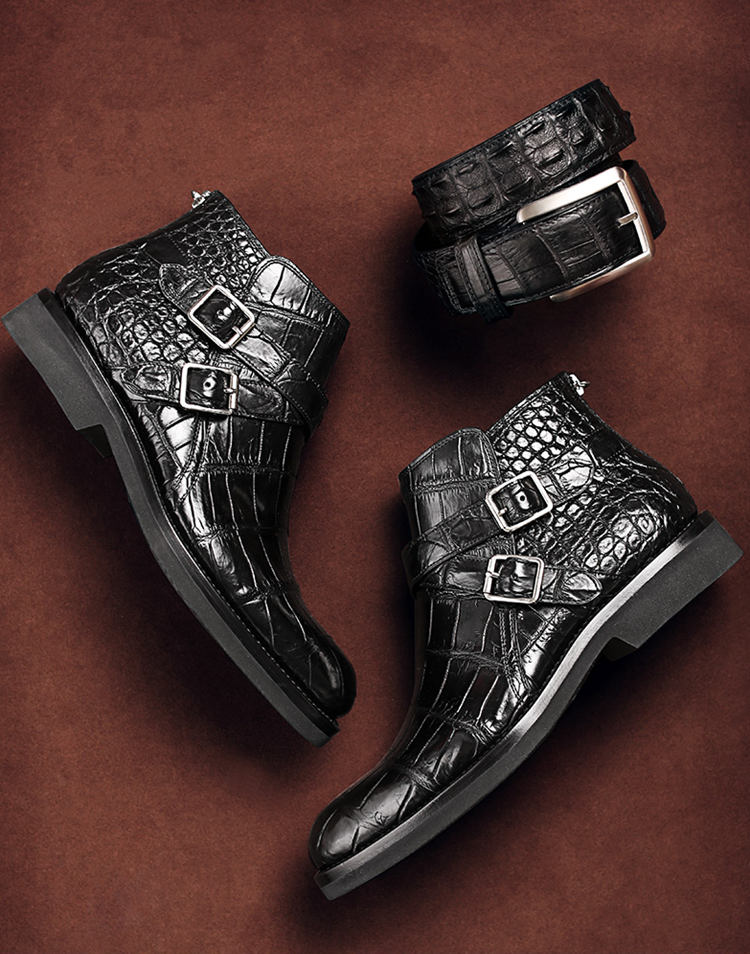 Chelsea boots can never run out of style. These ankle boots can be identified with their elastic side panel. They are perfect for smart casual outings. They can significantly step up your game. These are one of my favorite types of boots.
3. Chukka boots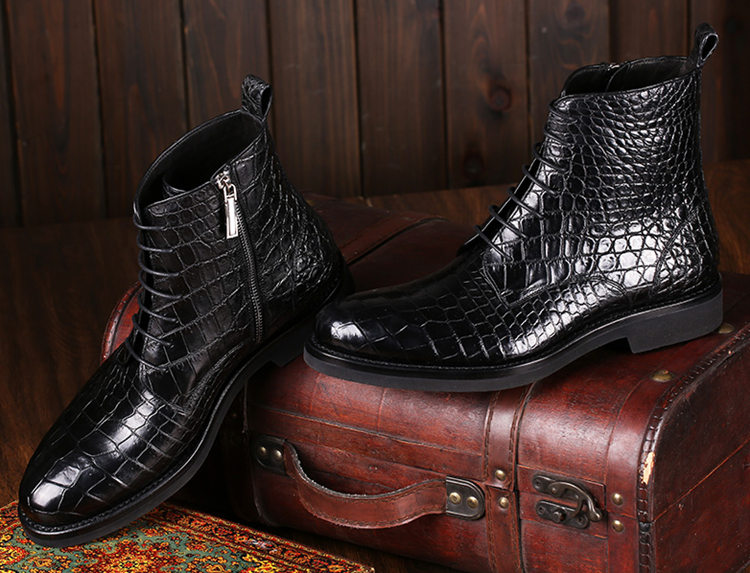 Chukka boots are plain boots mostly made of suede or other leather materials. They have an open-lacing construction (derby construction). These boots are perfect for casual outfits like jeans, chinos etc.
Conclusion
  Whether you use them as your statement piece or as a comfortable method of transportation, shoes will always set the precedent as the most important attire you will wear. Shirts, suits, and other garments all have their day, but there's something special about shoes that light up your insides in a way no other article of clothing possesses.
  The saying "Be comfortable in your own shoes" can be translated literally as one's ease while wearing their preferred footwear. It doesn't matter what you wear as shoes, as long as they make you feel fantastic. I have seen people wear sandals during the winter and wool boots during the summer, throwing all footwear rules out the window. The most important thing is that every step you take should be with the utmost confidence. We just advise you on what looks best and what is best suited for certain situations. So whatever journeys life may take you, footwear will be the constant connection between you and the Earth. Make it special.
Source: http://www.differencebetween.info/different-types-of-shoes
  Recommended Fashion Crocodile and Alligator Skin items: alligator apple watch band, crocodile apple watch band, alligator briefcase, crocodile belt, crocodile bag, crocodile handbag, crocodile wallet, alligator handbag, alligator bag, alligator wallet, crocodile jacket, alligator jacket, crocodile boots, alligator boots, crocodile backpack, alligator iPhone X case, crocodile iPhone X case.