Men's Casual Shoes 2019
  Looks matter for both men and women. It is not only proper to look fabulous but even demanded. Part of being stylish is matching the clothes, accessories or occasion to the shoes you wear. For instance, when going to the office, dress shoes are appropriate. On weekends, slip-on shoes will be the most suitable to wear with jeans.
  If you need the perfect casual shoe style for 2019, you are on the right page. Here are casual shoes made of crocodile and alligator skin for men.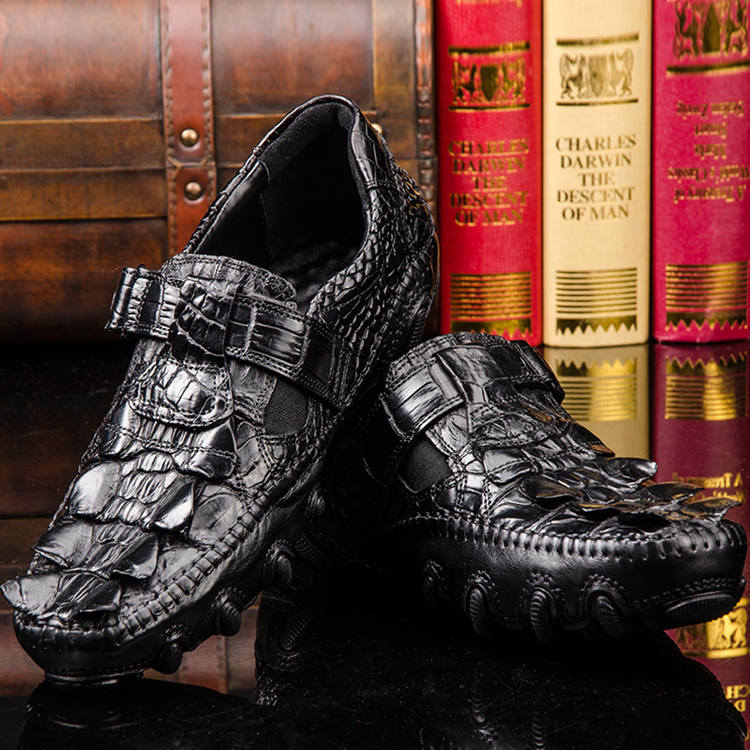 Crocodile Leather Loafers Casual Driving Shoes
  Very elegant with a simple design, BRUCEGAO Crocodile Leather Loafers are a man's perfect companion when driving. The slip-on feature makes them easy to wear. In addition, the octopus style sole design is not only stylish but also functional. It provides enough adhesion to the ground critical for slip resistance during driving. The shoe will also offer a comfy experience when walking.
Features
  BRUCEGAO loafers are made of 100% crocodile skin for the upper material. Cowhide from Italy makes the linings and insoles. Additionally, outsoles are water-resistance, made both with Italy cowhide and rubber. You can buy the shoe in two colors, Black and dark brown.
  Rest assured of pulling off the most stylish look that sets you apart from the crowd. It is hand-made, high-quality and superior.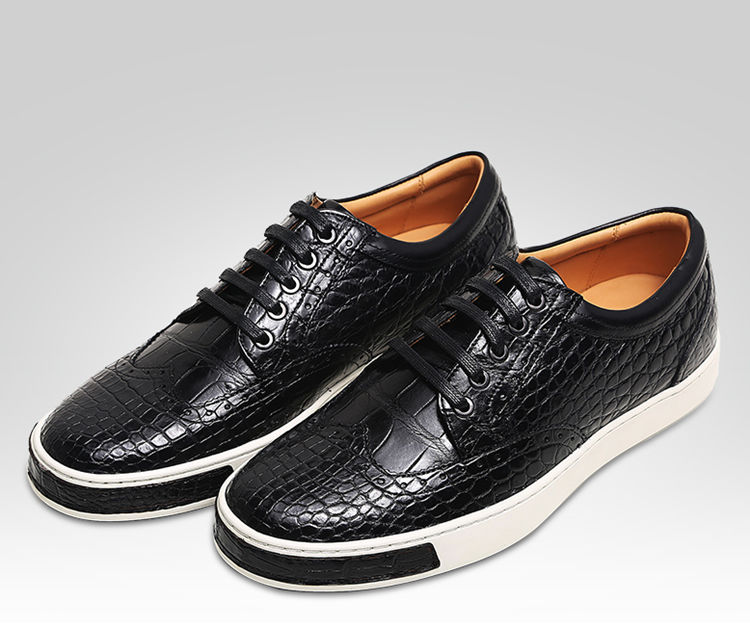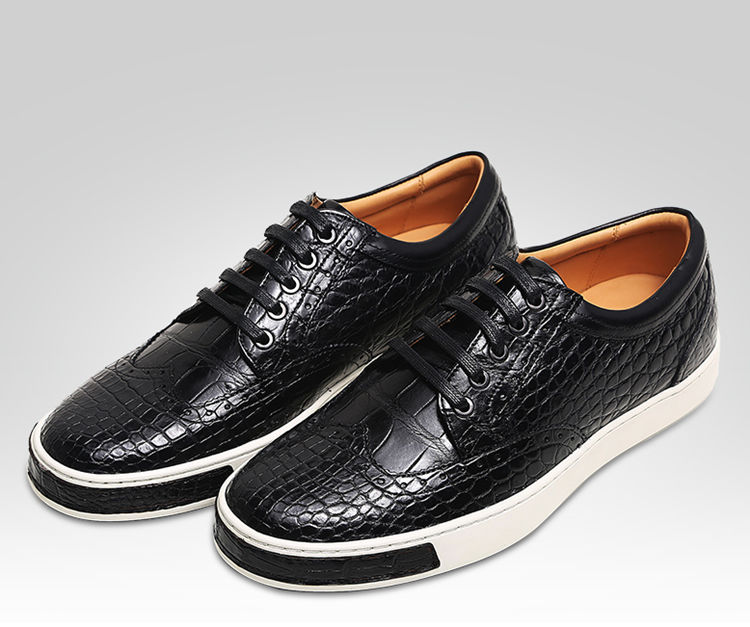 Men's Fashion Alligator Oxford Sneakers
  Oxfords were originally formal shoes. However, there exist great casual Oxfords suitable for occasions that don't call for a suit and tie. Wearing BRUCEGAO Oxford Sneakers will be an excellent experience. Made of only the best alligator skin, it also hand-dyed by the experts with top skills.
Features
  BRUCEGAO Oxford Sneakers upper material is 100% genuine alligator skin. It comes in three colors, blue, black, and red wine. Lining material is Italy cowhide, and the shoe will fit like a glove, depending on your standard size.
  You can wear the shoe when running errands, shopping around in the mall, catching a movie, watching a game or taking a walk in the park. It is fantastic because Oxford sneaker combines formal and casual elements.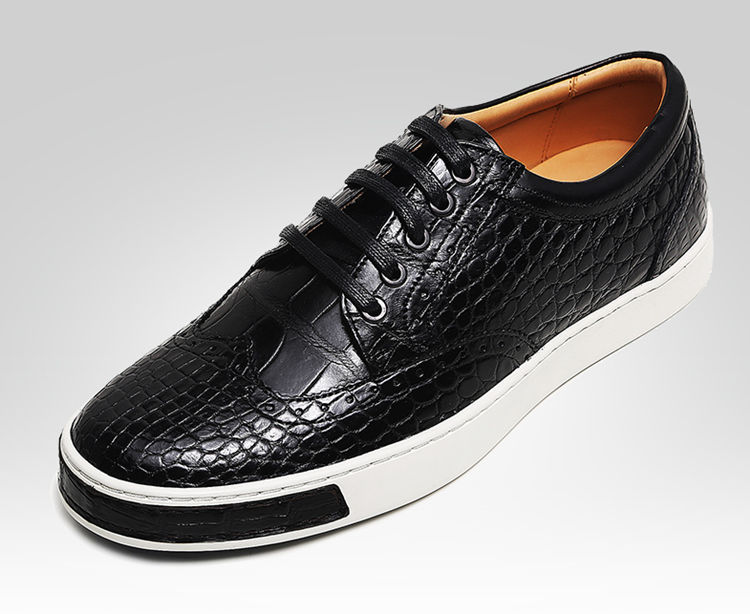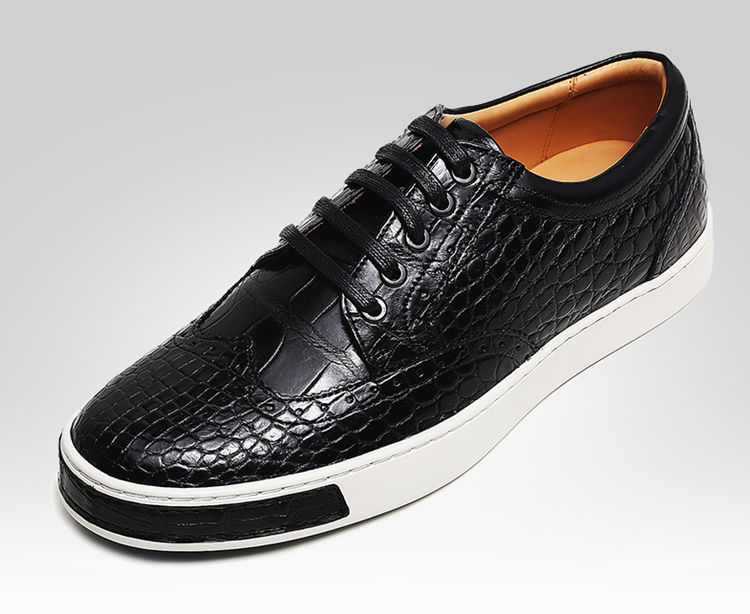 Casual Crocodile Shoes, Black Crocodile Sneakers
  Sneakers are chiefly meant for physical exercise and sports. However, BRUCEGAO slip-on sneakers are also appropriate for everyday casual wear.
The upper material is 100% crocodile skin and linings made of cowhides from Italy. Black is only the color available, but the outsoles are white.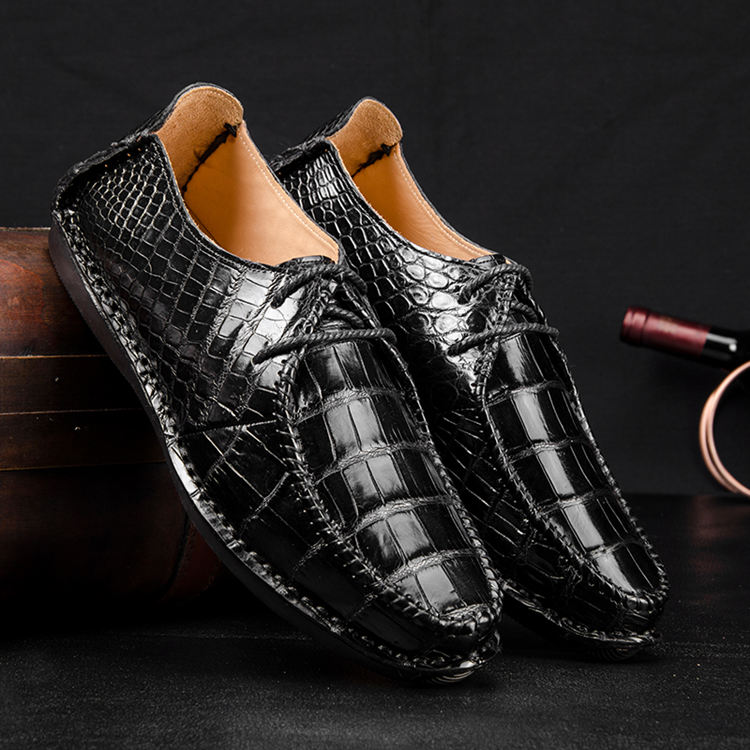 Fashion Genuine Crocodile Skin Shoes
  BRUCEGAO Fashion Crocodiles shoes are sneakers with black laces. They are perfect alternatives to men who dislike slip-on shoes. You can wear them with demine jeans, a shirt, and jacket.
Features
  The shoes are made of 100% genuine leather, with Italy cowhide. They are only available in black.
  You can buy the fashion shoes made by alligator skin shoes but note that the price will be more. Other than that BRUCEGAOs Fashion Genuine Alligator Skin Shoes and Brown Genuine Alligator Shoes, are suitable for any gentleman.
  When buying alligator shoes or crocodile shoes, only buy the best. Fortunately, we sell excellent products.
  Recommended Fashion Alligator and Crocodile Leather Goods: crocodile belt, crocodile bag, crocodile handbag, crocodile wallet, alligator handbag, alligator bag, alligator wallet, crocodile leather jacket, alligator leather jacket, crocodile shoes, alligator shoes, crocodile backpack, alligator backpack, crocodile briefcase, crocodile iPhone case, alligator iPhone case.
Recent blogs: