Best Party Shoes for Men
Are you looking for the best pair of party shoes for men? Here we have enlisted some of the best statement-making options for you to consider: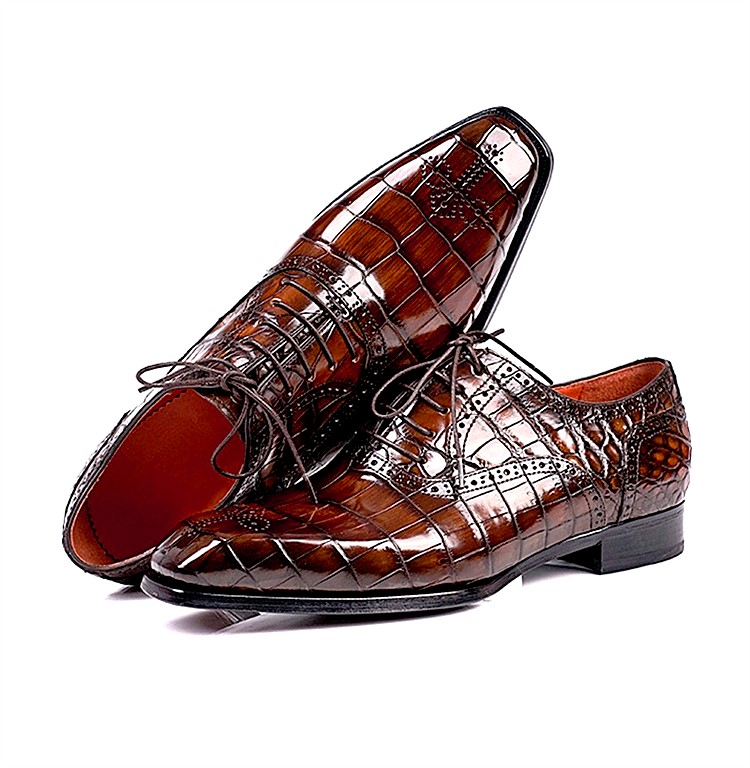 Alligator Business Dress Shoes Formal Brogue Alligator Shoes
Adding classic footwear in his wardrobe is a must when you are looking for the best shoes for men. However, when it comes to finding classy and high-quality footwear, then what can be a better option to consider than Alligator Dress Formal Brogue Alligator Shoes. Because it comes up with all the features that you need in your best party shoes.
Key Features:
A lifetime investment 
Surprisingly, these formal brogue alligator shoes are meant to trend. As alligator leather products are in trend always, therefore, you can easily use these formal brogue shoes for years to come without any problem.
The style that can attract anyone 
These beautiful and stylish formal brogue alligator shoes come up with a unique style made of the natural pattern of alligator skin. These are containing a perfect scale and pattern of alligator skin that are adding to the beauty more.
Even more, the unique style and quality of these formal brogue alligator shoes can attract anyone and will make you a focal point in any party with ease.
Durable and reliable
These brogue alligator shoes are meant to be durable and reliable. The design and sturdiness of these shoes are matchless and can let you experience enhanced durability and reliability in the best possible way.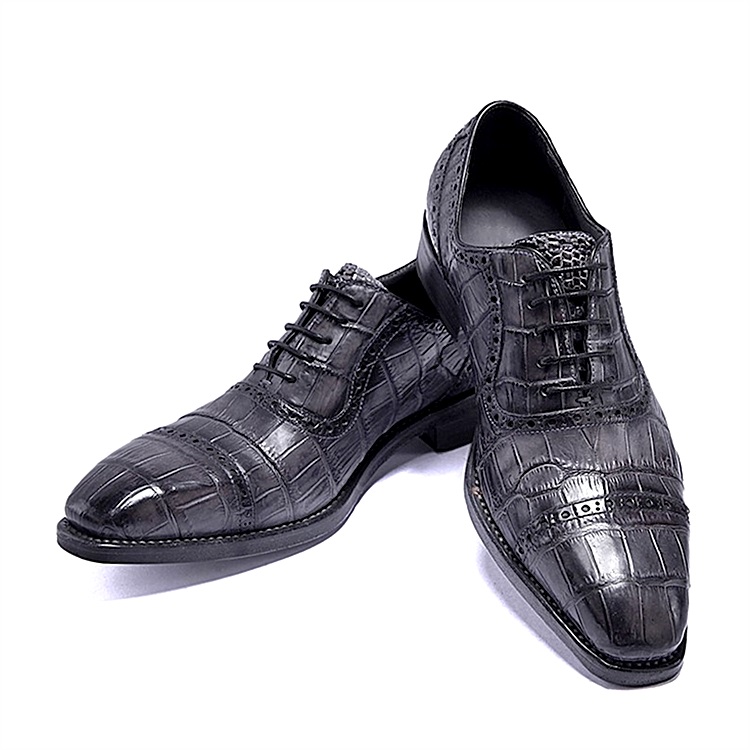 Alligator Leather Cap Toe Lace-up Oxford Classic Modern Business Dress Shoes
Are you looking for a nice footwear option to upgrade your wardrobe? Leather cap toe lace-up oxford dress shoes can be the best for you to go with. These lace-up oxford dress shoes can offer you anything from enhanced comfort to elegance and durability.
Even more, these dress shoes are made of breathable material, so you can experience enhanced foot protection too in the best possible way.
Key Features
Impressive quality
You can trust the quality of these alligator leather cap-toe lace-up oxford modern dress shoes without any doubt. Because these modern dress shoes are made of 100% pure alligator leather. Therefore, these can offer you unquestionable durability and reliability with ease.
Even more, the toughness and stylish look of these lace-up modern oxford shoes can impress anyone easily.
Instant style symbol
It is never possible to dismiss the practicality, beauty, durability and style of alligator leather lace-up oxford shoes. As these alligator leather oxford shoes belong to the luxurious products category. And having a pair of these shoes can convey a sense of status and wealth quickly.
Luxurious feel
It is always recommended to go with the alligator leather lace-up oxford dress shoes because these can offer you an elegant look with a perfectly luxurious feel. These are the pair of shoes you can count on to get an enhanced elegant look with ease.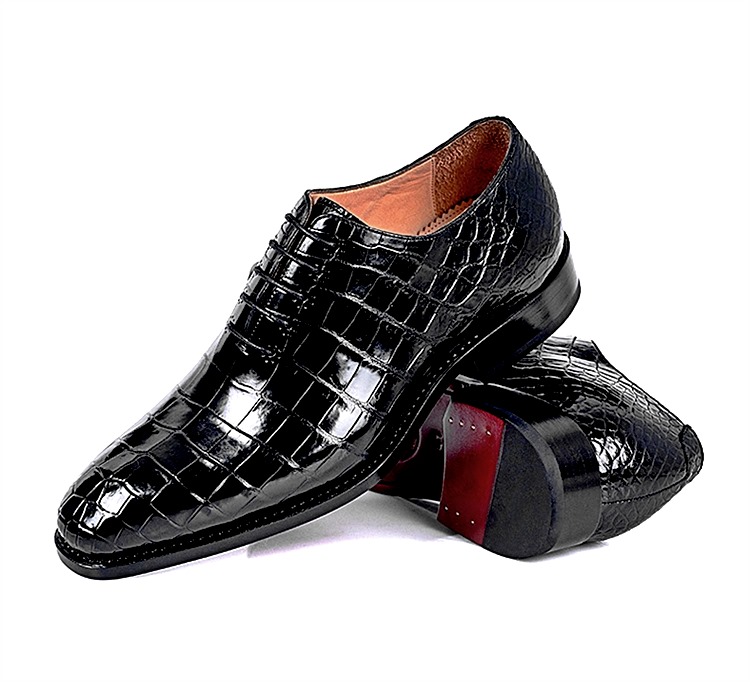 Alligator Leather Wholecut Oxford Shoes
Do you want to invest in luxury oxford shoes? Put your hands on these beautiful alligator leather wholecut Oxford shoes. These are exceptional quality oxford shoes built with all-round alligator leather.
Alligator leather wholecut oxford shoes are exotic and can offer better feet protection and comfort with ease. The inner of these shoes are soft leather and can offer added support and comfort.
Key features
Perfect build
These oxford shoes have been built with expert craftsmanship and can stay with you for longer. The sole has been stitched with leather for outstanding traction. Alligator leather had made these shoes tough enough to survive for years to come without any issue.
Premium quality
As pure alligator leather has been used in the manufacturing of these oxford shoes therefore, you can experience premium quality with enhanced durability and strength. Even, the quality of these alligator shoes is unquestionable too.
High durability
Alligator leather features excellent flexibility and durability. Once you are going to wear these leather wholecut oxford shoes, you can walk around more comfortably. You can even wear these regularly without any fear of unsightly cracks.
Even more, you don't have to be worried about creases because of the flexibility of alligator leather.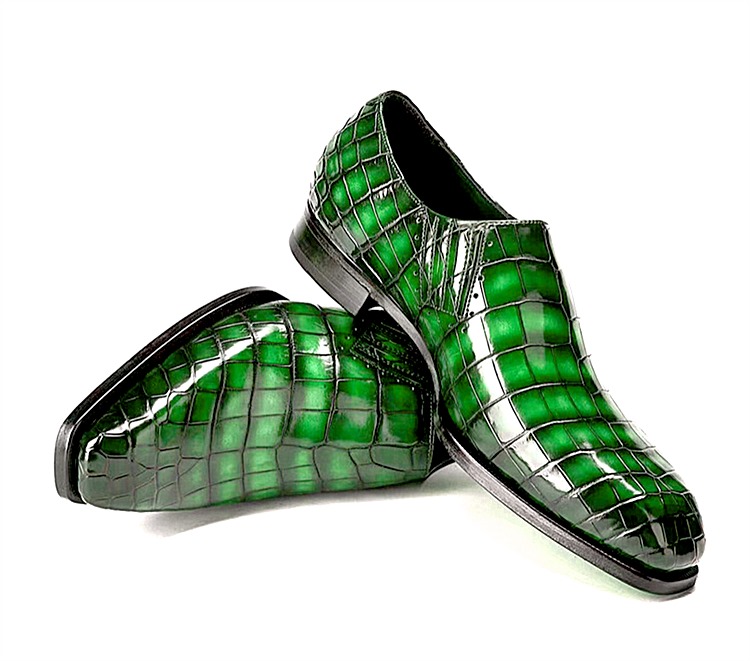 Designer Alligator Skin Slip-on Loafers for Men
Do you want to put a little pep into your steps? Then investing your money to buy alligator skin slip-on loafers can be a smart move to consider. These loafers come up with unmatchable quality and exclusive texture which is meant to offer you a perfect style statement.
However, if you want to go with style trends, still no other option can beat the position of these alligator skin slip-on loafers for men due to various compelling features.
Key Features:
Timeless loafers
These alligator skin loafers are an exciting investment that can be used for a longer time. These have been designed to use for an extended period of time without even any damage. Even more, alligator leather is never going to be out of trend. So, you can stay stress-free from this factor too.
Versatile option
These Loafers are not only perfect to use as party shoes but can be worn on any occasion and with any outfit with ease. In a nutshell, these loafers are meant to be versatile and can add up to your style with ease.
Breathability
These slip-on loafers are made of alligator leather which offers enhanced flexibility, durability and breathability in the best possible way. Due to their breathability, these can help the sweat to evaporate quicker. Ultimately, these can keep your feet fresher even for longer hours.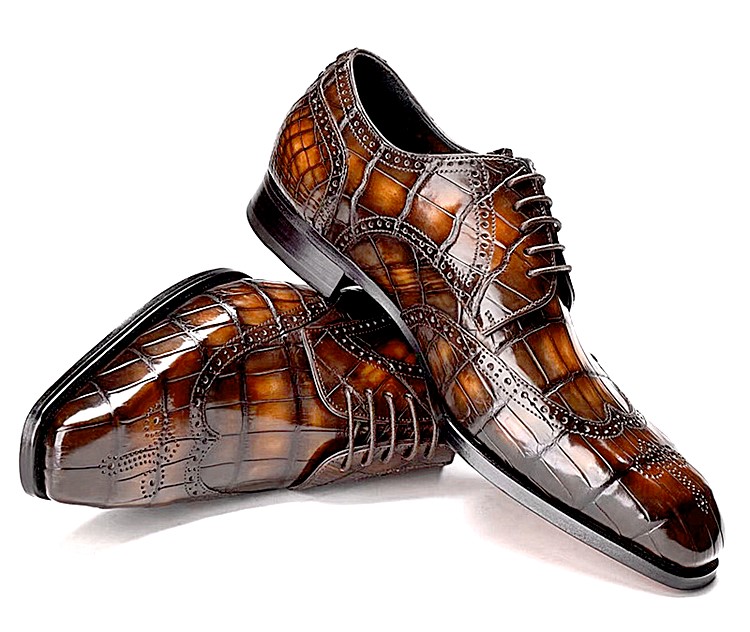 Alligator Hand-Painted Wingtip Derby Shoes Brogue Dress Shoes
Men are always highly selective towards their accessories; therefore, it is important to invest in the best pair of brogue shoes for added benefits. With the advancements in style innovations, considering hand-painted derby shoes can be the best option to have. These are the shoes that you can use for a longer period of time. These are the sturdy and stylish dress shoes that you can wear with any of your outfits to enhance your overall look perfectly.
Key Features:
Enhanced stability
Stability is one of the most important features of alligator leather derby shoes. Even if you are the one who has to move a lot, still these shoes are going to be fine for you to consider.
Hand-painted
Most amazingly, these beautiful and attractive derby brogue dress shoes are hand-painted that contain excellent scale patterns. The beauty of these derby shoes lies on natural alligator skin patterns and expert craftsmanship.
Enhanced foot protection
These alligator shoes can offer your feet more support and protection. You can have a comfortable experience even if you are going to wear these shoes for an extended period of time. These are breathable and reliable too and can offer needed support with ease.
These are some of the most amazing party shoes you can consider with ease to enjoy a comfortable and convenient wearing experience for years.