5 Best Shoes to Invest in Right Now
This season men's style is innovating itself in ways that have never been perceived before. Every day we see new shoe designs, some thriving, others failing, but marketers keep coming up with them. Creativity has become the crux of fashion today, and men's footwear is the focal point of concern here. In this article, we have singled out the 5 best pairs of shoes that all men must invest in, as it will make their fashion thrive.
Best Shoes that deserve investment:
We shall first discuss the features of each of these shoes mentioned below, then we will have a brief overview of their benefits. The best shoes for this season are as follows: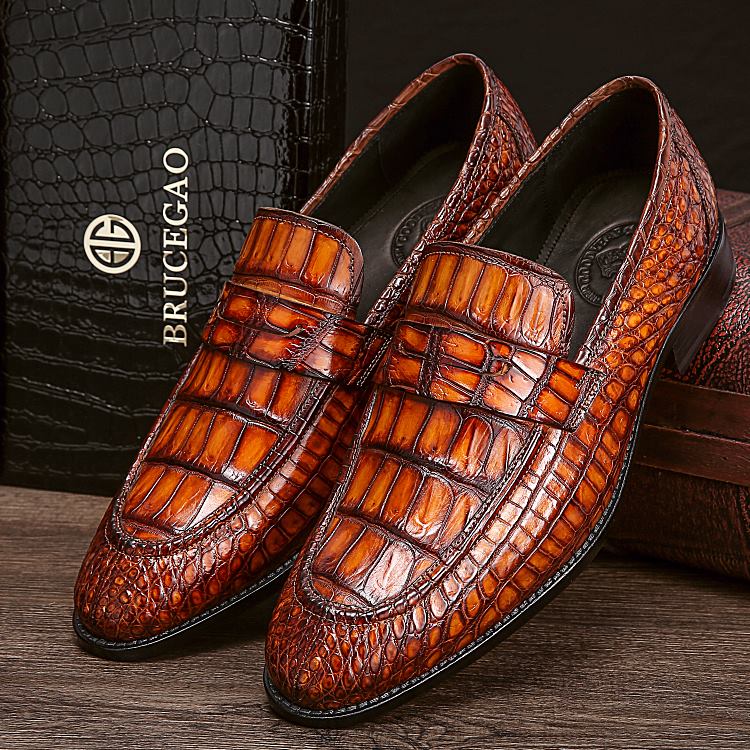 Alligator Leather Penny Slip-On Leather Lined Loafer:
These are 100% hand-stitched shoes made with original alligator leather. They do not require you to tie any laces, all you have to do is slip on your feet inside and voila, they are on you, fitting perfectly (that is if you wear the right size). Moreover, these shoes come in several colors which allows you to be more versatile in your dressing. You can get them for $820 from the company website.
Benefits of these shoes
Some of the benefits of these shoes are as follows:
These shoes are water-resistant. In other words, you can wear them even if there is consistent rainfall to a certain degree, and you do not have to worry about them getting damaged all the time.
These shoes are designed for comfort. With the slip-on method, you can take them on and off any time you want without a hassle.
Its sole is comfortable but has a firm grip. That means you can go all out in action without the fear of tripping over.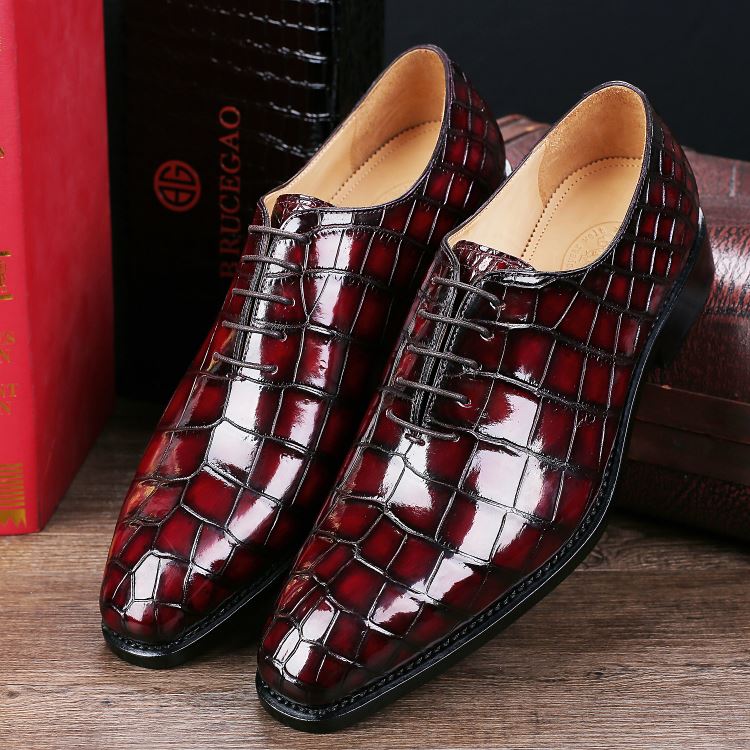 Men's Classic Alligator Leather Dress Shoes Goodyear Welt
This is another range of classic alligator's leather shoe, by the organization, but have features that are strikingly different. Its brown color is especially high in popularity, and it has a "walled" design, which makes it the perfect wear for a lot of occasions. They are available in a total of 3 colors and you can buy them for $930 at the website.
Benefits of these shoes
Some of the benefits of these shoes are as follows:
No shoes can parallel these in style. If you wear these, you are sure to impress a whole lot of people.
They will provide you comfort regardless of the position you put your feet in.
They are made with the best quality materials, making them one of the most durable shoes on the market.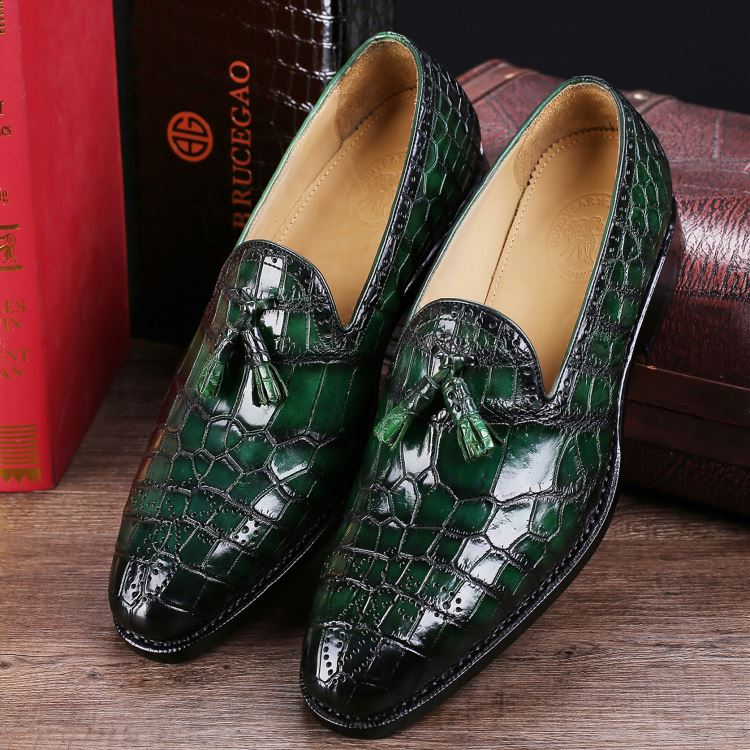 Alligator Leather Tassel Loafer Comfortable Slip-On Dress Shoes
Not only are these shoes made up of alligator leather, but their texture also resembles the skin of an alligator, especially the green variant of these shoes. These shoes are the ideal luxury wear, and their shine is something to especially appreciate. Although they are slip-on shoes, they have tassels on the places of laces that give them a unique impression. You can get them for $920.
Benefits of these shoes
Some of the benefits of these shoes are as follows:
With these shoes, you can relax since there will be no wear and tear.
They have a very elegant look and are ideal for casual wear (but will work as a formal wear just as good).
It is extremely easy to maintain these shoes. All you have to worry about is polishing them.
These shoes blend in with any kind of dressing, to boost your confidence and put you at ease.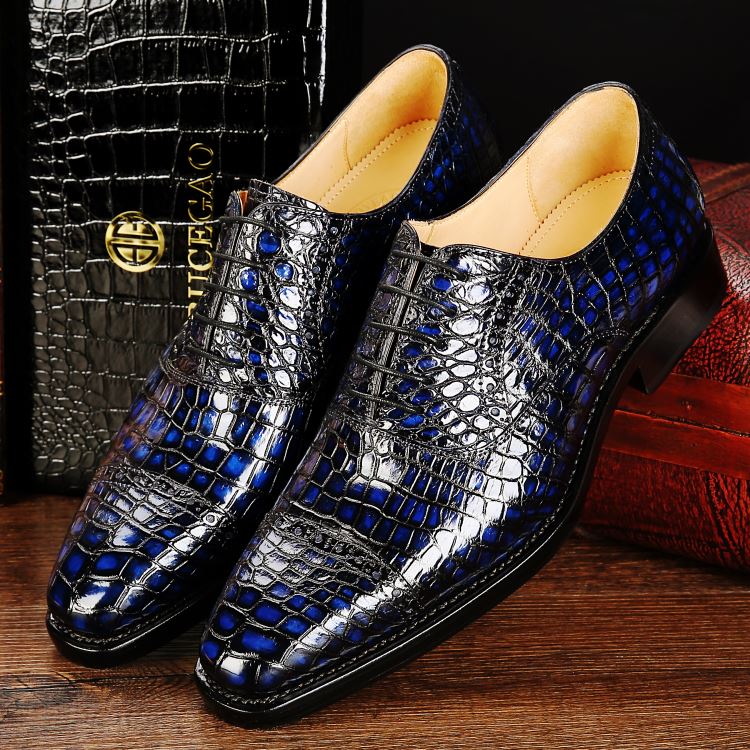 Men's Alligator Leather Cap-Toe Lace-up Oxford Dress Shoes
These alligator skin leather shoes are designed to resemble the traditional oxford look. The tying method of these shoes are lace-up, and these shoes get narrow as they go up, thereby resembling a cap-toe. You can find them in 4 beautiful, elegant and dark colors, and it will be available in the market at just $920. You shall not regret investing in these shoes at all costs.
Benefits of these shoes
Some of the benefits of these shoes are as follows:
These shoes are the ideal choice for formal and business meetings.
With these shoes, you are sure to make an impression in front of anyone you are dealing with.
These shoes enhance your confidence and elegance.
With these shoes, you can rock any look, and there is no way you will look odd.
The variety of colors and the shoe's design allows it to facilitate any kind of outfit, but make sure you stick with the more formal ones.
The shine given off by these shoes is sure to have people awestruck.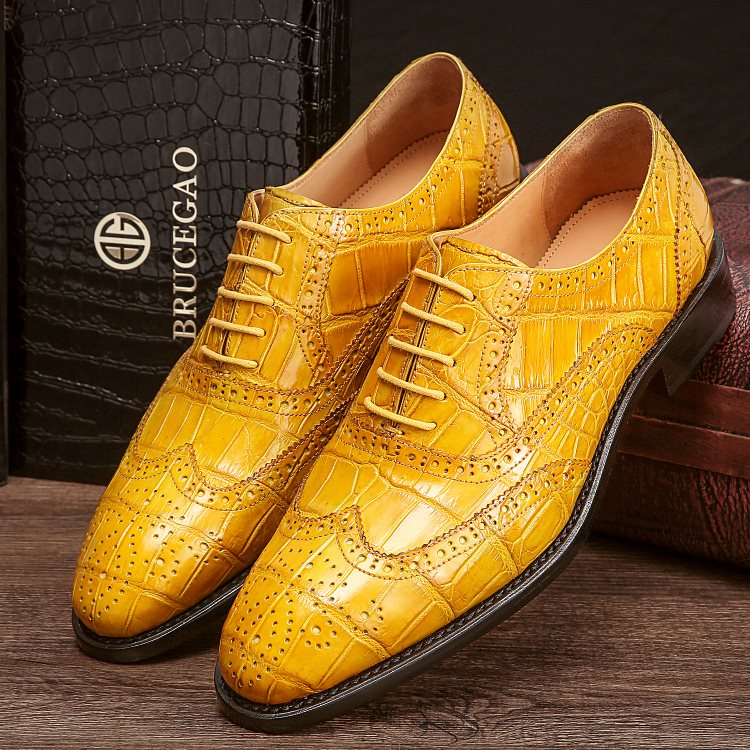 Alligator Wingtip Dress Shoes Goodyear Welted Oxfords
These shoes by Brucegao are sure to rock. It has a flat brown sole, and requires laces to tie them up. Moreover, their tip resembles a wing. The design of these shoes is unique, and they show a series of spots with a beautiful pattern. The fact that it is available in 8 colors, though the khaki color is of special prestige. The outlook of these shoes resembles the traditional dress shoes, but their own unique style makes them extra magnificent. You can buy them for $920.
Benefits of these shoes
Some of the benefits of these shoes are as follows:
The water-proof material protects both your feet and the shoes.
The formal style of these shoes makes them impeccable.
Their welted style ensures your comfort and safety.
These shoes are extremely durable, which means they will last a long time and also protect your feet.
Final Thoughts
If you buy these shoes, your winter fashion will be ahead of the curve. In fact, you'll be so ahead of this curve that you can use them for years without having them get out of date. Their quality, price, texture and design all of it is phenomenal, something that is sure to enthrall every customer that buys it, and hopefully, you will not be an exception. Order your shoes at the www.crocodile-bag.com website now.