Start the New Year with These 5 Trendy Shoes
A New Year is the time of pure joy and most of the families are friends are doing get-togethers to enjoy this moment of pure joy. This is also the time when people pay great attention to the dressing trends. Shoes are one of them. So, why not start this new year with the shoes that will keep you stand out in the crowd. Here are some of the best 5 trendy shoes that you can check out.
The 5 Trendy Shoes to wear this New Year
The following are our top 5 picks that you can try right now.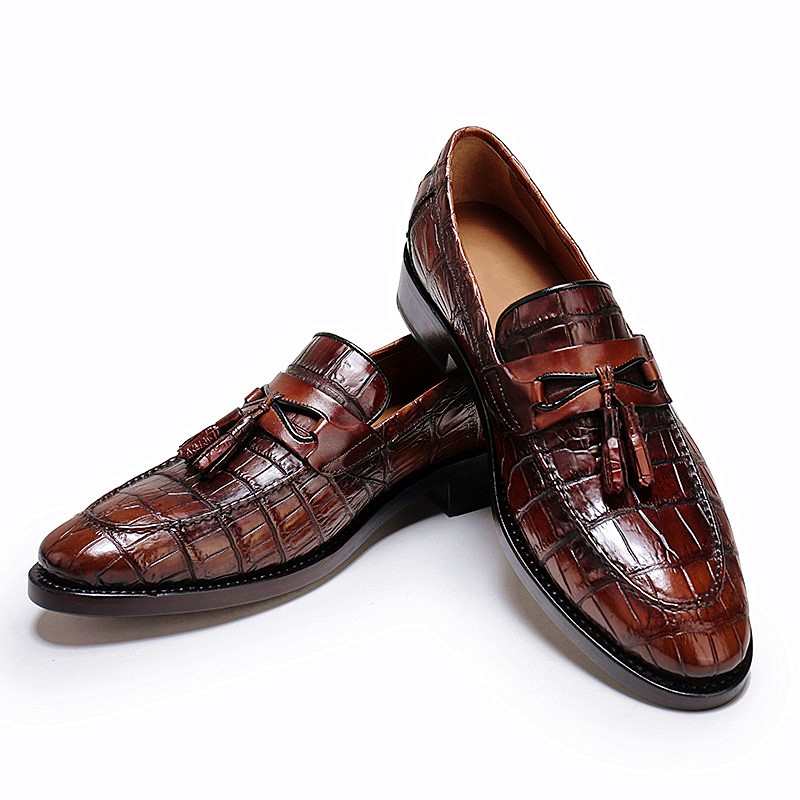 Alligator Tassel Loafer Slip-On Shoes
This is a shoe that gets very unique with its tassel style that is the main highlight here.
This is a very sleek looking shoe with a little heel making the shoe looking more stylish.
Features of this shoe
Slip-on design provides easy wearing and removal
There are no laces or straps on this shoe, and you have to wear these by a slip-on method. This is a very convenient feature because it saves time and looks stylish.
The cowhide lining provides extra comfort
To make these shoes comfortable for daily wearing, the inner lining is made from cowhide because our feet feel more comfortable in this material.
The cowhide sole to make them even better for long days
The inner sole of this shoe is made from cowhide that not only provides comfort for long days, but it is also very durable
Each piece is a unique piece
These shoes are handmade with alligator skin making each of them unique.
Benefits of this shoe
The combination of rubber and cowhide insole provides bet grip and classy feel.
The more than 200 step production process ensures the great quality of these shoes.
This is a highly durable and water-resistant pair of shoes.
These alligator skin shoes are the highest quality shoes amongst all shoes.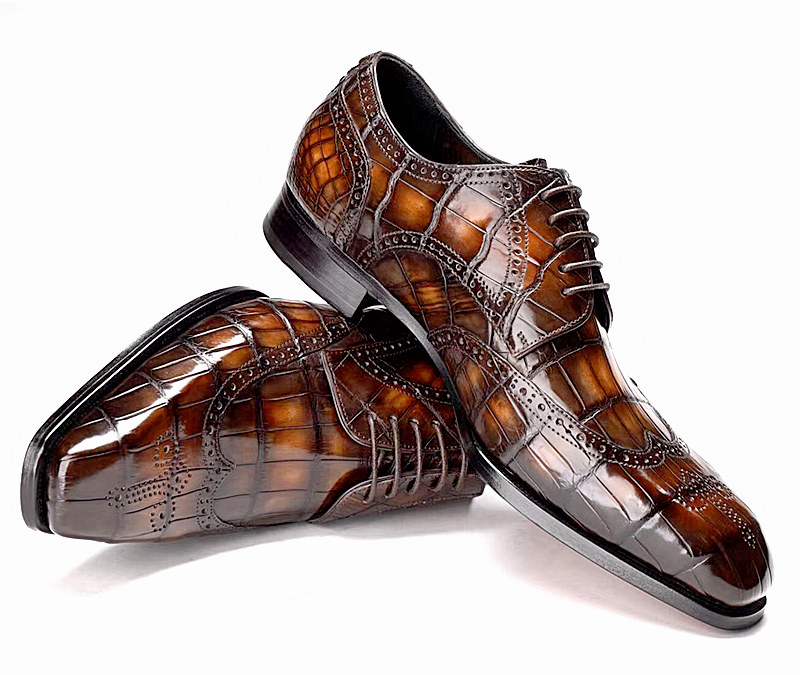 Alligator Wingtip Derby Shoes Brogue Shoes
This wingtip style shoe is a rather traditional design of shoe, but its style says something else. This is because this shoe comes with a very unique looking design that makes you different from everyone else.
Features of this shoe
The hand-painted style of these shoes provide a very unique look
A very surprising thing about this shoe is that every shoe is hand-printed providing the best looks and finish.
Lace-Up style means you can tie the shoes according to your comfort
Some people do not feel the shoes without laces comfortable. So, these shoes come with a lace-up design making them great for everyone's comfort
Available in different color combinations
As these shoes are painted, they are available in different color combinations of dark and light colors so you can select one of your choices.
This is a shoe that can go for all days
The design, style, and looks of this shoe make it perfect for all events and days.
Benefits of this shoe
These shoes are not only handmade, but they are also hand-painted to ensure the best look and feel.
The internals of these shoes is made with traditional style cowhide leather to provide a better wearing feel.
These exotic Alligator leather shoes will make you stand out in the crowd.
If you have elite taste, then these shoes are the best option for you.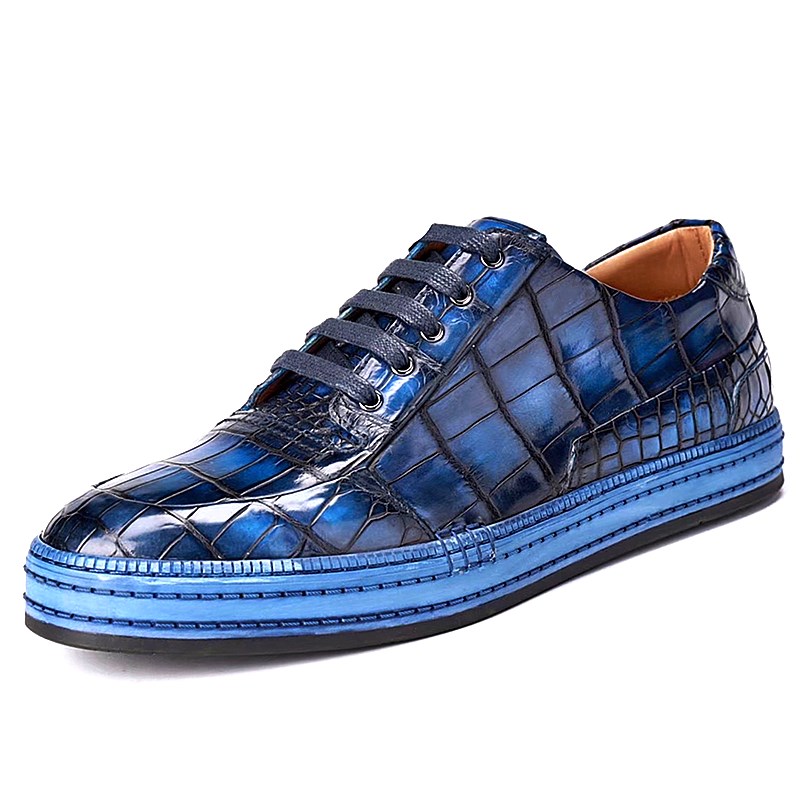 Alligator Leather Lace-Up Sneaker
The younger men who want to maintain a casual feel for their daily wearing can select this shoe because this is a sneaker that is made from alligator leather.
Features of this shoe
Get the feel of a casual shoe while wearing a classy one
The sneaker style of this shoe makes it perfect for a casual feel while maintaining a standard and class of its own.
These shoes can provide a very unique look with casual dressing
When you wear these shoes, you can be sure that you will be different from everyone else because these are very unique.
The soft sole means you will never feel uncomfortable.
The sole of this shoe is made from rubber making it extremely comfortable so these can be considered a great item for students.
The long lace-up design makes it extra comfortable for all foot types.
This is the perfect shoe type for every shape of foot because the long lace design makes it the best option for wide and long foot types.
Benefits of this shoe
You get a wide array of options to select from when buying this shoe.
Genuine alligator leather makes it a very long-lasting product.
The handmade manufacturing process provides an exquisite look.
As a young man, this shoe will provide a feeling of confidence when you wear it with your casual dresses.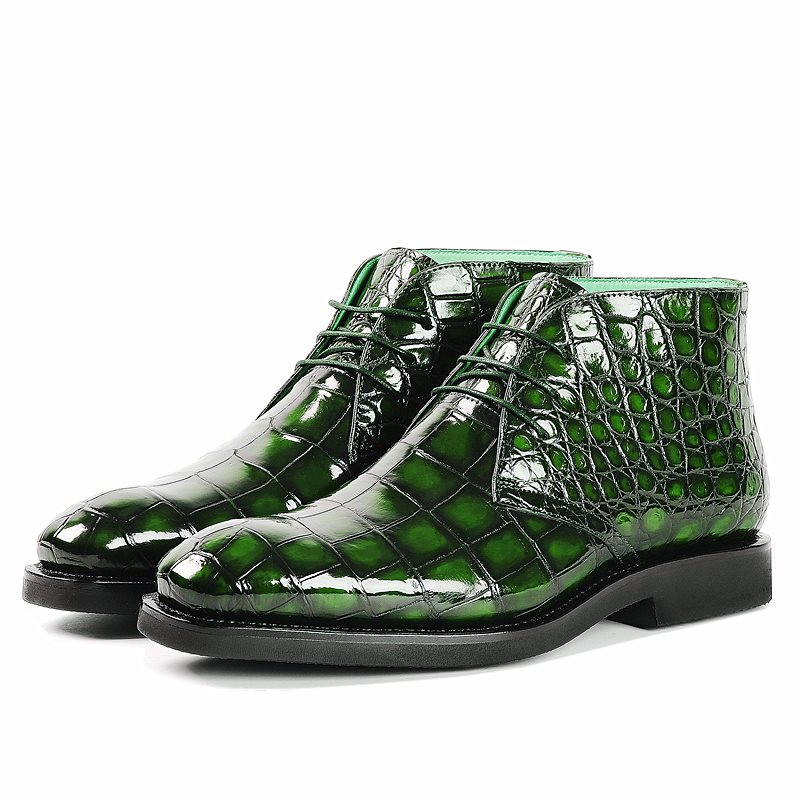 Alligator Leather Lace-Up Chukka Boots
Who does not like chukka boots? Well, if you are into them, this shoe will be the best choice for you.
Features of this shoe
The high ankle design of this shoe makes it look very premium
There is no denying that these shoes look very premium. But the style in which these shoes are made makes them even more premium.
There are a lot of options to select this shoe from
These shoes also come in a lot of options making them easier for you to match with all kinds of outfits.
For easy wearing and removal, this shoe comes with a lace-up style
As the shoe comes in a high ankle design, there are laces upfront making this shoe easy to wear and remove.
The complete rubber sole makes it perfect for harsh weather conditions
The rubber sole of this shoe is not like other shoes. It provides a great grip which makes it the best choice for cold, rainy, or snowy days.
Benefits of this shoe
The pointed-toe shape looks modern.
The lace-up style makes this shoe comfortable for everyone.
These chukka boots are handmade, and every piece is perfect.
The combination of alligator leather top and soft rubber sole makes these shoes very long-lasting.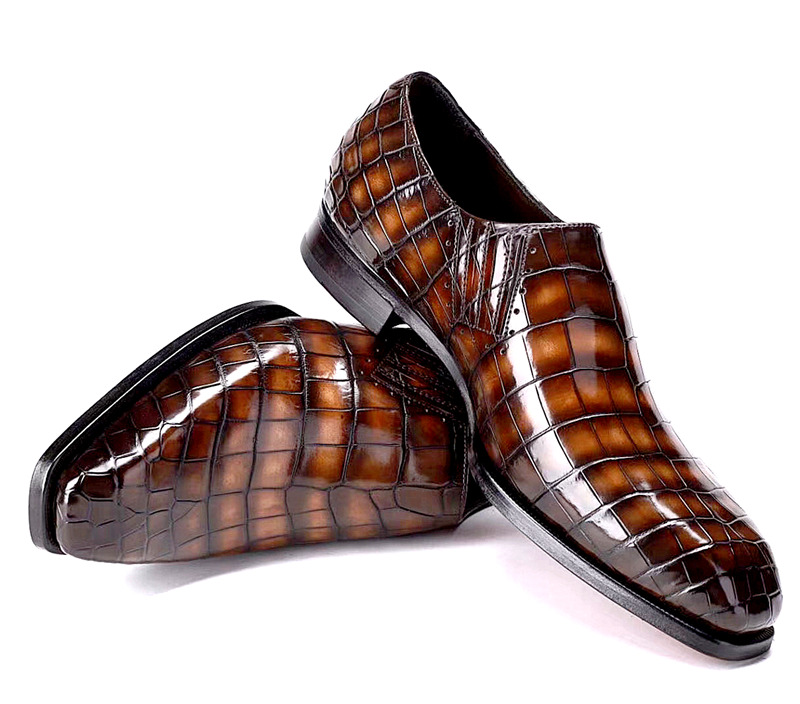 Designer Alligator Skin Slip-On Loafers
Are you looking to get the most premium type of shoe, well this shoe is premium in all of its aspects.
Features of this shoe
This is a sleek pair of loafers.
These shoes are handmade and the way these are made makes them extremely sleek.
No laces or straps are making these shoes very minimalist and stylish
There are not a lot of things going on in this shoe that not only makes this shoe very minimalist, but the alligator skin makes it very stylish as well.
The internals of this shoe is made with cowhide leather
As this is a slim and sleek shoe, the internals are lined up with cowhide leather to provide the best for and feel
This shoe is an instant status symbol with a luxurious feel
The best thing about this shoe is that this is an instant status symbol because of its extremely beautiful design. It also provides a luxurious feel.
Benefits of this shoe
Being a sleek shoe, these are very durable as well.
To make sure the quality of these shoes is up to the mark, a genuine alligator is used for making this shoe.
This ship-on shoe is a perfect shoe for formal, casual, and party wear because of its comfort.
These shoes are available in many different options so there is no chance that one will not match with any of your outfits.
Conclusion
If you were looking for the best shoes to start your New Year, you were at the right place. Here discussed the 5 best shoes that are extremely good in terms of feel, luxury, style, and status.