Best Tote Bags for Women 2021
Carrying a bag is a necessity for women to keep their accessories along and safe. Tote bags are also considered as a fashion statement and style which adds meaning to your personality and appearance. They are needed to carry all the required stuff and important belongings on the go.
Everything is upgrading in 2021 let's have a look at the beautiful and stylish tote bags for women in 2021.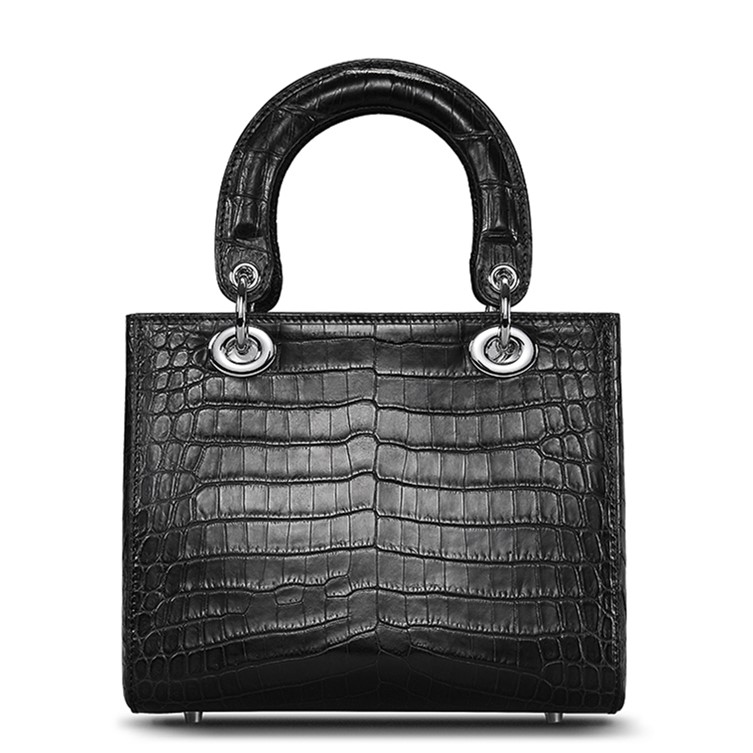 Alligator Leather Handbag Shoulder Tote Top-handle Cross body Bag:
Let's know more about this tote bag.
Best features of the bag:
Color and quality- This bag is made up of pure and genuine alligator skin which makes it durable. It comes in a Shiny black color which can suit all kinds of outfits and occasions.
Size of the bag- The size of the bag is approximately 9.4″ L x 4.3″ D x 7.6″ H inches (24cm L x 11cm D x 19.5cm H).
Storage variety- It has a lot of storage variety you can carry enough accessories in the bag. It has an interior Compartment, Interior Slot Pocket, and Cell Phone Pocket.
Original alligator leather- This bag is made up of original alligator leather which is high-quality leather. It is also very rare and found in a minimum number of brands. The high-quality leather makes it very durable and long-lasting.
Why should you get this bag?
Carry it on every occasion- It is a very trendy and stylish bag which can get matched with all your outfits. You can carry it on any occasion at formal or informal events.
Best Design and style- It has a beautiful pattern showcasing style and luxury. The design is very unique and eye-catching. It has a super shiny surface because of the best quality leather.
Convenience and ease- This trendy bag can be easily carried with convenience and style. You can send it as a gift to your loved ones because of its unique design and style.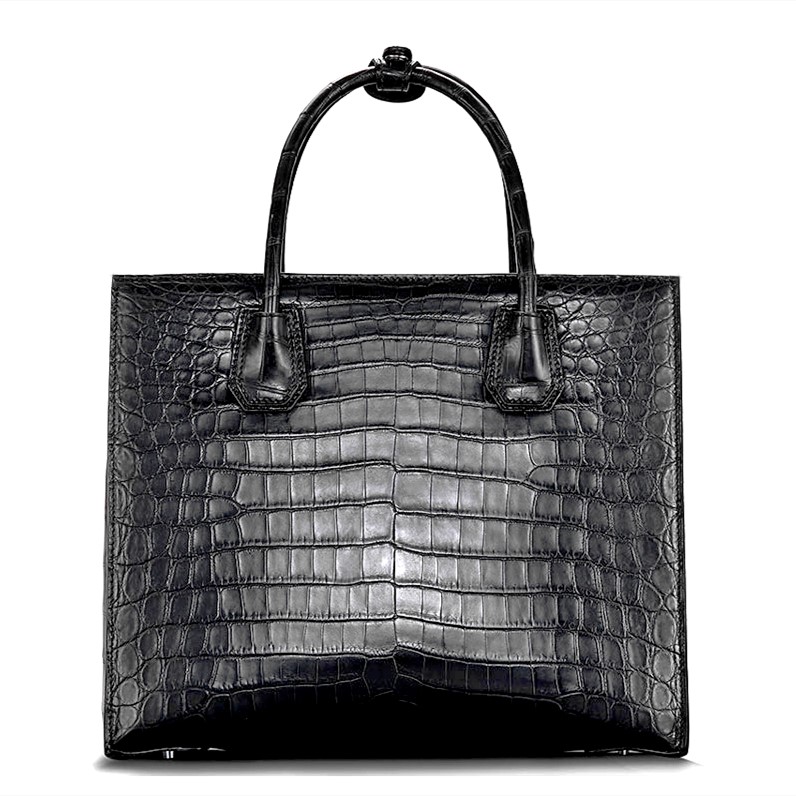 Classic Alligator Leather Tote handbag Shoulder Bag:
This bag gives a classic yet stylish look. You can carry it easily in colleges' universities and offices. It provides a lot of storage space which makes it better for the workplace.
Best features of the bag:
Classic alligator leather- If you love collecting unique accessories this bag is for you. The leather and design make it very unique giving get an amazing and extraordinary look. It will surely satisfy your aesthetic sense for collecting unique things.
Size and color- It is available in black color and comes in the size of 12.5″ L x 5.3″ D x 10.4″ H inches (31.5cm L x 13.5cm D x 26.5cm H. It is a perfect bag to carry on your necessary stuff.
Rigid handle- You can easily carry the bag from the handles, they are rigid and provide an easy grip. It comes with an extra-long strap which you can attach if you like to carry the back on the shoulder.
Style and class- Handbags are considered as a fashion statement, why don't you get this super amazing stylish and classic bag to reflect your groomed personality.
Why should you get this bag?
Enough storage space- You can easily carry this bag to colleges and offices. Its high storage space will make you carry all your important things with safety and convenience.
Best quality designs- This bag has the best quality because it is made up of the finest leather. The design is very captivating and eye-catching. It will add style to your overall appearance with convenience. 
Keep your stuff safe- The finest quality of leather prevents damage to the belongings inside even if it undergoes a fall. The best material used in the manufacturing process of the bag makes it very durable and long-lasting.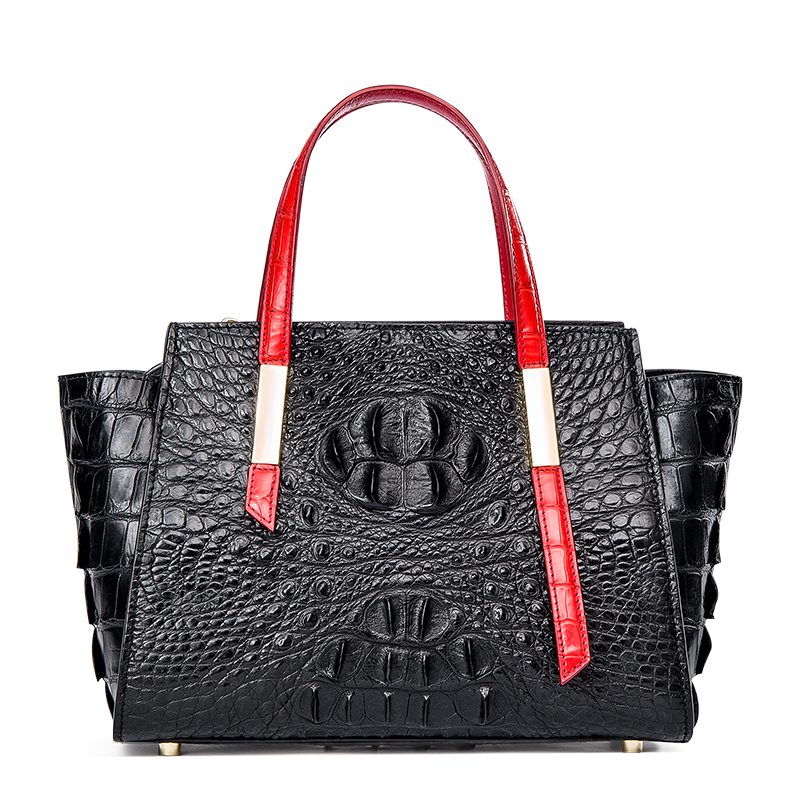 Casual Crocodile Tote Bag Shoulder Bag:
The elegant design of this bag makes it a must to add to your bag collection. It reflects quality, style, and beauty with perfection. It has all the qualities that you are seeking in a handbag.
Best features of the bag:
Color and upper surface- It is made up of Crocodile skin which is a perfect leather use in the most premium quality brands. This bag is available in black color which adds class and decency to it. 
Size of the bag- The approximate size of the bag is 10.8″ L x 5.1″ D x 8.2″ H inches (27.5cm L x 13cm D x 21cm H). It is very convenient to carry everywhere.
Elegant design- The design of this bag is very elegant and classy. It will add a unique look to your overall appearance. A handbag reflects the sense of your dressing and fashion.
Luxury with style- Just having one look at the bag leaves you with a luxurious feeling. The leather used in the bag is a type of most wanted luxurious leather. We have made our products with rare material for our customers to add style to their daily lives.
Why should you get this bag?
Storage capacity- It has a large storage capacity which enables you to carry most of your accessories with convenience. It has extra pockets for phones, wallets, etc. you can use it for your office or university with ease.
Highest quality- Every product that is manufactured from crocodile leather has a uniqueness of its own. This bag will outclass every other handbag in your collection. The quality shows itself just by having a look at it.
Resistant to sunlight and water- Most of the bags get damaged when exposed to sunlight or rain for a longer time. This is not the case with this bag; you can easily use it outdoors in sunlight or rain without getting it damaged.
Natural texture- You are going to fall in love with their classic and natural texture of the bag. It is so soft to touch and carry; you can use it for all purposes on every kind of occasion.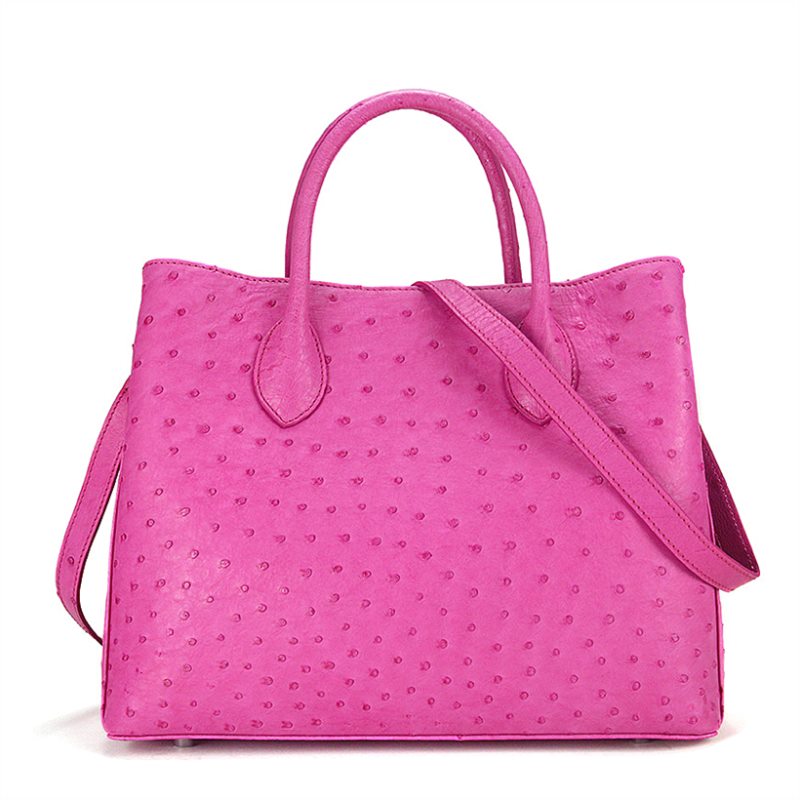 Ostrich Handbag Shoulder Bag Tote Purse:
Get your hands on this unique bag which outclasses all others. No other bags even look similar to it. It is very trendy and has a delicate design making it beautiful and stylish for occasional and formal use.
Best features of the bag:
Color and upper surface- This bag comes in four beautiful and unique colors which are red, grey, pink, and yellow. It is made up of genuine South African ostrich skin which makes it very unique among all.
Quill marks- The quill marks on the bag make it noticeable and eye-catching. It gives a natural look just like the skin of an ostrich. This bag is very vibrant in colors having a uniqueness of its own.
Size of the bag- This bag is approximately 11.8″ L x 5.5″ D x 9.4″ H inches (30cm L x 14cm D x 24cm H) in size which makes it convenient to carry.
Why should you get this bag?
Beautiful style and texture- Ostrich leather is very unique globally; the bag has all the features which set a standard for style and texture. It has a high-quality material that is very convenient to use.
Durable yet soft- Most of the best quality material that promises durability are made of hard material. This is not the case with this bag. It is very durable which can resist all kinds of weather yet it is so smooth and soft to touch.
Versatility- This can be carried on all occasions and events. You can use it for official purposes or parties. It will boost your confidence and reflect your fashion sense.
Final Thoughts:
If you want to style with comfort and convenience these tote bags are the best fits for you. Investing in your handbag will benefit you for a long time providing you with a graceful and stylish look.