BRUCEGAO's Crocodile Messenger Bags for All Fashionable Men
  One of the best things that you will love about the BRUCEGAO's Crocodile Messenger Bags for All Fashionable Men is that it's made with quality and functionality in mind. Since all leather from Brucegao is treated using an environment-friendly vegetable tanning process, the leather is durable and will last for a long time. A crocodile messenger bag is a stylish yet practical accessory that you can have. It also makes an excellent gift for those who are just entering the corporate world and for your colleagues.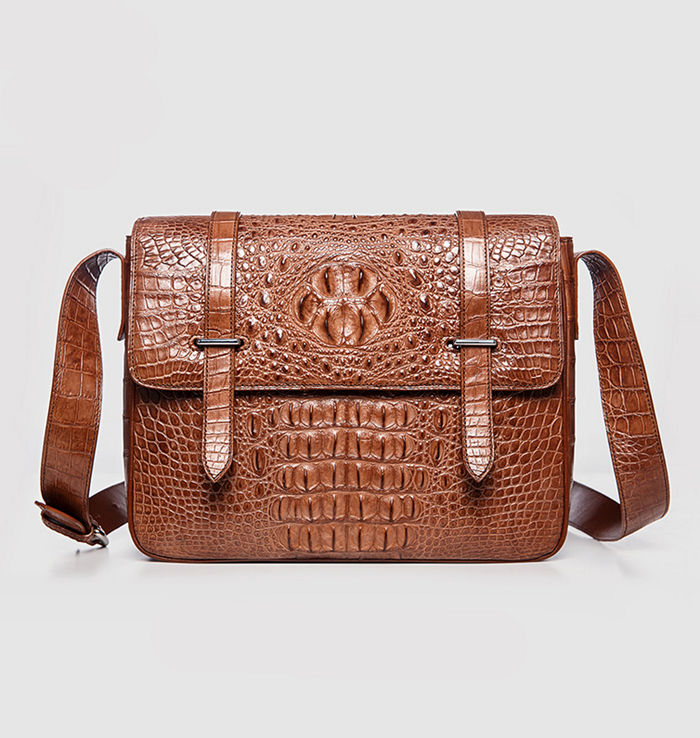 Why Get Brucegao's Crocodile Messenger Bags?
  BRUCEGAO's Crocodile Messenger Bags for All Fashionable Men is available in various sizes. This means that you can choose a size that suits your lifestyle. For instance, you can use a leather fanny messenger bag with a removable and adjustable shoulder strap. You can also use this bag as a waist bag pack or as a chest bag.
  The functionality of these bags is another notable thing about them. If you need to commute and you tend to take a train or subway, you can get a lighter leather bag. A hard briefcase is ideal for those who drive to work.  You don't need to worry about the other elements that make a good messenger bag because Brucegao made sure to create bags that are suited for your needs. There are bags with locking systems, handles, padding and straps that are not only easy to use but also sturdy.
  The aesthetic appeal of the bag is also noteworthy. It's made of crocodile skin, so it is worth adding to your wardrobe. These bags are also available in various colors. You can find a brown leather bag or a black crocodile messenger bag. There are different finishes and shades available even in this seemingly limited color palette. For instance, there's the smooth finish and the embossed look. You can also find bags with a brass and nickel finish.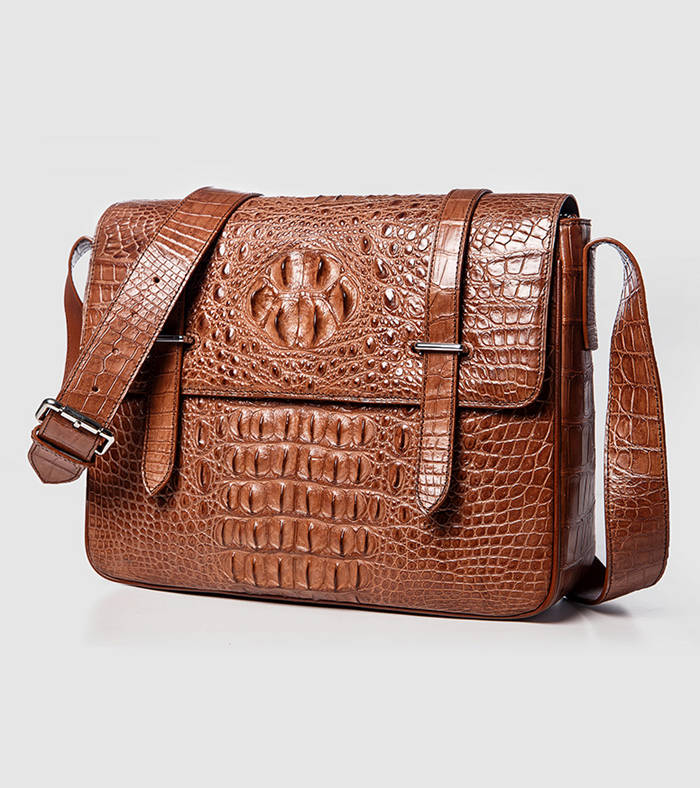 Aside from being functional, crocodile messenger bags are also a symbol of status. If you want a stylish bag that is practical at the same time, you won't go wrong with crocodile messenger bags. Brucegao doesn't compromise on the quality of leather, so you are assured that the messenger bag you will get is made of genuine crocodile skin.
  Of course, you also need to take good care of your bag to preserve its look. Avoid storing your bag in a place that receives direct sunlight. When cleaning the bag, use a clean cloth. Apply a leather conditioner to the bag at least once a year. Excess conditioner should be wiped clean with a dry cloth. If the bag is wet, allow it to dry completely before storing it. Avoid putting it near sources of heat to try to speed up the process as it will only damage the bag. In case you accidentally spilled water on it, don't use a dry cloth. Wipe the bag with a moist cloth because the water might contain substances that may damage the bag. Let the bag dry completely.
  Recommended Fashion Crocodile and Alligator Leather Goods: crocodile belt, crocodile bag, crocodile handbags, crocodile wallets, alligator handbags, alligator bag, alligator wallets, crocodile briefcase, alligator briefcase, crocodile leather jacket, alligator leather jacket, crocodile shoes, alligator shoes, crocodile backpacks, alligator backpacks.
Recent blogs: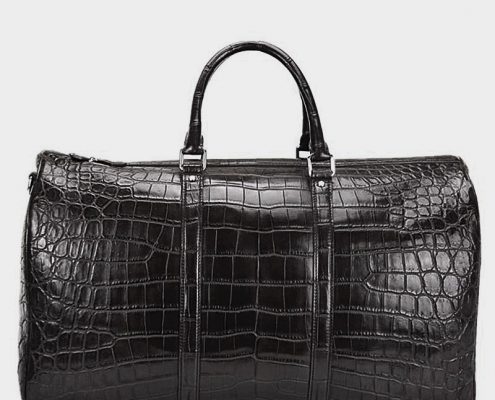 https://www.crocodile-bag.com/wp-content/uploads/2018/08/Crocodile-Duffle-Bag-Alligator-Duffle-Bag-2.jpg
800
800
crocodilebags
https://crocodile-bag.com/wp-content/uploads/2017/06/Brucegaos-Crocodile-Bag-300x192.png
crocodilebags
2018-08-04 01:19:40
2018-08-03 17:27:10
Why Do We Need Crocodile Duffle Bags and Alligator Duffle Bags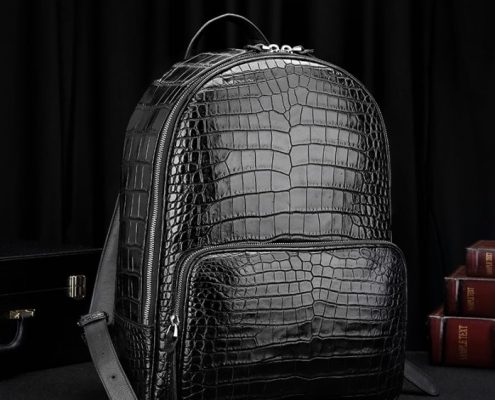 https://www.crocodile-bag.com/wp-content/uploads/2018/07/Exotic-leather-backpacks-Alligator-Backpacks.jpg
825
697
crocodilebags
https://crocodile-bag.com/wp-content/uploads/2017/06/Brucegaos-Crocodile-Bag-300x192.png
crocodilebags
2018-07-31 03:15:10
2018-07-31 03:22:35
Exotic Leather Backpack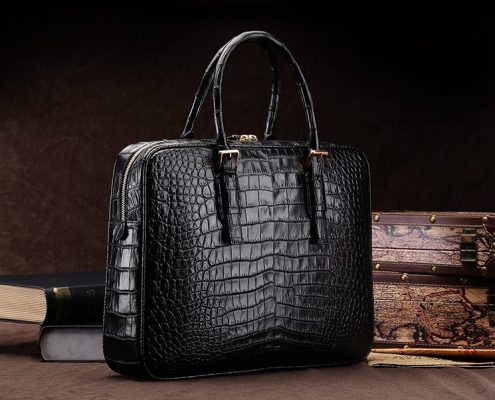 https://www.crocodile-bag.com/wp-content/uploads/2018/07/Alligator-Business-Bag-Black.jpg
611
745
crocodilebags
https://crocodile-bag.com/wp-content/uploads/2017/06/Brucegaos-Crocodile-Bag-300x192.png
crocodilebags
2018-07-27 10:25:38
2018-07-27 10:25:38
Alligator Business Bag for Sale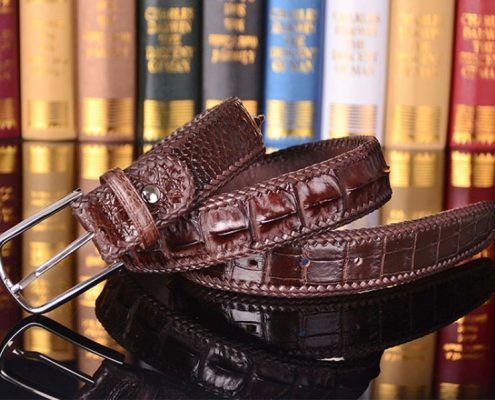 https://www.crocodile-bag.com/wp-content/uploads/2018/06/American-Alligator-Skin-Belt.jpg
597
800
crocodilebags
https://crocodile-bag.com/wp-content/uploads/2017/06/Brucegaos-Crocodile-Bag-300x192.png
crocodilebags
2018-06-17 02:42:42
2018-06-17 02:42:42
Learning Exotic Leather: American Alligator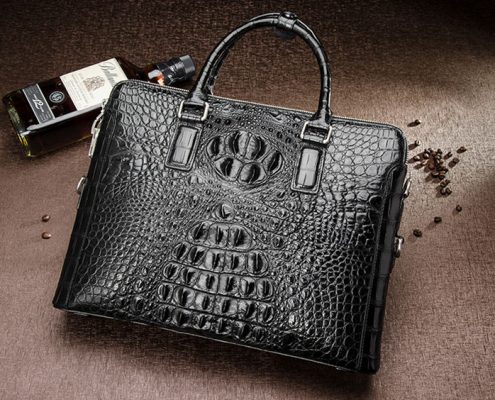 https://www.crocodile-bag.com/wp-content/uploads/2018/05/Business-Mens-Crocodile-Leather-Briefcase-Bag-Handbag-Laptop-Shoulder-Bag-Black-Front.jpg
564
740
crocodilebags
https://crocodile-bag.com/wp-content/uploads/2017/06/Brucegaos-Crocodile-Bag-300x192.png
crocodilebags
2018-06-07 04:29:29
2018-06-07 04:29:29
Top 4 Reasons to Use Alligator Skin for Your Men's Leather Briefcase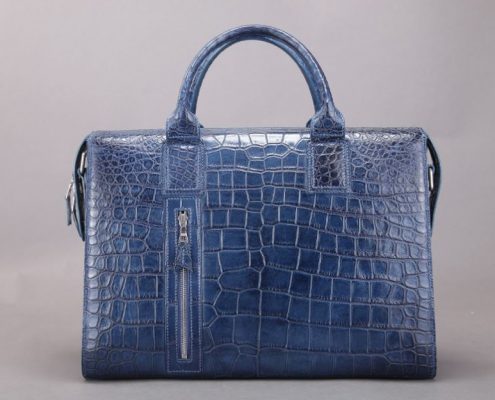 https://www.crocodile-bag.com/wp-content/uploads/2018/06/BRUCEGAO-alligator-briefcase-Top-luxury-mens-briefcase-brand.jpg
625
780
crocodilebags
https://crocodile-bag.com/wp-content/uploads/2017/06/Brucegaos-Crocodile-Bag-300x192.png
crocodilebags
2018-06-04 04:07:15
2018-06-04 04:09:43
Top luxury men's briefcase brand-BRUCEGAO alligator briefcase