Why Alligator Skin is the World's Best Shoe Material
   There are many reasons why alligator skin is considered as the world's best shoe material. One of these is the fact that it is durable. It has a nearly unparalleled softness and flexibility, which is also why it's a highly sought-after material for various uses. The belly and back skin of an alligator is ideal for making boots. The belly skin, in particular, works best for making dress shoes due to its sleeker finish.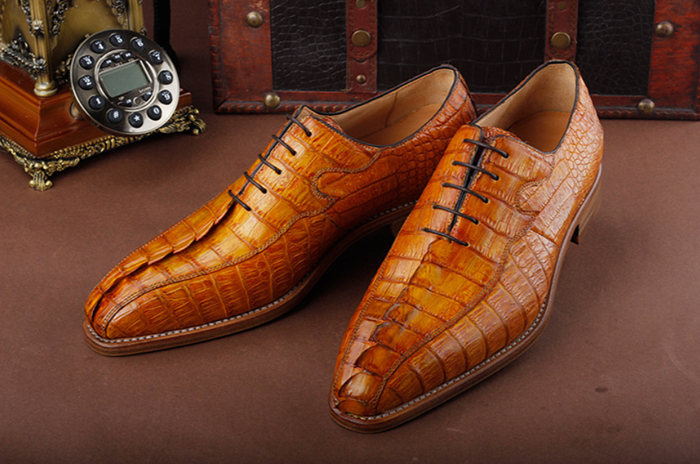 Characteristics of Alligator Skin
   Alligator skin has more symmetrical scale patterns than crocodile hide. There are only one species of alligator and that is the American Alligator. On the other hand, there are a lot of species of crocodiles. The Brown Caiman is the most common. It is stiffer and drier than alligator skin as well as less durable. Alligator skin also has a smoother feel. The skin size can help differentiate alligator skin from crocodile hide. Alligator skin is usually 6 to 12′ long, while most crocodile and caiman hides are only 3 to 5′ long. A full-grown alligator may also have over 1″ square scales and the pattern tends to be more symmetrical.
   In general, alligator skin is suppler, softer as well as more durable than the skin of other animals. It also provides a more uniform scale pattern. Aside from this, they are not a threatened or endangered species. This means that products made from real American alligator skin maintain an environmentally-friendly status.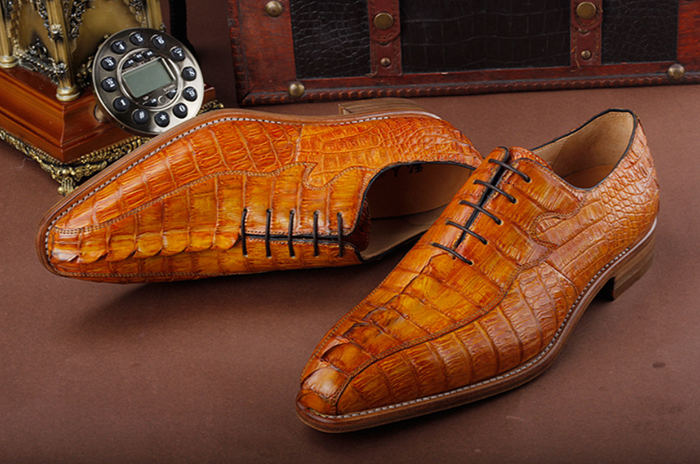 What You Need to Know About Buying Shoes Made from Alligator Skin
   A pair of alligator shoes is not exactly a cheap investment. As such, it is important that you purchase a genuine one from a reliable store. There are plenty of stores that offer alligator shoes online and offline. Before you buy any alligator shoes, you need to check the authenticity of the store where you are going to purchase it. After all, you do not want to spend a lot of money on fake alligator shoes. It is a good idea to know the leading brands that offer alligator shoes, so you can pick the right ones that are worthy of your time, money and effort. Reading customer reviews can help you get an idea about the store that you are interested in. You can also ask your family or friends for recommendations.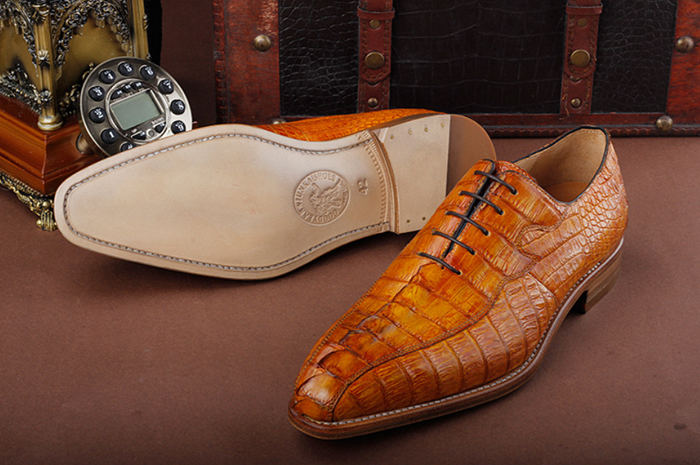 Buy mark and scratch-free alligator shoes. Alligator skin is resistant to water. You can find alligator shoes in limited sizes, but you can order a customized pair of shoes that fits you. Just keep in mind that alligator shoes are more expensive than other footwear. This is due to the rarity of alligator skin as well as the strict rules of the state regarding the killing of the animals. Since alligator skin shoes are priced higher than other shoes, it is important that you ask the store for a proof of authentication before you buy one. Genuine alligator shoes usually have rounded scale marks that would help you determine the real one from fake versions.
  Recommended Fashion Crocodile and Alligator Skin items: alligator backpack, crocodile briefcase, crocodile iPhone case, alligator iPhone case, alligator briefcase, crocodile belt, crocodile bag, crocodile handbag, crocodile wallet, crocodile shoes, alligator shoes, crocodile backpack, alligator handbag, alligator bag, alligator wallet, crocodile leather jacket, alligator leather jacket.
Recent blogs: