Unique and Stylish Alligator Leather Gifts for Your Father's 50th Birthday
Dads are known for not getting anything for themselves, which gives the family a perfect opportunity to buy them special gifts on their 50th birthday. A person has his birthday every year, but the 50th birthday is a much more special day since it completes the milestone of living 50 years "golden birthday". To make his birthday special, you must get him a premium gift matching his taste and desire.
Going for alligator leather gifts could be a perfect idea since these gifts are timeless. While their design is unmatched due to the natural patterns, these gifts bring a perfect combination of aesthetics with functionality. So, if you will buy one for your father, let's explore our top 5 recommendations.
Top 5 Alligator Leather Gifts for Father's 50th Birthday
So, if you want to make this special day in your father's life more special, here are the top 5 premium Alligator leather gifts for his 50th birthday "golden birthday".
1. Alligator Leather Moc Toe Bit Slip-On Loafer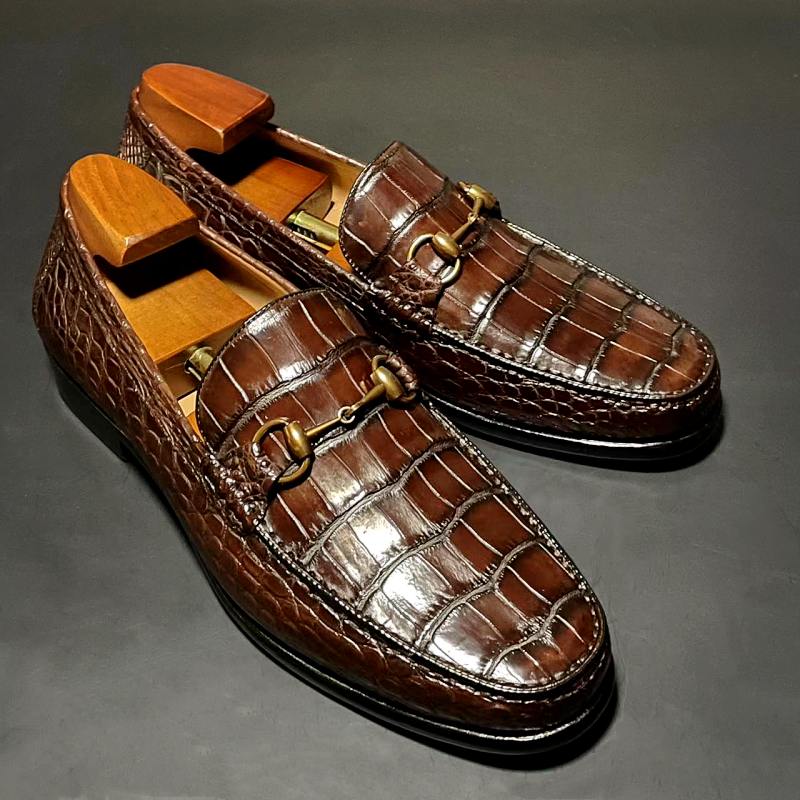 Nothing is better than a shoe when looking for a gift for your father. However, this Alligator Leather Moc Toe Bit Slip-On Loafer adds more value to your gift. It is because this is a piece of art combined with expert craftsmanship. This shoe has multiple highlights, starting with the genuine alligator skin.
Original skin comes with natural patterns, making this gift exclusive to your father. Additionally, the Moc toe design with a metal bit on the front will make its design perfectly balanced between formal and casual designs.
Thanks to the added comfort of the Italian cowhide insole, this shoe will be a gift your father can wear anywhere, any time. Its premium materials and expert stitching make it comfortable to wear for extended periods like formal events or business trips that can last between hours and days.
Alligator Leather Moc Toe Bit Slip-On Loafer Highlights:
. Upper Material: 100% Genuine Alligator Skin
. Lining Material: Excellent cowhide from Italy
. Insole: Excellent cowhide from Italy
. Outsole: Premium Wear-resistant Rubber and Italy Cowhide
. Color: Brown – These shoes are hand-painted and couture-level creations, Each shoe will have a unique hue and polish, and color may differ slightly from the picture
. Handcrafted: Hand Stitched sole and 100% Handmade Shoes
. Goodyear Welted Construction: Over 200 step process, makes the shoe highly durable, water-resistant and supportive. This is the highest grade of construction in shoemaking industry-wide
. Free delivery & 15-day returns.
2. Alligator Multi-Card Long Bifold Wallet Suit Wallet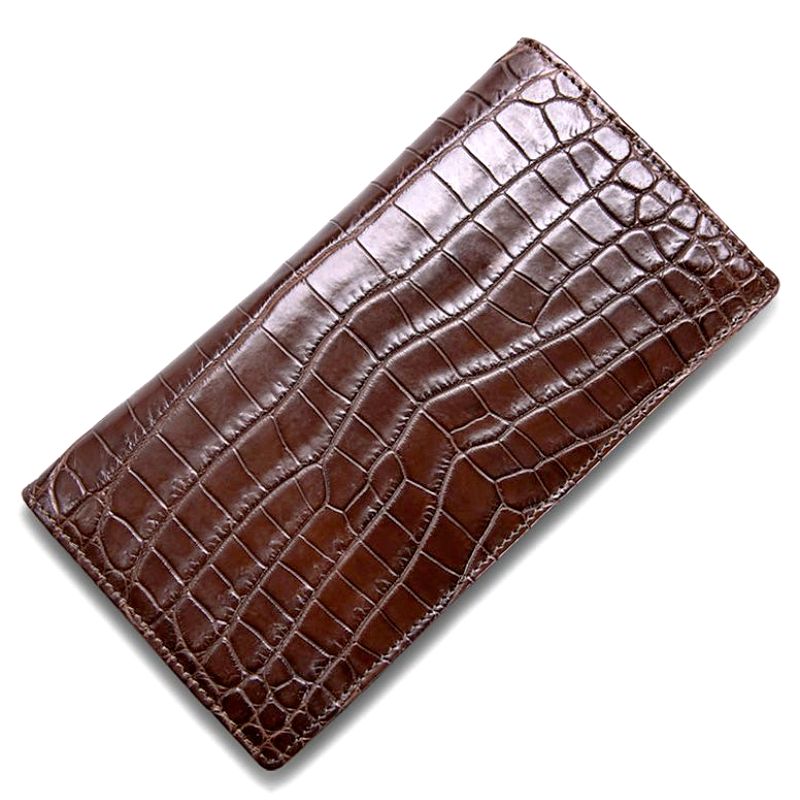 Men are known for not updating their wallets until someone gifts them a new one. So, this might be a perfect opportunity for you to give your father a new wallet. However, this time, you will not get any random wallet because this bi-fold design long wallet will match their aesthetic and class.
This wallet comes with sections for keeping your cash and cards organized. You can keep more than 10 cards at once in this wallet, and with the wallet full, it won't bulge, maintaining that premium look.
It is available in classic black and brown colors, so you can select one that matches your father's styling taste. The cash pocket in this wallet allows you to put large-screen smartphones like the Samsung Plus/Ultra and iPhone Max models.
It means that this wallet will not only take care of cash and cards for your father, but he will be carrying his phone in the same wallet with added style and protection.
3. Alligator Skin Belt with Natural Zircons and Lion Pattern Pin Buckle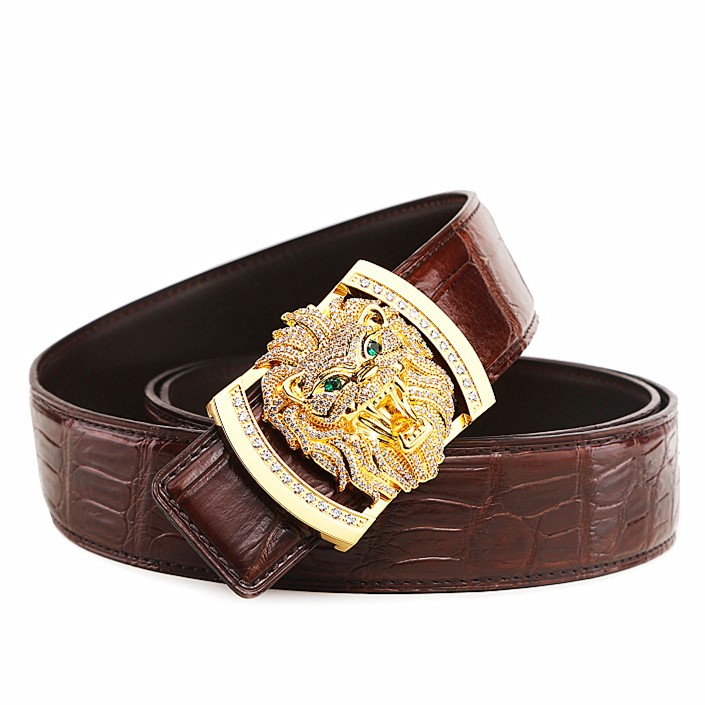 Accessories are important in making a man look better, and a belt is one of those accessories. Getting this alligator skin belt will give a premium addition to your father's overall appearance in 3 ways.
It is made with genuine alligator leather with texture and visible patterns.
This belt is available in classic brown and black colors
The buckle of this belt has a lion pattern filled with zircons
While the alligator leather strap is durable, the lion-shaped buckle is made with high-grade stainless-steel material resistant to shading or corrosion. Getting the right color in this belt will make it a perfect choice for your father to use on any formal and casual occasion.
No matter where he uses this belt, the shiny buckle and original leather material will keep him the center of attraction due to its luxurious appeal.
4. Alligator Cigar Cases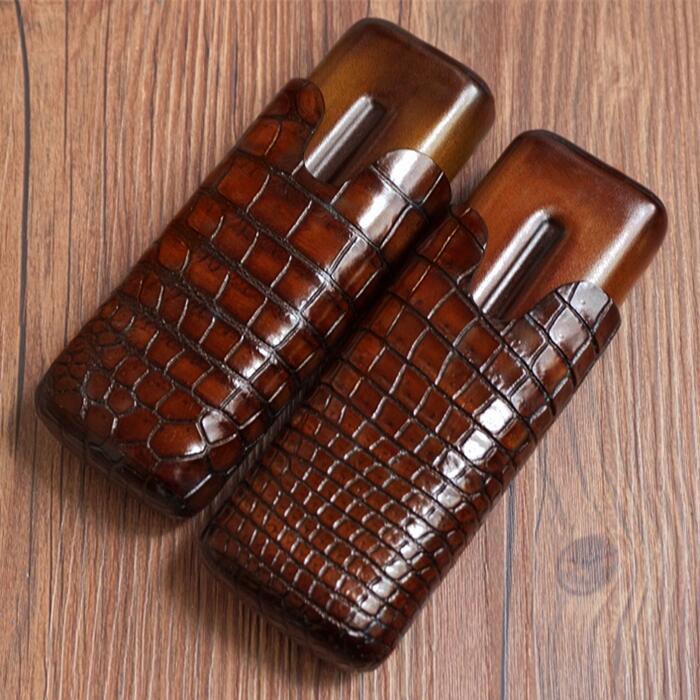 Is your father a cigar lover? If yes, this gift will be a precious item for him on his 50th birthday "golden birthday". Carrying enough cigars you need on the go is never easy. The big cases are not easy to handle, so this case comes in a perfect size to carry two cigars.
The case is made with wood that will hold your cigars and protect them from impact. Meanwhile, a genuine alligator leather slip-on sleeve goes on top of that case, giving it its premium and unique look.
This cigar case comes with a dust bag and is available in 4 exclusive colors of alligator leather (Brown, Black, Blue, Burgundy).
This case can hold a variety of cigars from Robusto to Double Corona
Double Corona : 190MM x 20MM
Churchill : 170MM x 20MM
Corona : 140MM x 17MM
Robusto : 125MM x 20MM
If your father is a frequent traveler who likes to keep his cigars on him, this case will be a perfect choice to keep his cigars fresh while safely holding them for him.
5. Alligator Leather Briefcase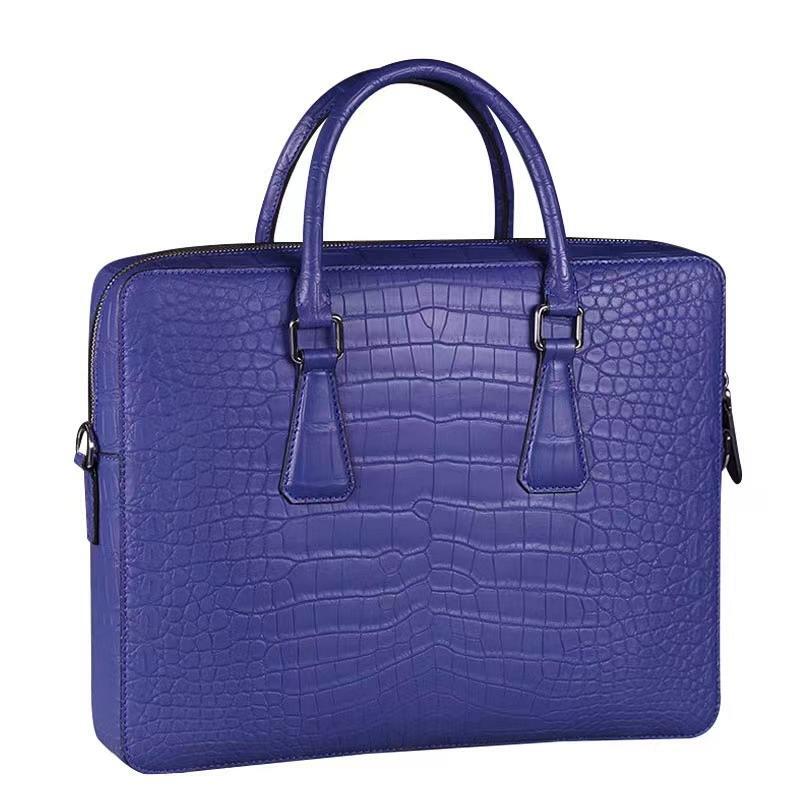 The last one is this alligator leather briefcase that comes in 4 colors (Black, Blue, Brown, White). This briefcase is not only for frequent travelers; if your father goes to the office, it will be a perfect daily carry for him. It is because the briefcase comes with multiple interior slots and compartments for your cell phone, diary, and other gadgets.
On the outside, it maintains that classic minimalist look without embellishments to overpower alligator leather's natural appeal. The briefcase not only gets the job done, but it gets it done with style and quality. Everything on it is high-quality, including the zippers.
Moreover, the bag speaks for its craftsman's expertise since design, stitching, finishing, and everything else is done with great attention to detail. In addition to practicality, this bag also comes with comfort since the handles on top are accompanied by a shoulder strap for convenient carrying.
Alligator Leather Briefcases Highlights:
. Materials: 100% Genuine Alligator Skin
. Color: Black, Blue, Brown, White
. Lining: Full grain leather- excellent cowhide from Italy
. Interior: Interior Compartment, Interior Slot Pocket, Cell Phone Pocket…Give You Lots of Storage Options.
. Closure: Genuine YKK brand zip opening and closure.
. Style: Business Briefcase Bag, Laptop Bag, Handbag
. Every alligator leather bag is unique because it is made from the original alligator leather, not from the embossing pattern cow leather.
Conclusion
The 50th birthday in the life of your father will be more special than any other birthday. It is a moment to cherish with your father and make it memorable in every way possible. You cannot miss out on giving your father the most premium gift; picking one of the alligator leather products will be a great idea. Here, we shared some amazing alligator leather gift ideas that are useful, premium, exclusive, and look very well.