The 5 Best Shoes for Men in Their 40s and 50s
As men turn into the era of their 40s and 50s, they need to step out of the funky sneakers and dress up with some classic. However, class is not the only requirement here since comfort and convenience are also valued a lot.
Styling perfectly during this phase of life can be a little confusing because you step into a completely different realm of modern, classy fashion without looking like you are still stuck in the previous century. So, if you are looking for a fashionable pair of shoes to wear in your 40s and above, we have some of the best options here for you.
Top shoe options for men in their 40s and 50s
Here are our top 5 picks for shoes that men can use in their 40s and 50s to stay in style.
1. Alligator Leather Tassel Slip-On Loafers Penny Loafers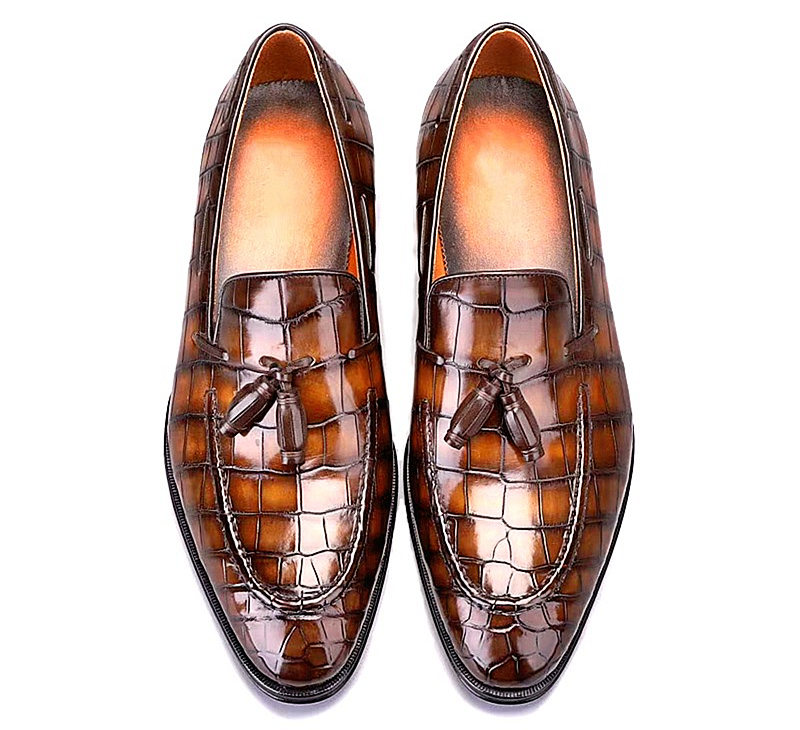 These genuine alligator leather slip-on loafers with a tassel on the front make a great choice for men who are in their 40s and 50s. Thanks to the elegant design, they are not only about the alligator leather texture but the professionalism in stitching (Goodyear Welted Construction).
The Aesthetic Appeal
These alligator leather penny loafers are available in 5 color options, including burgundy, tan, gray, and classic brown & blue shades. The Tassel on the front ensures the shoes are appealing while maintaining a clean and minimalist design.
Practical Value Offered
The 100% genuine alligator leather exterior with cowhide interior keeps these shoes durable and comfortable. The premium rubber outsole brings water resistance so that you can wear these shoes any time of the year. Moreover, the slip-on design makes wearing and removing these loafers effortless.
2. Alligator Double Monk Strap Slip-on Loafer Cap Toe Oxford Shoes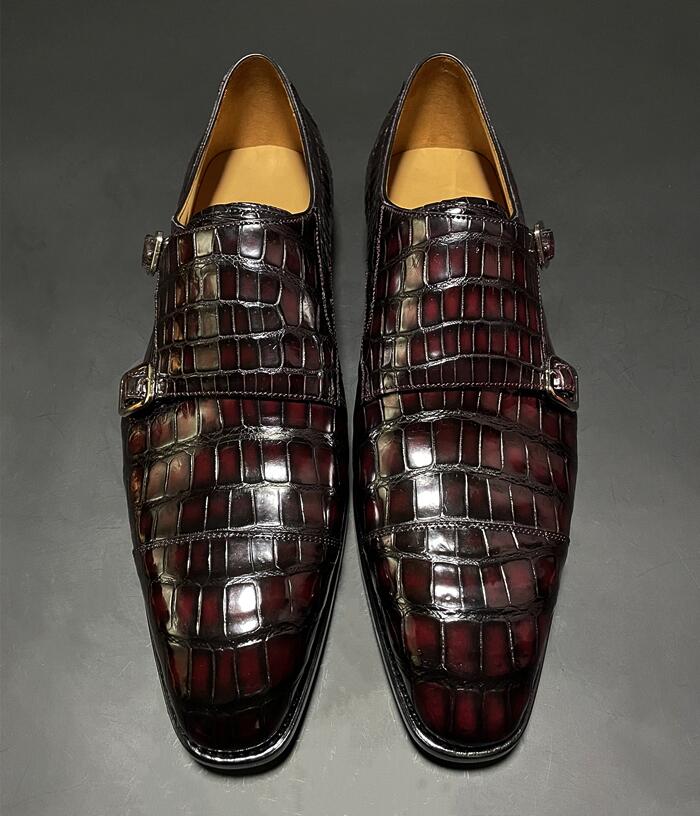 The Alligator double monk strap slip-on loafers will be a perfect classic addition to any man's exotic shoe collection. These come with a unique hue and polish that adds to the appearance of the unique dark brown color.
The Aesthetic Appeal
The aesthetic appeal of these shoes lies in their minimalist design. You will not find any embellishments on the shoe front or sides as they are completely clear. There are two monk straps with tiny buckles on the sides that do not overpower the alligator leather pattern of the shoe.
Practical Value Offered
Thanks to the Goodyear Welted construction of these shoes, these are highly durable, and the utilization of alligator leather in these shoes makes them water resistant to a certain extent. So, if you are a man in his 40s or above looking for a classic shoe that is perfect for any dress code, these shoes are the right choice.
3. Crocodile Hornback Derby Shoes Dress Shoes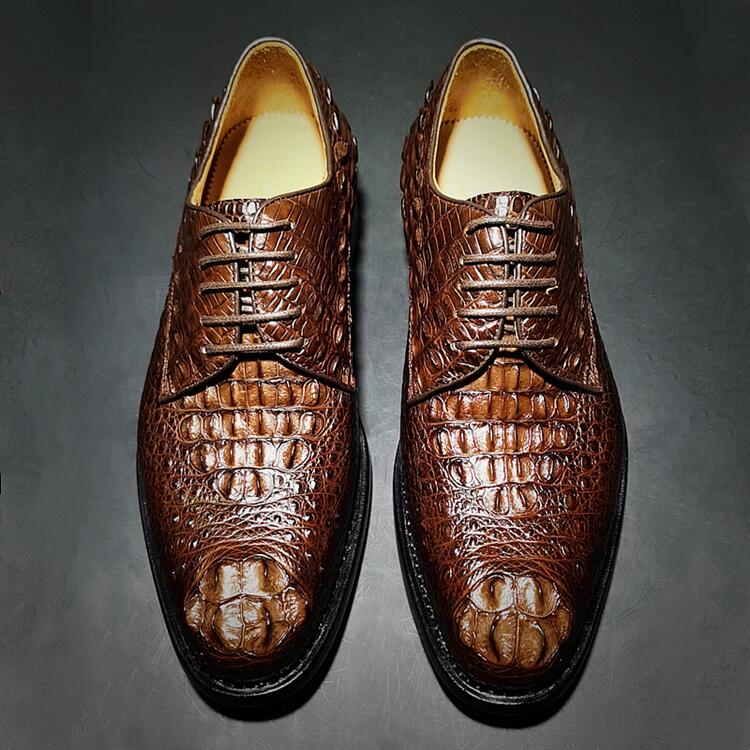 If you are looking for something unique and stylish, then these Hornback derby shoes made with genuine crocodile leather will give you the looks you want. Their uniqueness comes from the genuine design of Crocodile's leather that will not be replicated in any other shoe, keeping these exclusive for you.
The Aesthetic Appeal
The dark brown color of these shoes adds a classy appearance to these shoes. Moreover, the natural crocodile patterns are treated uniquely, with denser patterns having darker shades. The looks of these shoes speak for the experienced craftsmanship and expert artisanship.
Practical Value Offered
Although these do not come with a slip-on design, the convenient laces on top will ensure to provide you with a quick wearing and removal experience. Moreover, they ensure to make the shot feels perfectly fits your feet.
4. Alligator Leather Oxford Dress Shoes Goodyear Welt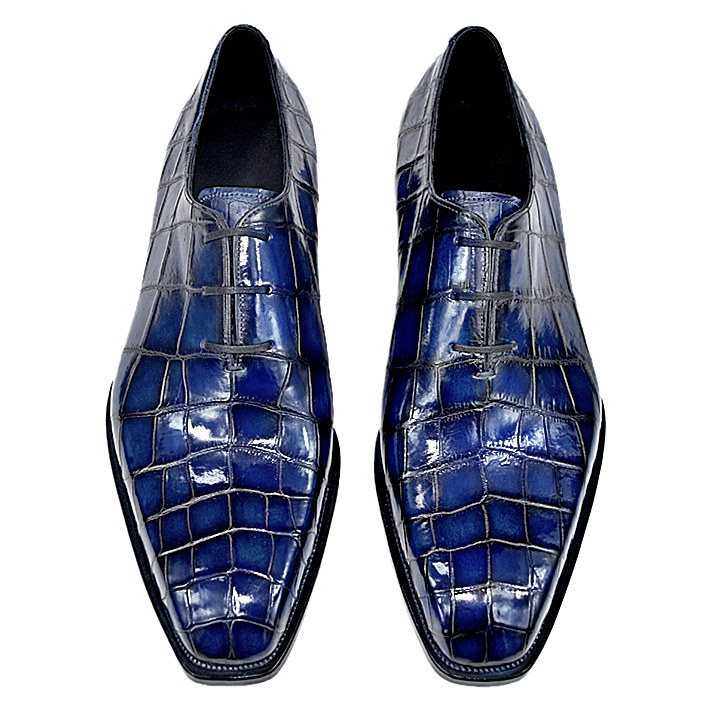 The Alligator Leather Oxford Dress Shoes Goodyear Welt come in 4 color options, satisfying everyone whether they want to look classy or unique. The shoe is polished with a glossy finish, and it perfectly portrays the alligator leather patterns. Moreover, its stitching design ensures that it does not overpower the original leather look since there are no seams, stitching lines, or overlapping sections.
The Aesthetic Appeal
For men in their 40s and 50s who want a minimalist show but don't want a boring plain shoe, these make a perfect choice. It's the minimalist design with no catchy elements that makes this shoe attractive, among other options.
Practical Value Offered
Although you need some extra care to maintain their lustrous feel, these shoes come with amazing durability thanks to genuine materials. Lace-on structure ensures a perfect fit for every foot structure.
5. Lizard Skin Tassel Loafer Slip-On Shoes for Men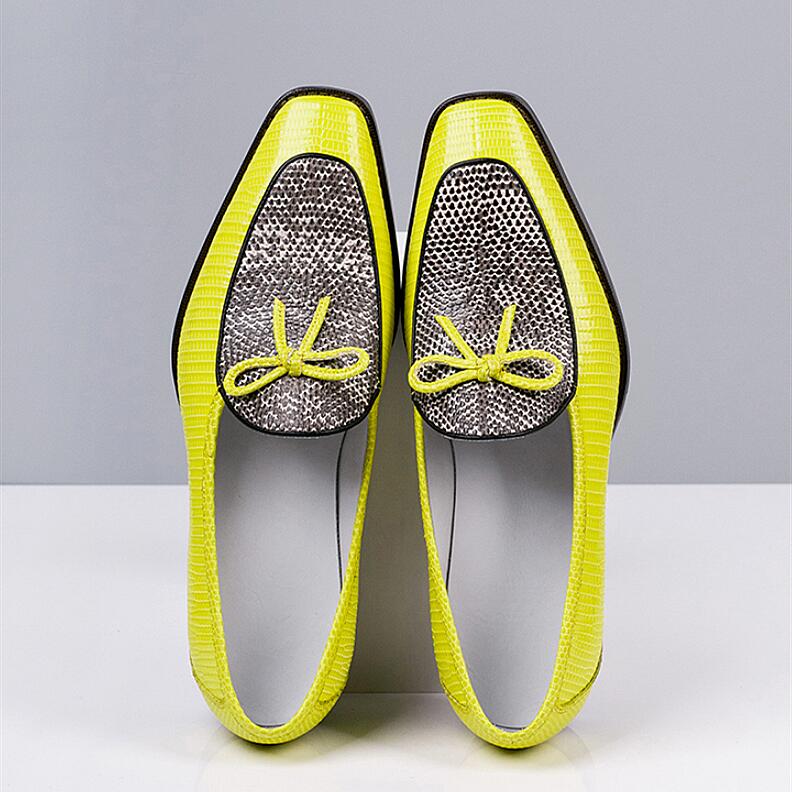 Are you looking for something unique in every manner? These slip-on shoes make a great choice for you in every regard. The unique color of these shoes may not make them good formal shoes, but you will surely be the best-looking man at any casual gathering and event.
The Aesthetic Appeal
The aesthetic appeal of these shoes comes with the lemon-yellow-green shade on the sides and a bow tie on the front. The top section is made with a gray-white scaly design pattern, and the overall shoe is made with lizard skin that makes it further unique in its appearance.
Practical Value Offered
The shoe not only shows its premium craftsmanship but also looks and feels very premium. The slip-on design makes it comfortable and convenient for wearing on long events. Meanwhile, these are handcrafted to bring you the best durability from exotic materials.
Conclusion
Shoes play a very important role in every man's appearance. A shoe tells your styling taste and class before anything else. When carrying yourself through decades of changes in style and fashion trends, you must know how to look both modern and exclusive while maintaining your class.
A classic plain leather shoe will be a great choice, but going with something classier like alligator leather or lizard skin shoes will give you better aesthetic value. Moreover, it is important to select classic and unique colors for added elegance.