Luxury accessories for men – crocodile belt and crocodile shoes
  Men are usually not very fond of the accessories but the most commons ones including the belt and shoes are mostly found to be favorites among people who prefer perfection and quality over default selection of items. This is why men's belts and shoes are made with high-quality crocodile leather to make it durable and reliable for a long-term use as men usually do not like to shop again and again for the same thing. For this purpose, they focus on the quality and other specifications of the belts and shoes while buying.
  Whereas most of the brands are claiming to be making leather products with the genuine material, there are only a few that are really living up to the mark of people's high expectations of buying fine quality belts and shoes. Being one of the most popular and demanded men's accessories, crocodile belt and shoes have always been the concern for the buyers who are confused about how to tell if the leather is genuine or not.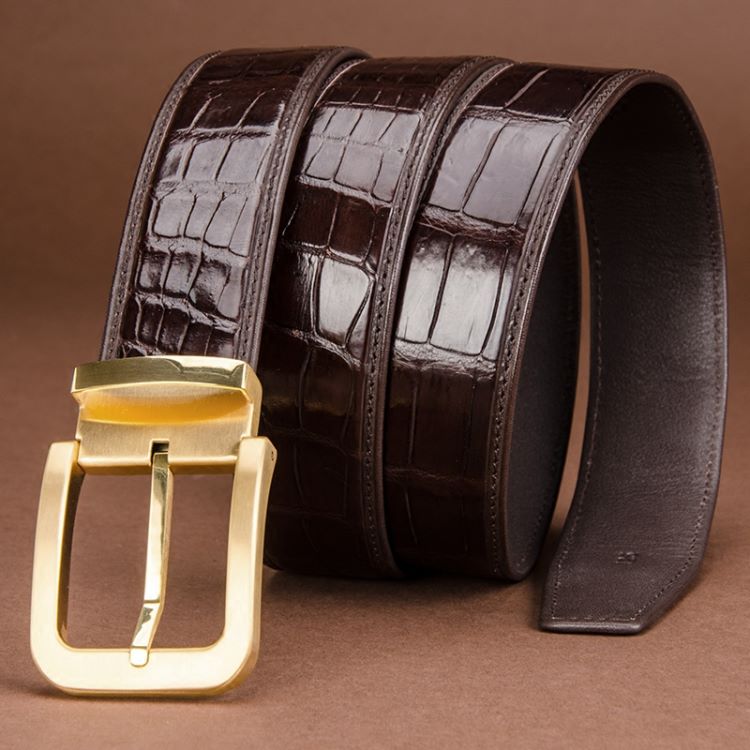 Crocodile Belt
  Crocodile belts are the best choice to make among the other low-quality products because it's natural beauty and intricate design enhances the overall stylish look. Belts are made with numerous designing that suitable to wear with different types of the dresses. However, crocodile leather belt has the quality of matching with any dressing that makes it easy for the buyer to use it on multiple occasions that is not only affordable but durable idea as well.
A lot of the men who prefer to wear belts everywhere including the beach find the crocodile belt very useful because of its fine and resilient qualities that prevent damages caused by water and dust.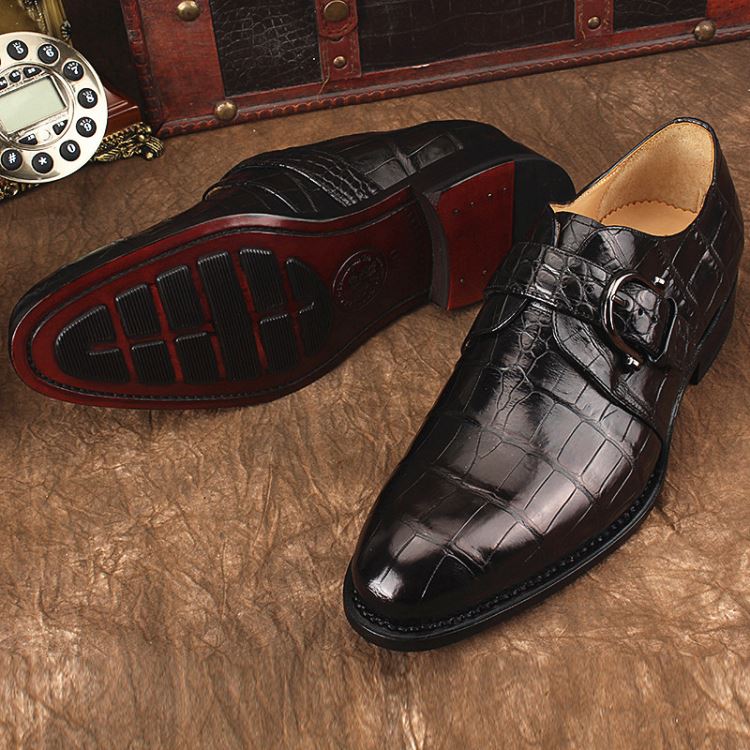 Crocodile Shoes
  Crocodile shoes are the ultimate and designer level shoes for men who desire for a classy and elegant look without adopting extra fancy things. This can be done by wearing crocodile shoes to any gathering regardless of the time, place, and event. This is due to the reason that crocodile shoes are a symbol of choice made by high-class men who simply cannot afford to compromise on the quality and reliability of the shoes. The finely polished, shiny, classical, and mesmerizing shoes allow the user to remain confident and stress-free from the fear of the shoes getting damaged or torn even after a rough use.
Some clear signs of genuine crocodile leather
  Here are some of the signs to look for while buying genuine crocodile leather to avoid fraud and scams.
1. Artificial tanning or coloring of the shoes is clearly visible at the very first glance that you can easily spot for the shoes being fake or a simple case of forgery.
2. The crocodile scales are uneven and do not have a regular pattern.
3. Crocodile leather is extremely soft and comfortable when touched with gentle hands.
4. The fine quality of the crocodile shoes can be recognized by the sophisticated scaling design of the crocodile leather.
  The crocodile belt and shoes are also the top-searched men's accessories with men seeking suitable suggestions and options for buying the best ones for their daily/occasional use.
Recommended Fashion Crocodile and Alligator Skin items: alligator apple watch band, crocodile apple watch band, alligator briefcase, crocodile belt, crocodile bag, crocodile handbag, crocodile wallet, alligator handbag, alligator bag, alligator wallet, crocodile jacket, alligator jacket, crocodile boots, alligator boots, crocodile backpack, alligator iPhone X case, crocodile iPhone X case.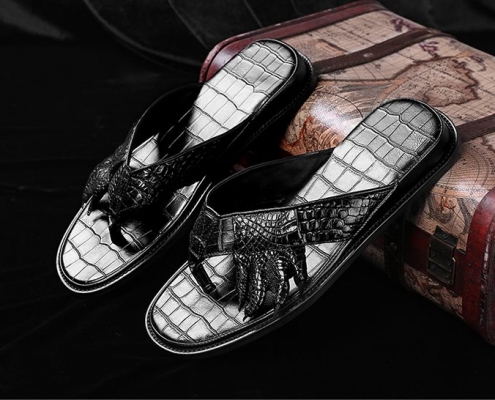 BRUCEGAO
https://www.crocodile-bag.com/wp-content/uploads/2019/02/Best-Slippers.jpg
546
710
Jacket Gaoyzy
https://www.crocodile-bag.com/wp-content/uploads/2018/11/BRUCEGAO-Crocodile-Bags-Logo.png
Jacket Gaoyzy
2019-02-12 13:15:54
2019-02-12 13:23:34
The Best Slippers for Men 2019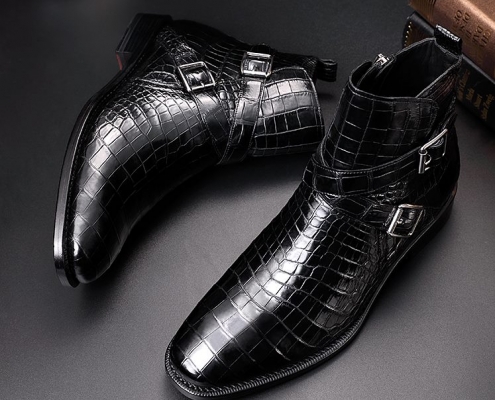 BRUCEGAO
https://www.crocodile-bag.com/wp-content/uploads/2019/02/BRUCEGAOs-Alligator-Winter-Boots.jpg
735
747
Jacket Gaoyzy
https://www.crocodile-bag.com/wp-content/uploads/2018/11/BRUCEGAO-Crocodile-Bags-Logo.png
Jacket Gaoyzy
2019-02-08 12:16:41
2019-02-08 12:16:41
The Best Winter Boots For Men 2019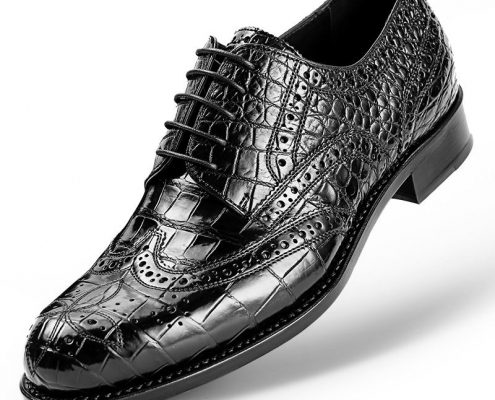 brucegao
https://www.crocodile-bag.com/wp-content/uploads/2019/02/Alligator-Brogues-For-Men.jpg
800
800
Jacket Gaoyzy
https://www.crocodile-bag.com/wp-content/uploads/2018/11/BRUCEGAO-Crocodile-Bags-Logo.png
Jacket Gaoyzy
2019-02-03 05:01:17
2019-02-03 05:01:17
The Best Brogues For Men 2019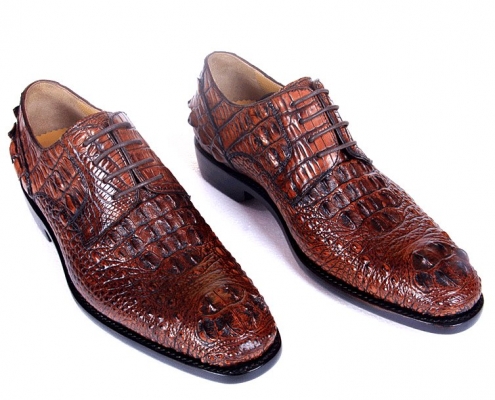 brucegao
https://www.crocodile-bag.com/wp-content/uploads/2019/01/Exotic-Leather-Shoes.jpg
642
754
Jacket Gaoyzy
https://www.crocodile-bag.com/wp-content/uploads/2018/11/BRUCEGAO-Crocodile-Bags-Logo.png
Jacket Gaoyzy
2019-01-31 15:52:18
2019-01-31 15:52:18
The Best Shoes You Can Buy In 2019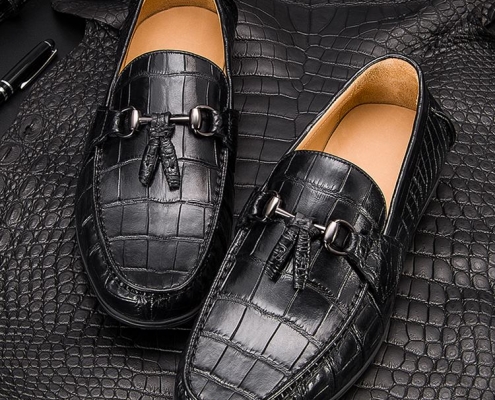 brucegao
https://www.crocodile-bag.com/wp-content/uploads/2019/01/BRUCEGAOs-Crocodile-Shoes.jpg
839
750
Jacket Gaoyzy
https://www.crocodile-bag.com/wp-content/uploads/2018/11/BRUCEGAO-Crocodile-Bags-Logo.png
Jacket Gaoyzy
2019-01-24 11:43:12
2019-01-24 11:43:20
Spring/Summer 2019 trends for men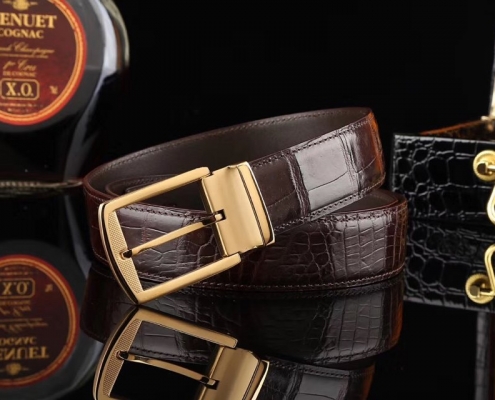 BRUCEGAO
https://www.crocodile-bag.com/wp-content/uploads/2018/12/Mens-alligator-belts.jpg
640
800
Jacket Gaoyzy
https://www.crocodile-bag.com/wp-content/uploads/2018/11/BRUCEGAO-Crocodile-Bags-Logo.png
Jacket Gaoyzy
2018-12-27 12:26:58
2018-12-27 12:26:58
How to match your shoes and belt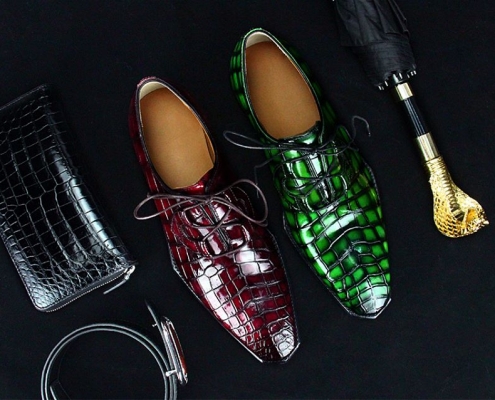 BRUCEGAO
https://www.crocodile-bag.com/wp-content/uploads/2018/12/stylish-BRUCEGAOs-alligator-shoes.jpg
638
800
Jacket Gaoyzy
https://www.crocodile-bag.com/wp-content/uploads/2018/11/BRUCEGAO-Crocodile-Bags-Logo.png
Jacket Gaoyzy
2018-12-13 04:55:44
2018-12-13 04:58:13
Want to impress this Christmas? Try one of these stylish shoes from BRUCEGAO's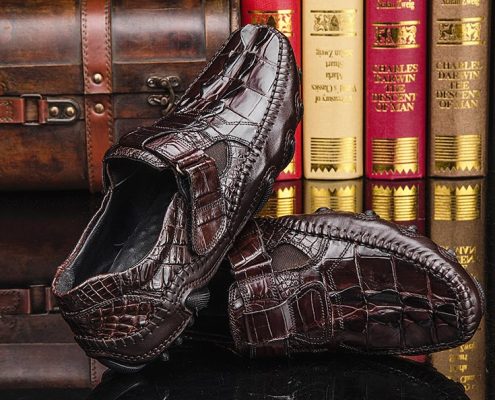 https://www.crocodile-bag.com/wp-content/uploads/2018/10/crocodile-driving-shoes.jpg
594
745
Jacket Gaoyzy
https://www.crocodile-bag.com/wp-content/uploads/2018/11/BRUCEGAO-Crocodile-Bags-Logo.png
Jacket Gaoyzy
2018-10-31 03:44:42
2018-10-31 03:53:44
How to Choose The Best Driving Shoes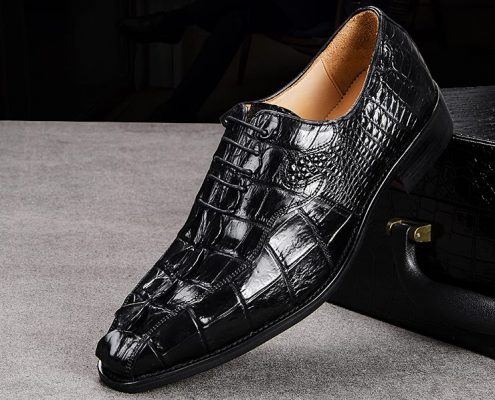 https://www.crocodile-bag.com/wp-content/uploads/2018/10/exotic-Leather-Shoes-Crocodile-Shoes.jpg
691
740
Jacket Gaoyzy
https://www.crocodile-bag.com/wp-content/uploads/2018/11/BRUCEGAO-Crocodile-Bags-Logo.png
Jacket Gaoyzy
2018-10-24 19:03:55
2018-10-24 19:03:55
Are Exotic Leather Shoes Like Crocodile Or Ostrich Appropriate For Business Settings