How to Pick the Right Alligator Leather Shoes?
   Finding the perfect pair of leather shoes is not as simple as it may seem. But now that there is already specialized footwear such as the alligator shoes of BRUCEGAO's for different events and advanced technologies used in production methods, it will not be that hard for you to look for one.
   Alligator shoes like that of BRUCEGAO's are made from the skins of the predator animal, alligator. Wearing alligator leather shoes has been perceived as extraordinary. There is actually an undeniable hype about having and wearing alligator shoes. Aside from alligator skins are highly durable and tough, it is also a status symbol for many people.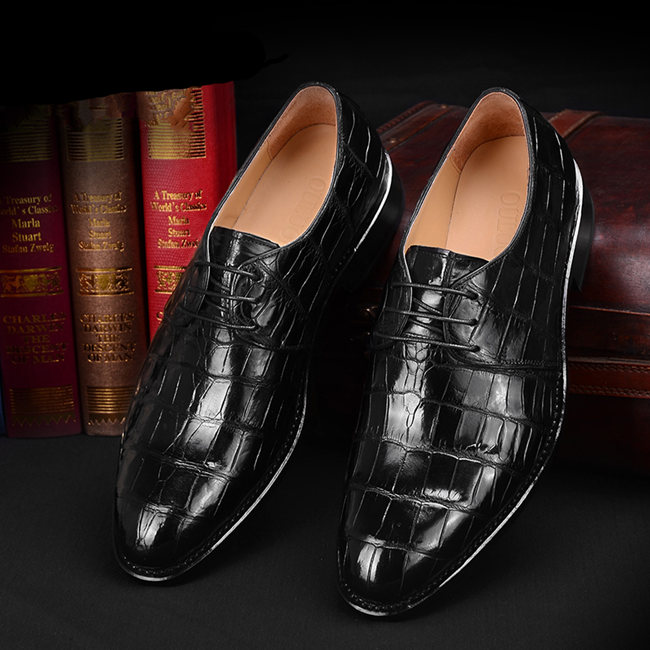 Alligator Leather: A Great Option for Footwear
   Want an exotic walk to the other side? Well, alligator leather is the material you need to give you that upscale and stylish look that can catch everyone's eyes. Alligator leather is known to be a very durable material for buyers who prefer to be different and authentic.
   When it comes to picking the right alligator skins for leather shoes and footwear, it is very important for you to know the things that you need to consider before making a decision. Well, as what the name says, alligator leather shoes are from alligator skins. Alligator skins for leather boots and shoes are usually ordered and bought in pairs.
Here are the considerations you need to know how to pick the right alligator leather shoes:
The Richness of Alligator Leather – The richness of alligator leather is important for it to be unbeatable. It should have consistent and smooth scales that are noticeably circular compared to other options. The skin should be taken from the belly of the animal for it to be defect-free and consistent.
Buy Quality Leather – Although you are after high-quality products, it does not necessarily mean that you have to go for the highest priced in the market. Here are some tips for you:
The price of alligator skin depends on its grade.
Buy skin in pairs for shoes.
The underside skin and the tail of the pair of alligator skins should be the same.
The Price to Pay – The two factors that will affect your decision are the grade as well as the shape and size of the gator skin. The larger the size and shape, the better is the grade. For the grade, check if there are holes, scratches, blemishes or inconsistencies.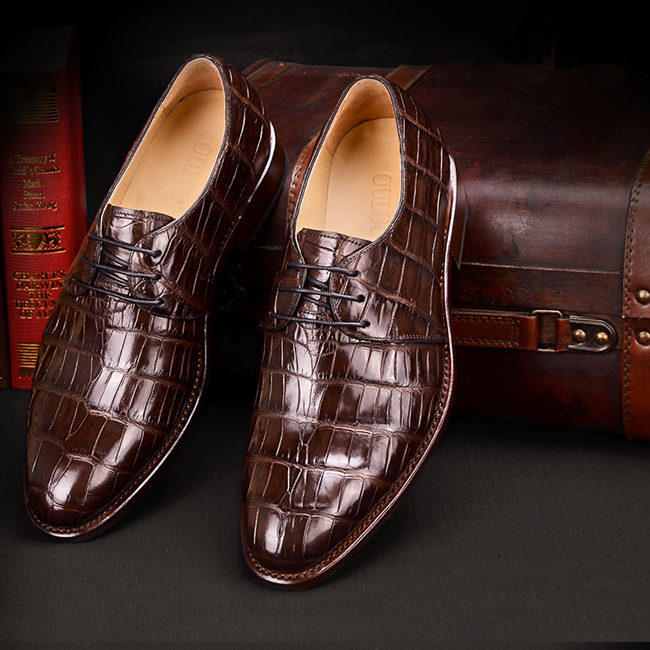 BRUCEGAO: Get the Right Alligator Leather Shoes You Want
   The alligator leather shoes of BRUCEGAO are products that are specially made and known for they exude luxury. They are now becoming a popular commodity that even designers want to invest in. If you are looking for a quality-made pair of alligator leather shoes, BRUCEGAO is a company you can rely on in terms of material, authenticity, and aesthetic appeal.
   If you are looking for the right alligator leather shoes, BRUCEGAO's products are the ones you can invest in. Rest assured that all of their alligator leather shoes are high-quality and authentic. You can Call 18520207244 or visit: www.crocodile-bag.com for more details.
   Recommended Fashion Alligator Leather Goods: alligator handbags, alligator bags, alligator wallets, crocodile briefcase, alligator briefcase, crocodile bags, crocodile handbags, crocodile wallets,  crocodile shoes, alligator shoes.
Recent blogs: