Are Leather Jackets Still in Style for Men in 2023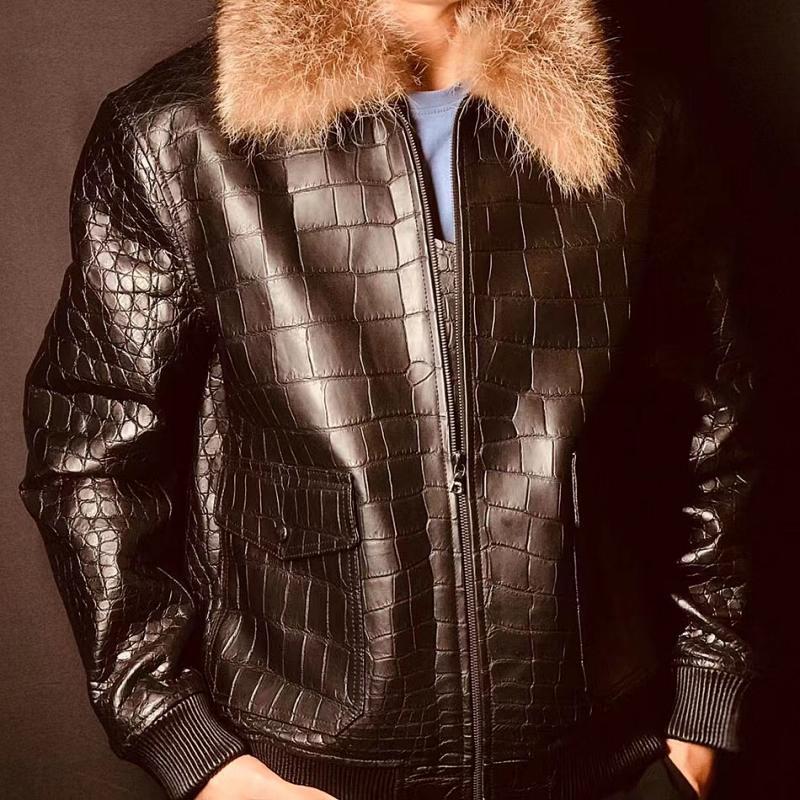 Fashion enthusiasts like to know and follow recent trends because they want to stay in the fashion game. Many people are curious to know the fashion status of leather jackets. They wonder if they are still in style and will rule the fashion world in 2023 or not. If you are also wondering the same then you have landed on a perfect article. If you are a fan of leather jackets then you'll be delighted to know that these jackets are here to stay in the year 2023 and even after that, they are not going out of style soon.
Leather jackets include all jackets that are manufactured using genuine leather. Many people are unaware of the fact that even genuine leather can be of different types depending upon the animal hide used to manufacture the jackets. You can find some heavy jackets with sharp looks made from cow, buffalo, and horse hide. Whereas lightweight leather jackets are made by using animal hides from goats, sheep, pigs, alligators, crocodiles, etc.
Leather jackets make a perfect present for men as they look so stylish and manly. There will be hardly any man who can deny wearing a leather jacket owing to its beauty and stylish appeal.
You might be aware that leather jackets are a prominent part of men's apparel for ages and the trend is still ongoing. You might be curious as to why these jackets are so evergreen and are still in fashion. Well, if that is the case then you must go through this list of reasons that support the trend of leather jackets for men.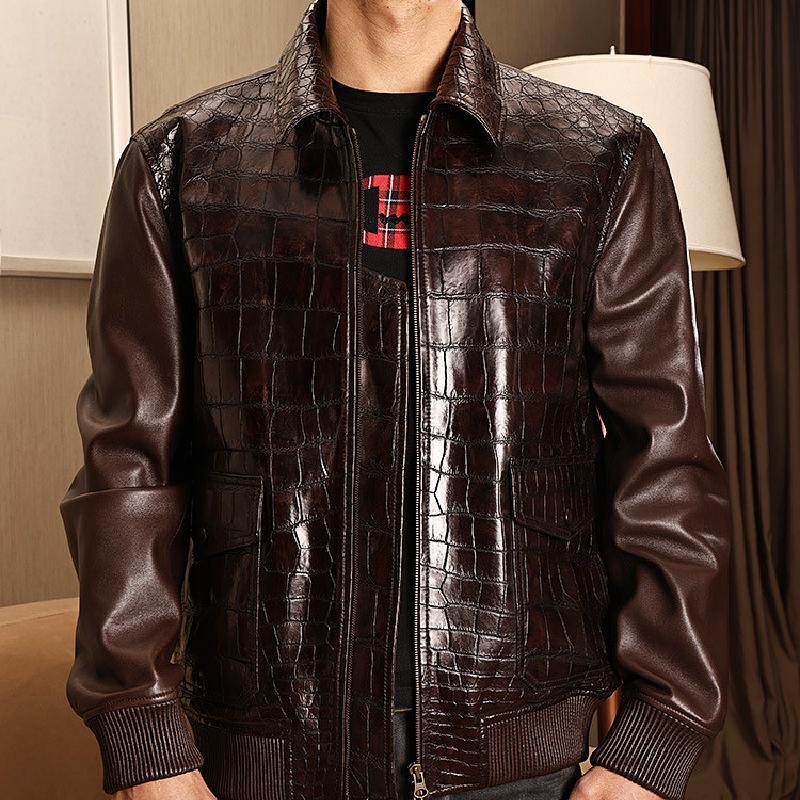 Perfect looks
Leather jackets have a peculiar manly and macho appeal. They suit every attire no matter if you wear denim jeans or dress pants, you can wear a leather jacket to complete your look. Leather jackets go with every attire and complement every look. It sharpens your overall look and makes you look perfect. If you want to be the well-dressed man in the room then leather jackets are the way to go.
Long-lasting
Leather jackets are long-lasting in comparison to other rexine and synthetic material jackets. They can be worn for years if taken proper care of. Of course, leather needs a bit of precaution and care. But if you use it and store it the way it deserves then you can use these jackets for literally a lifetime. This prolonged usage makes them a perfect addition to your wardrobe.
Evergreen beauty
As mentioned above, genuine leather material is quite durable and gets more beautiful with time. This evergreen beauty and timeless appeal make leather jackets a preferred choice for men. Of course, men like to look good too just as women do, and leather jackets make them look good and graceful.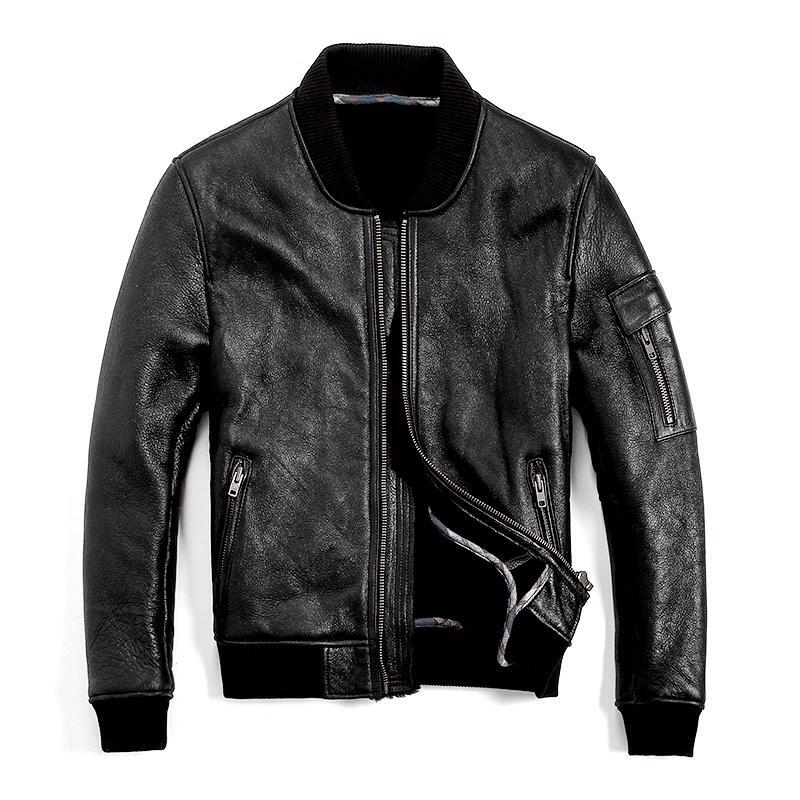 Sturdy yet stylish
Leather jackets for men are sturdy and capable of withstanding extreme weather conditions. The outer layer is quite sturdy and strong when compared to the synthetic materials used to make a replica or other jackets. But being sturdy is not enough for all men, they also need style and you will be glad to know that leather jackets are a perfect combination of sturdiness with style. Leather jackets look cool, stylish, and sporty. This is why people love wearing these jackets.
Elite appeal
Leather jackets are made with pure or genuine leather taken from animal hides. Most of these hides are quite rare which makes them expensive and pricey. This makes them unique and unaffordable for common people. Being expensive makes it a luxury product. Men love to flaunt in classy leather jackets to enjoy the elite appeal. So, if are a status-conscious person then these jackets might serve the purpose of looking good as well as elite.
Peculiar smell
Unlike synthetic material jackets, leather jackets have a peculiar smell that distinguishes genuine leather jackets from fake ones. The smell is due to a peculiar odor that is naturally present in genuine leather. This smell makes adds to the uniqueness of these jackets which is why they are so loved and appreciated.
Easy to wear
Leather jackets do not any sort of ironing or treatment before wearing. This easy-to-wear feature makes it comfortable for the users to wear it. As they don't have to waste a second and can wear the jackets right away whenever they desire.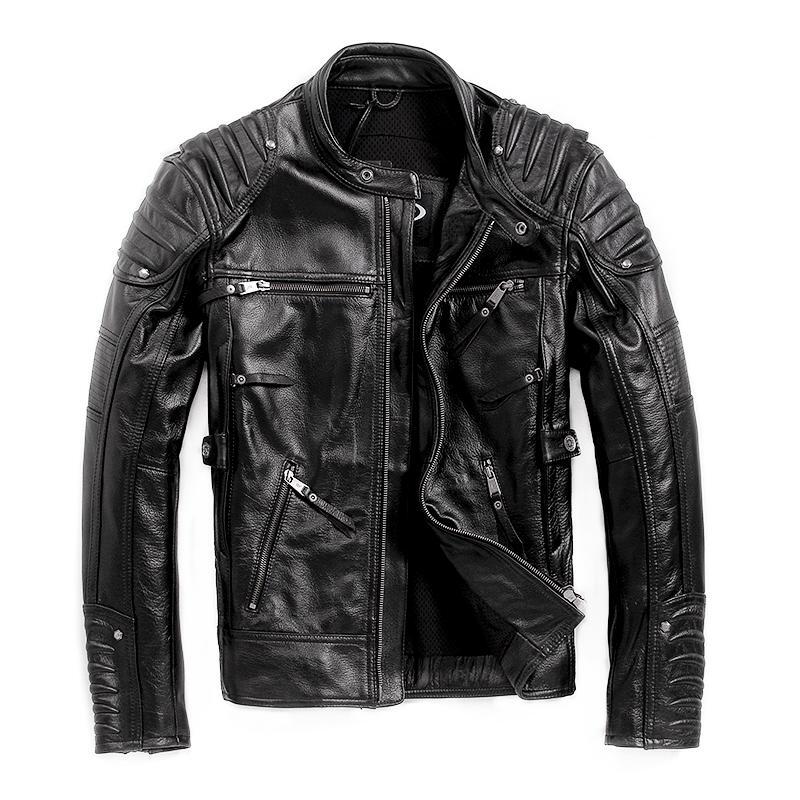 Availability in various designs
Though prominently the leather jackets are seen as sporty and macho, they can be worn by all as they come in various designs and styles. You can buy the design that you like the most. They come in zip-up style and with buttons. You can also find the ones with frills that look funky whereas you can also buy graceful and decent jackets. Cowboy leather jackets are also available in the market. You might have also seen the jacket with studs, beads, or other beautification that is loved by the stylish man who wants to give their look a fancy touch. The availability of various designs makes it easy for you to find the jacket that suits your choice, personality, and look that you'd like to carry.
Authenticity
Several people around the globe are fashion freaks and only prefer to wear pure and authentic clothing. Leather jackets are a perfect choice for such conscious people as what can be more authentic than a genuine leather jacket?
Fashion industry trends
Although all the above-mentioned reasons are 100% true and justified, the most compelling reason that people still enjoy wearing leather jackets is that they are a huge part of the show business and fashion industry. Whether you believe it or not market trends are hugely affected by the fashion industry. People love to follow their favorite celebs and prefer to wear what famous people and celebrities are wearing. As designers are still inclined to use leather jackets in movies, major shows, and even public appearance wardrobes. The public or fans are also convinced to buy and wear these stylish leather jackets to keep following the fashion industry and look up-to-date.