Stylish and Practical Wallet 2019-BRUCEGAO Alligator Wallet
Being stylish is one of the most important side of anyone's personality these days. Many people will judge you by the way you look and wear your outfits. And we cannot deny the fact that being stylish makes you look more handsome and appealing.
Well, there are so many things that are considered an important part of the outfit in different regions around the world. Moreover, there are different dressing styles like casual, formal, and semi-formal, etc. that includes different kinds of outfits. But there is one thing that is common amongst all of these outfit styles, and that is a wallet. Yes, you do not change your wallet when you change your outfit. Your wallet is one of those few items that you use very often and do not change for a long time.
So, it is best to buy a wallet that will last for a long time and also make you look stylish. There are a lot of different wallets that are available in the market, but all of these wallets lack something. If a wallet looks good, then it might not be durable, and if a wallet is durable, then it might not be stylish. So, if you are looking for a wallet that has everything you need, then BRUCEGAO's Alligator Wallets are the best choice.
If you have been using wallets for some time, then you surely know that the leather wallets are considered to be one of the best wallets available. And there is nothing best then the Alligator Leather.
1. They have a Long Life
Alligator leather is recognized as one of the most durable leather available in the market, and therefore, it has a very long life. If you invest your money in a good quality leather wallet, then your wallet can also last a lifetime. BRUCEGAO's made alligator leather wallets are made to last for a long time. You might think that these wallets are overpriced, but you will not regret paying this much when you use these wallets. Some extra bucks will not hurt if your wallet lasts longer than the average priced wallets. Moreover, if you are going to gift this wallet to someone special, then a long-life wallet will always make them remember you.  
2. They are Classy
We just talked about the importance of being stylish, and nobody will regret that. So, if you are looking for a wallet that is not just long lasting, but classy as well, then BRUCEGAO's Alligator Wallet is the best choice. These wallets will go with any outfit that you put on and will make you stand out in the crowd. This is why you should buy these alligator leather wallets with the assurance that they can be used with any outfit.
These wallets are made to look better with the usage, and you will see this once you start using them. These wallets are in high demand and in use by a lot of people. These wallets can also be passed on to the next generation with pride.
3. They are Eco-friendly
The alligator leather wallets are also a great choice because they are environment-friendly as well, unlike the wallets made of the PU materials. Many people go for the products that are made of natural materials instead of artificial materials. So, it is a one-time expense when you pay for an alligator leather wallet, and you do not even have to think about harming our environment. So, if you are one of those people who does not like to harm the environment, then you should buy these wallets and save the environment.
4. Always in Fashion
There are a few things that stay in fashion always. These wallets are always in fashion and can be used by people of any age group. They just fit you perfectly, and you do not have to worry about a thing. There are not many items that are equally famous among people of different age groups, but alligator leather wallets are equally famous among everyone.
People with big names in different industries have a special liking for the products made of alligator leather, and they have been served by the BRUCEGAO's Alligator Leather Wallets. These wallets will not make you look like someone with a bad fashion sense. Instead, people will admire you and your wallet. So, a wallet that will be in fashion for a long time is the best investment.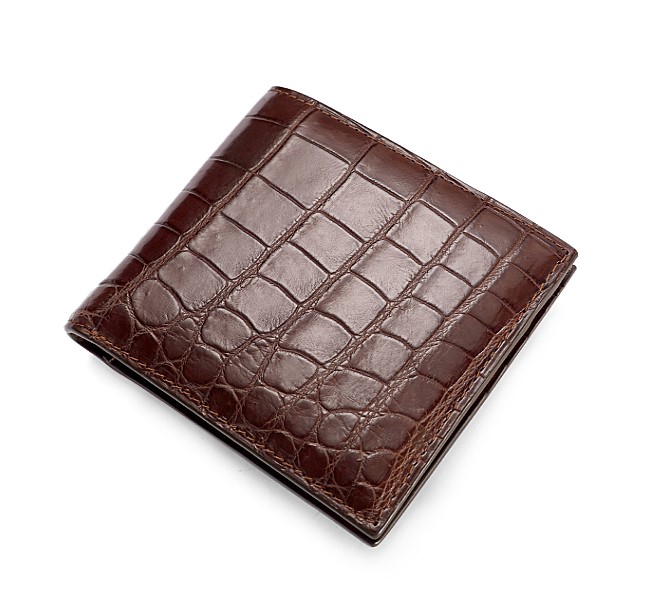 5. They are Flexible
Well, if you have used wallets made of materials other than the leather, then you surely know that those materials get harder and harder with the usage. This thing is not liked by anyone. On the other hand, the BRUCEGAO's Alligator Leather Wallet gets more flexible as the time passes. You can easily organize your cards, cash, and other items in these wallets.
The wallets made of the synthetic wallets always become very rigid, and their plastic gets badly damaged after some usage. These wallets make a bad impression of your personality on other people.
6. They are loved by everyone
Yes, the alligator leather wallets are considered to be one of the premium wallets available in the market. And when it comes to the products made of Alligator Leather, there is no match to BRUCEGAO's products. These wallets are loved by everyone around the world, and people have been using them for years now. It is a great quality, style, and durability of the wallets that have made them very popular amongst the people.
Now, if you are thinking of buying a wallet for a friend, boyfriend, father, or even yourself, then you know what wallet is the best choice. Yes, there are plenty of other options too, but the BRUCEGAO's Alligator Leather Wallets are incomparable for a lot of reasons. We have explained some of the reasons above. A lot of people might think that these wallets are high priced, but the quality of these wallets are much better than the normal quality wallets available in the market.
Recommended Fashion Crocodile and Alligator Skin items: Crocodile iPhone XS Max case, crocodile shoes, alligator shoes, crocodile backpack, alligator iPhone XS Max case,  alligator apple watch band, crocodile apple watch band, alligator bag, alligator wallet. alligator briefcase, crocodile belt, crocodile bag, crocodile handbag, crocodile wallet, alligator handbag.