How to Make Your Luggage Stand Out: Tips and Tricks
Traveling is one of the most pleasurable activities to enjoy in life. However, if you have been traveling by air, you must know that baggage claim is the most tedious job. The practice can become more tiring if you wait at the luggage carousel and examine suitcases and bags that look similar to yours.
An important advice here is to ditch the regular navy or black bag. It looks like everyone at the airport carries the same black or navy luggage. Besides that, there is more that you can do to make the luggage stand out.
So, if you are wondering how to do this, you would love some amazing ideas we have enlisted here.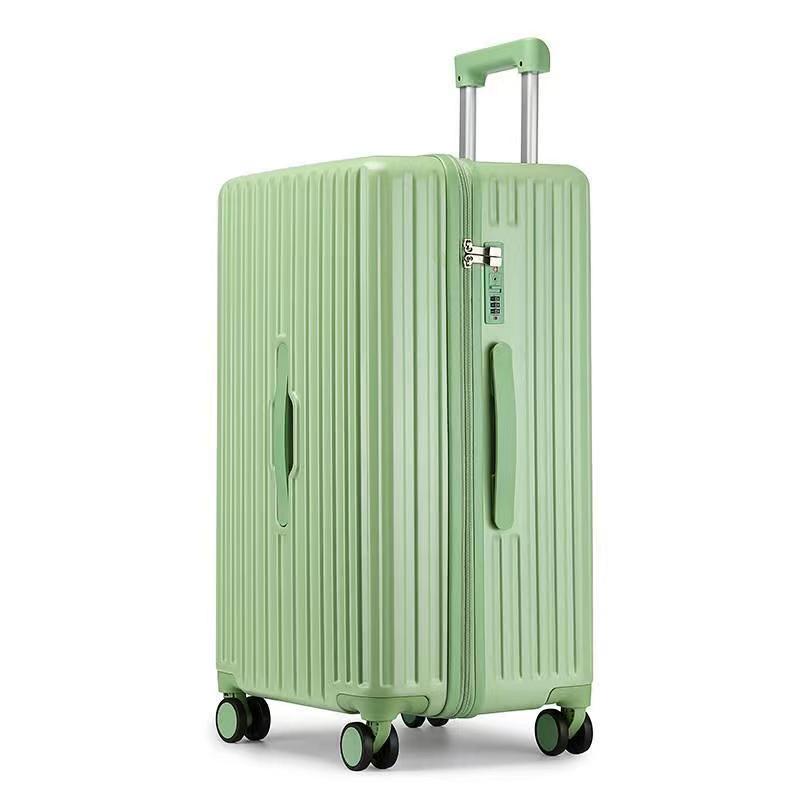 Why is it important to make your luggage stand out?
It is always important to make your luggage stand out. The fact is truer for multiple reasons. Do you want to know some reasons here to know why making your luggage stand out is important? Have a look at the details below to understand things better.
So, here we go:
· To make it easier to identify
We all love going on trips whenever we get a chance. However, waiting for the luggage and searching for it anxiously on the conveyor belt is the most challenging part of every trip. While searching for the luggage at the conveyor belt, you must have considered speeding up the process by making your luggage more identifiable.
Making your luggage stand out is arguably one of the best solutions you can consider here. The practice will make it easier to identify your luggage from a distance and keep you from looking at every passing bag.
· Easier tracking of a missing bag
Making your luggage identifiable or stand out is also important to ensure easier bag tracking. If your bag is missing, a uniquely designed luggage bag will be easier to identify in security cameras.
Most importantly, adding luggage trackers can also make the job easier here. These tags can make traveling with luggage more efficient and worry-less.
· Reduce the chances of your luggage getting stolen
Making your luggage stand out is important to minimize the chances of stolen luggage. Hundreds of bags get stolen every year. The most typical bags are the typical aim of the thieves. A different-looking bag will not be a target of any thief.
Besides that, you can identify your unique luggage from a distance when it arrives at the conveyor belt. So, you can easily keep anyone else from picking it up beside you. Making your luggage stand out will add an extra layer of security here and minimize stolen luggage chances.
Overall, there are various reasons to stand out in your luggage. It doesn't only make it easier for you to identify your bag. In fact, you can also add an extra security layer to your luggage. Due to all the benefits of making your luggage stand out, it is a high-time to learn the best ways to achieve this.
How to make your luggage stand out – using luggage tags and stickers
Using luggage tags and stickers is a very common yet effective way to make your luggage stand out. Here are some tips that would be better to consider here:
Decorate the bag with luggage stickers
Decorating your luggage with colorful and funky stickers is one of the oldest ways to make your luggage stand out and identifiable. This decal is an easier and cheap way to make your luggage look different from the carousel.
Regardless of how your luggage looks, you can make it unique by adding different types of stickers. It would be better to add some artistic stickers to your suitcase. For example;
You can add the shadow of a bird.
You can also use a giraffe sticker containing your name and contact details.
Various sticker options are easily available at your nearest art or craft stores.
In conclusion, you have limitless choices to decorate your luggage with stickers and make it look unique.
Use personalized luggage tags
Using personalized luggage tags is another suitable way to make luggage stand out. People usually use a variety of luggage tags from varying trips. However, you can strengthen your game with individualistic tags.
Name tags are available in a pocket-friendly price range. Most importantly, these can last for longer, especially if you go for quality options.
You can easily keep changing the contact details or address on your tag's inner. So you don't need to purchase a different tag for every trip.
Use personalized patches
Using stitch patches on your bag can also add a feel of individualization. The variety of patches in the market can make it easier to style your luggage and stand out.
Remember that iron-on patches may not be as durable, so you can stitch the edges of these patches after fixing them with iron to make them long-lasting.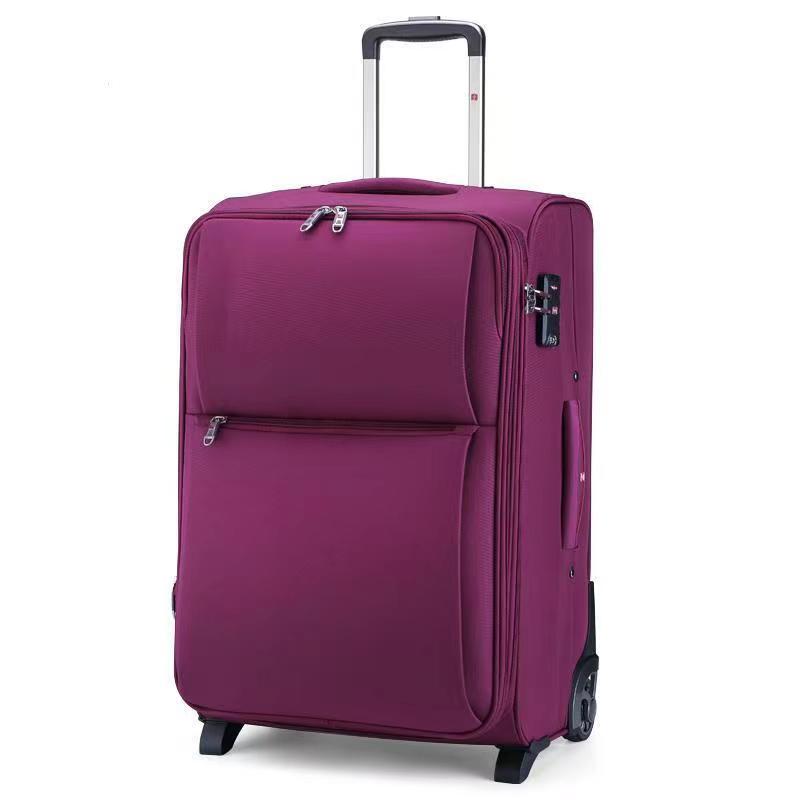 How to make your luggage stand out – using unique luggage designs
Here is how you can use different luggage designs to make luggage individualistic:
Don't stick to blue or black luggage bags anymore. These bag colors now look standard. The key reason behind the popularity of black and navy luggage is that these don't look dirty.  Therefore, most people choose navy or black instinctively when purchasing luggage. That's why you should avoid sticking to these colors in travel luggage.
Instead, ppt for bold and colorful luggage. Choose eye-catching luggage, for instance, pink, green, orange, yellow, etc. Choosing a piece of colorful luggage will provide the added benefit of keeping your luggage from getting stolen easily.
Looking for patterned bags can be another hack to try here for making your luggage stand out. At present, it has become pretty easier to find unique patterns in travel suitcases in the market. In this case, the odds of finding a matching pattern on the luggage carousal would be next to zero. So, buying a distinct pattern is a good investment.
*Additional tip*
If you are a DIY enthusiast, making your luggage unique is never a challenge. You can easily get artsy in multiple ways. For instance, you can use paint to create a unique luggage design. It would be the best thing to consider if you want to go with artistically designed luggage.
You can use different colors, glitters, or anything to make your luggage look unique. It is the best option to design stand-out luggage, even with a black or navy suitcase.
How to make your luggage stand out – using luggage accessories
Various luggage accessories are available in the market that you can use to add a personalized touch to your luggage. Here we have enlisted a few options to understand the types of luggage accessories to look for:
Luggage belts
Luggage belts are amazing to buy for multiple good reasons. You can use luggage belts to:
Ensure that your luggage is closed properly and securely.
Make your luggage easily identifiable at the luggage carousel.
People prefer applying a luggage belt to their suitcases when they have packed them overly. However, having a luggage belt is useful for almost every suitcase for luggage security and identity.
Putting a luggage belt on your suitcase will make identifying when unpacked from a bus or on the luggage carousel easier. When buying a luggage belt, choosing a certain color isn't important. Instead, you should opt for a distinct pattern that can be identified from a distance.
The best thing about luggage belts is that they come in various shapes, styles, and sizes. You can even get a personalized luggage belt also. Luggage belts are usually highly adjustable; therefore, you can use these on any type of suitcase.
Handle grips
Handle grips are also a winning luggage accessory that offers a distinctive appeal to your luggage. When using a handle grip make sure to buy one with vibrant color. Getting a neon color handle grip is the best way to go. Also, tie the handle grip to both the main and side handles of the luggage to increase the chances of identifying the bag from every angle.
*Additional tip*
You can attach various options to the handle or zipper ends of your luggage to make it stand out. The best options may include colorful ribbons, bungee cords, lanyards, zip ties, carabiners, and more.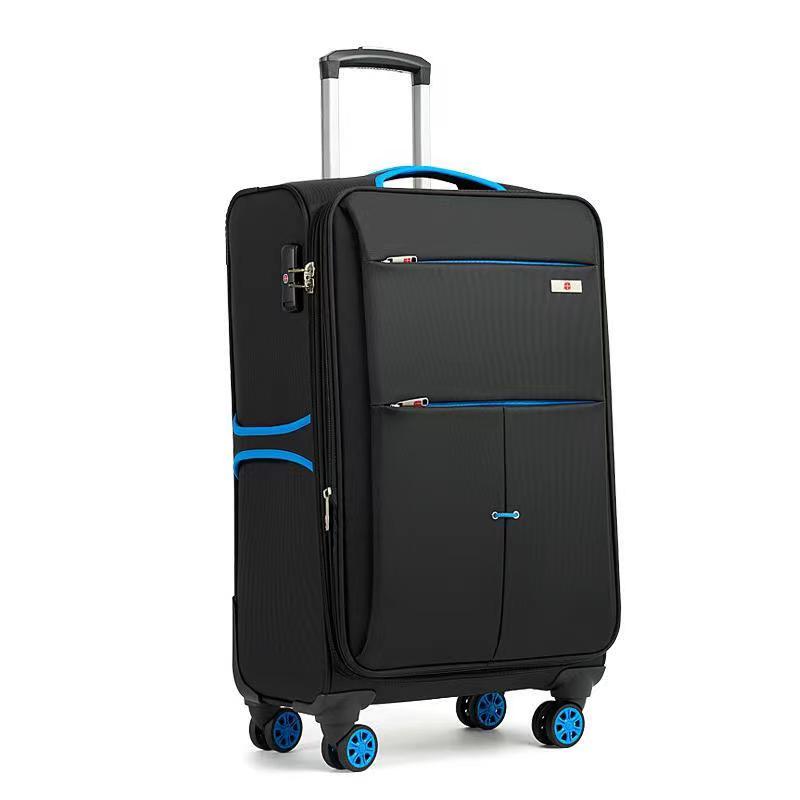 Other tips for making your luggage stand out
Here we have some additional tips that you can consider to make your luggage stand out:
If you have nothing to make your luggage stand out, using decorative tape can be your last-minute fix. However, avoiding heavy-duty decorative tape on your soft-sided bags is necessary. Otherwise, it will leave marks on your suitcase.
Tie a ribbon around the handles of the luggage.  Make sure to use a bright color ribbon that is in no way identical to the base color of the luggage.  Try to make a big bow of ribbon instead of a small tie-up to easily identify the bag.  Remember you are not adding ribbon to make the bag fancy, rather you are tying it as an identification tool to make it large enough to be seen from a distance.
Returning to your glamorous travel days, add travel stickers, and give your bag a retro look. You can use the opportunity to show off what's on your bucket list or where you have been already.
Preparing for your trip with your stand-out luggage
Once you have designed stand-out luggage, it's time to prepare for your trip and make the most of it. It is always better to:
Pack your luggage carefully. It is always better to avoid overpacking for any trip. The fact is truer if you have to travel to multiple destinations in one go. It is because carrying heavy weight everywhere can eventually become a real headache.
Instead, it is better to double-check your itinerary and then make your packing list accordingly. Always perform your due diligence to learn about your travel destination more. The practice will help you to pack adequate stuff accordingly.
Last but not the least, attaching contact information to your luggage is always necessary. If your luggage is in the wrong place, the contact information will make it easier for people to inform you.
Conclusion
Overall, there are numerous ways to ensure your luggage stands out. The practice is important to make it easily identifiable. So you can save plenty of time that you otherwise have to spend checking every bag on the luggage carousel. Use any of your preferred ways to make your luggage stand out while keeping it in line with your desired aesthetic.