Are Alligator Belts Still in Style for Men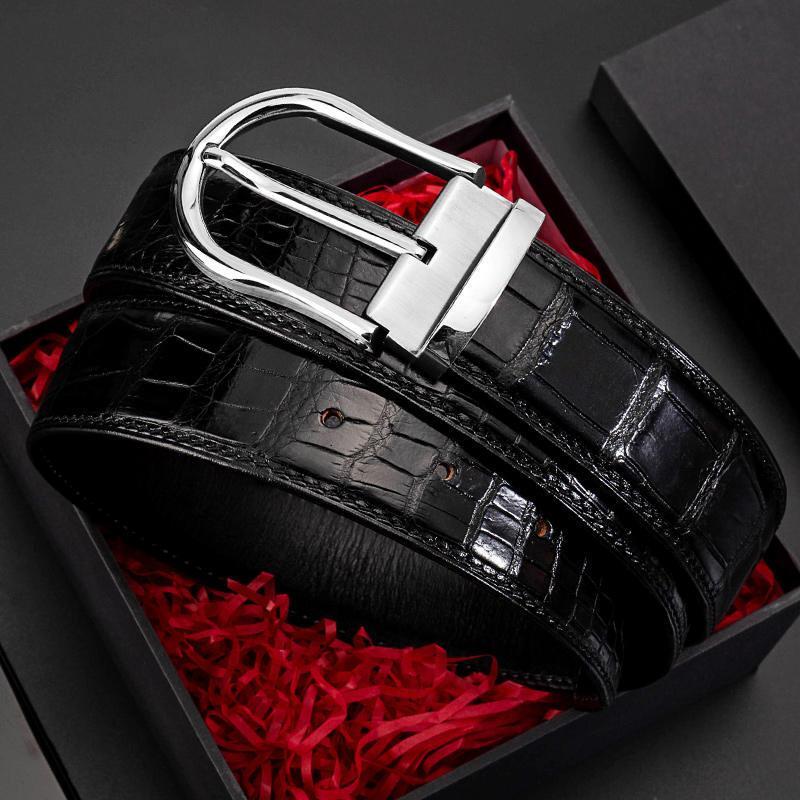 Who doesn't like to wear graceful accessories to complete the look? When it comes to flawless accessories men are not behind women in any way. Men also wear stylish belts, ties, and other such accessories to look stylish and modern. Stylish and elegant accessories are preferred by men to look trendy and fashionable.
When it comes to belts, genuine leather belts have simply no match. Leather is an evergreen material that is considered perfect for belts. Alligator belts are most popular due to their sturdy yet flexible appeal which makes them ideal for manufacturing belts. Alligator belts have been ruling the men's accessories market for quite a while and the trend is here to stay. Their timeless appeal, elegant look, and classy texture qualified them as the most loved and preferred material for men's belts. Alligator belts are a perfect gift for a guy of any age. Be it a boy or teenager or a grown-up man, an alligator belt is a perfect and useful gift for all.
There are several reasons that contribute to the continuing trend of alligator belts for men. Some of the most prominent reasons are shared below.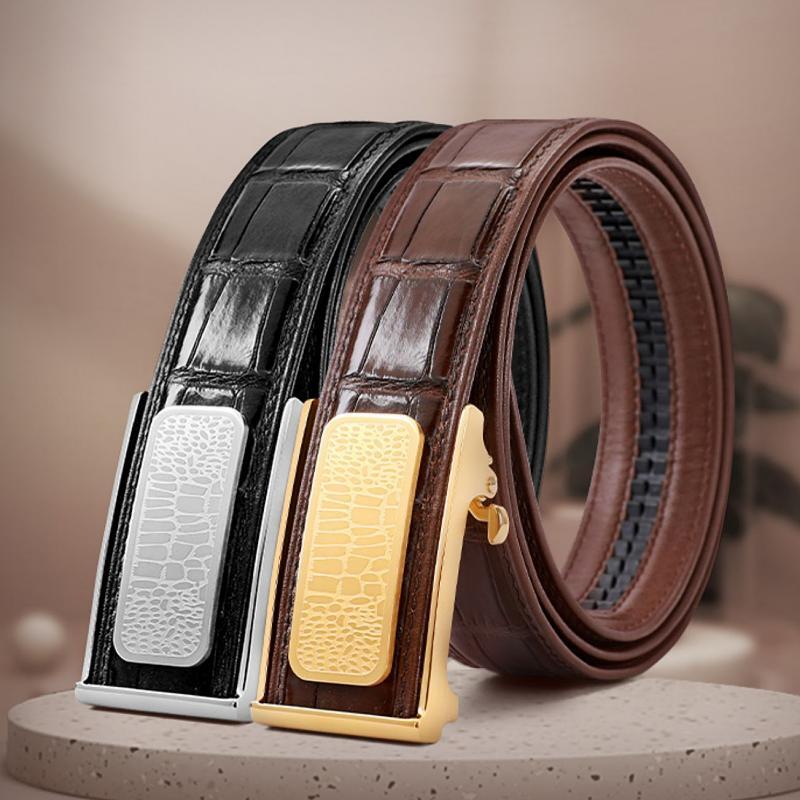 Durability: Genuine Alligator leather is exceptional when it comes to reliability. In comparison to other synthetic materials, alligator belts are proven to be durable. It can easily last for years if you take the proper care that genuine leather requires. Genuine alligator skin doesn't easily get damaged. Due to the lack of chemical usage (as alligator skin is a natural material), the chance of any toxic reaction that can damage the belts does not exist making it long-lasting.
Unique yet aesthetic appearance: Alligator skin has a unique pattern that can't  be found in any other synthetic or artificial material used to make belts. The distinctive natural pattern not only gives a unique look to the belt but also looks aesthetically pleasing. It doesn't require any artificial design as the natural strokes and holes give the perfect look. The best thing is that the hide of each alligator comes with a unique pattern that gives an edge to the alligator leather belt as each belt comes with a unique design giving you a one-of-a-kind appeal.
Comfort guaranteed: Unlike synthetic and artificial materials, the alligator belts have genuine flexibility which gives its' belt an added comfort while wearing. Usually, manufacturers soften the edges of these belts to ensure that the users don't experience any sort of discomfort.
Unparalleled quality: the quality of genuine leather is unmatched. Like other genuine leathers, the alligator belts offer great quality that you can't find in other synthetic belts. Alligator belts have the least environmental impact which makes them perfect to wear on daily basis without any stress or wear and tear. The chemicals or substances used in making the artificial material to make belts have compromised quality in comparison to genuine alligator skin belts.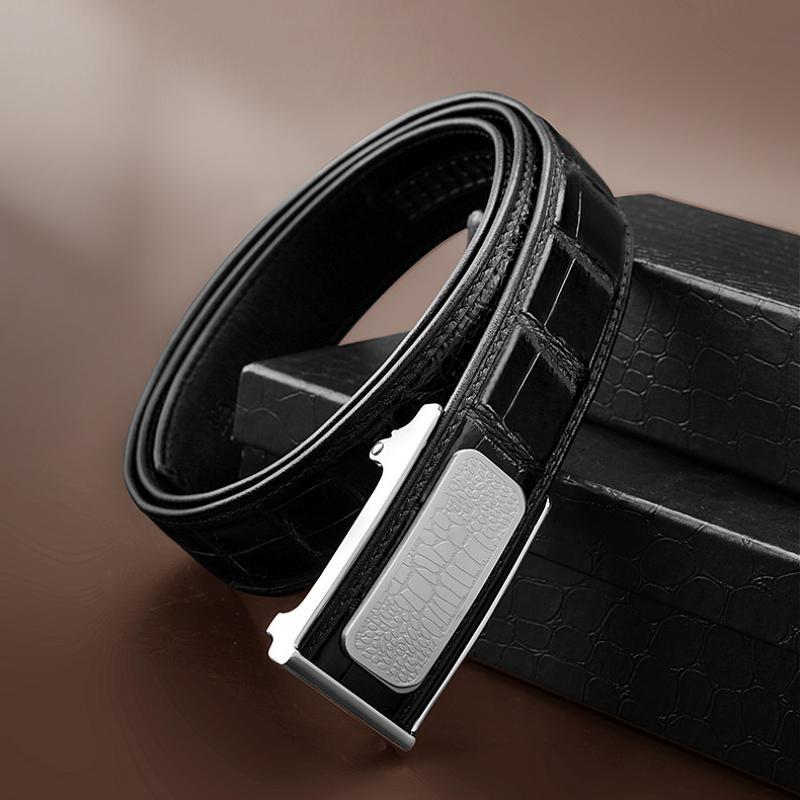 Stylish and Fashionable: Alligator belts possess timeless beauty. Genuine leather has no match when it comes to making a style statement. Alligator belts look so fashionable that every guy wants to own at least one belt to make their head tilt when he walks.
Versatile: Being a natural material, alligator belts are versatile in appeal. They look perfect with every attire. No matter if you are wearing a formal suit for a business meeting or casual jeans for a dinner date, an alligator belt looks perfectly elegant in all attires. It adds grace to every look you carry giving a versatile add-on that no other belt offers.
Status symbol: Genuine alligator skin is quite expensive which makes the alligator belts a bit pricey as compared to the artificial belts. Being one of a kind surely comes with a cost and people are willing to pay this high price for the genuine material and timeless appeal. This is why alligator belts are regarded as a symbol of luxury and classiness. Status and class-conscious people prefer to buy these belts to look stylish yet elite.
Flawless: Natural materials have beauty and grace that artificial materials can't match. Alligator belts are so flawless in their appeal because they are designed with genuine material. The genuine material gained from alligator hide is purely flawless and easy to handle which is why it is one of the favorite materials of fashion designers. The flawless material offers the flawless look and appeal to the belts enhancing the elegance of belts.
Edge over the replica belts: The genuine design and pattern of natural alligator hide can be easily distinguished from the replica belts. The natural sheen, glow, and pattern of genuine alligators can be recognized quite easily. It can be distinguished from a good distance making it impossible for any imposters to use a fake replica and claim it to be a real one. The men owning genuine alligator belts can flaunt their attire with a genuine and authentic look.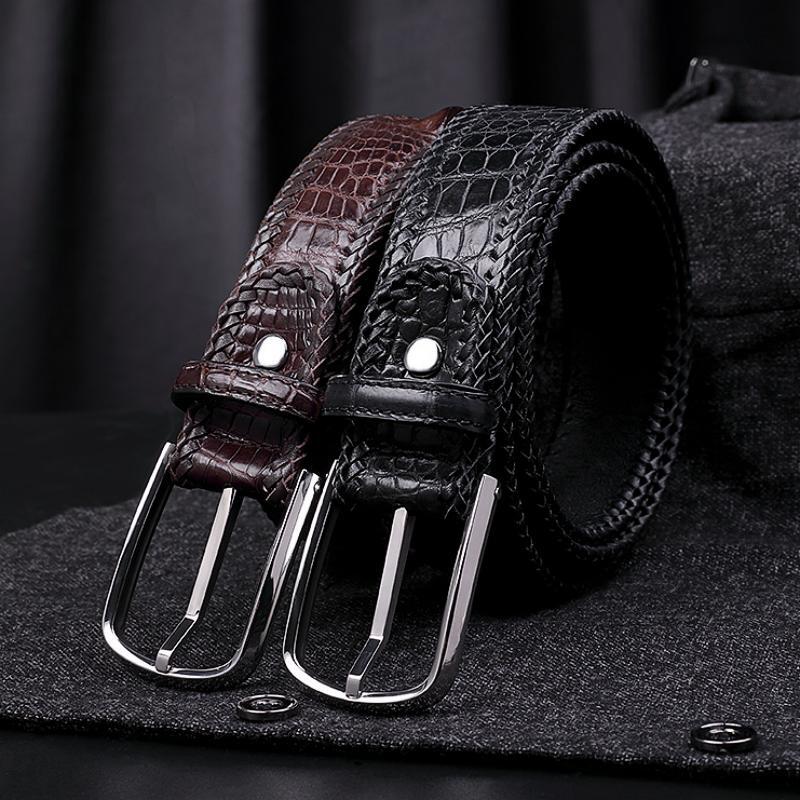 Weather Proof: The exterior of alligator belts is quite sturdy. It can withstand environmental impact in comparison to belts made from synthetic materials. This weatherproof nature makes them a great choice for everyday use. You can wear these belts without stressing over damaging the belt by daily wear and tear.
Preferred material by designers: The famous designers who are famous for designing elegant and classy men's accessories prefer to use alligator skin for manufacturing belts. The renowned designers offer genuine leather products to ensure authenticity and aesthetic appearance. This is why alligator skin is considered the perfect leather material to manufacture belts for men.
Customer's first choice: Alligator belts are still in style because the majority of men who love to buy classy accessories go for these belts. Being a preferred choice by the majority of people alligator belts are so in demand and fashion. The high demand and low supply of alligator skin is the reason that alligator belts never go out of fashion. Genuine alligator skin is quite rare which makes it a valuable and worthy material for belts.