Why Alligator Boots Are a Must-Have for Every Man's Wardrobe
Do you desire to look apart from the masses and exhibit a classy yet modern look? Well, it is the dream of every man to dress up and accessorize in a way that makes the heads tilt. Modern men are as stylish and fashion lovers as modern women. This is why men today are in quest for finding out latest fashion trends and modern styles. If you are looking for some men accessorize to upstyle your wardrobe then you are in luck because we are unveiling a must-have wardrobe item for you that you won't be able to resist. In this article, you will know all about alligator boots and we bet that you will rush to the nearest store to buy a bet after knowing why they are a must-have accessory for modern-day styling.
Alligator boots and elegance goes hand in hand. Made from genuine alligator skin, alligator boots are truly a gift from professional artisans to fashion lovers. If you are wondering what makes these boots so great and irresistible then keep reading till the end.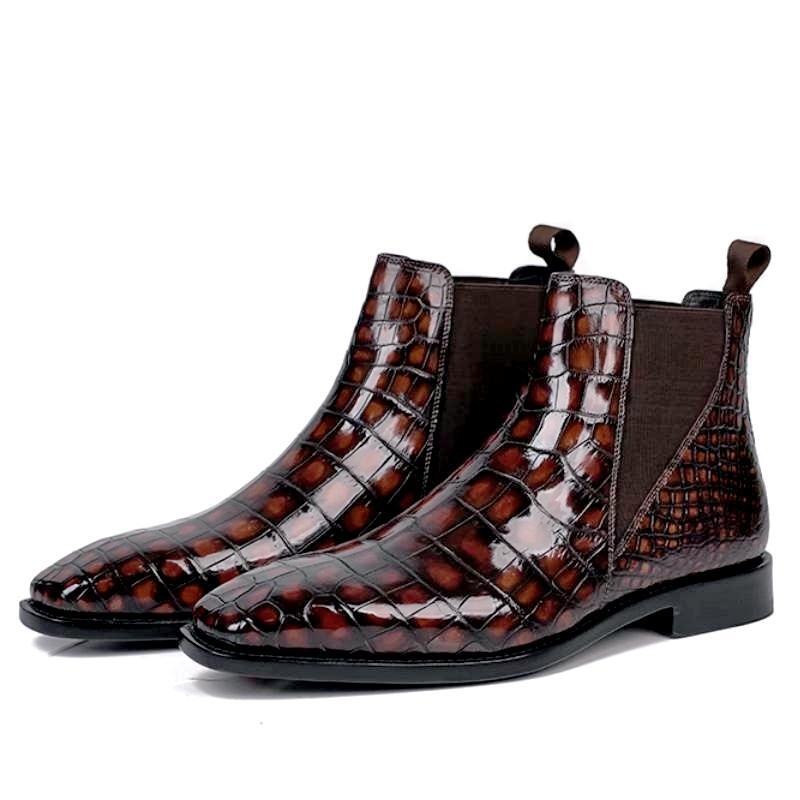 Reasons why alligator boots are a must-have for men's wardrobe
Unmatched elegance: Being a genuine material, alligator skin offers unmatched elegance and grace. Genuine alligator skin has no match with synthetic material used to design boots. Alligator boots look extremely graceful and decent. The unique texture makes them distinctive in look. The pattern, texture, and elegance are something that you can't find in any other pair of boots designed from a synthetic or replica material. The authenticity of alligator skin is what makes these boots a must-have wardrobe accessory.
Variety of styles: Alligator boots are available in a variety of colors, sizes, and designs. You can find finely designed alligator boots in your favorite style ranging from oxford boots, brogue, high boots, and many others. This variety of styles is what attracts modern men who visit a store with a specific shoe type, material, and style in mind. Alligator boots are also available with decent yet stylish embellishments like buckles and bows which makes them even more stylish and modernized. This attractive variety of genuine alligator boots makes them a perfect fit for modern men.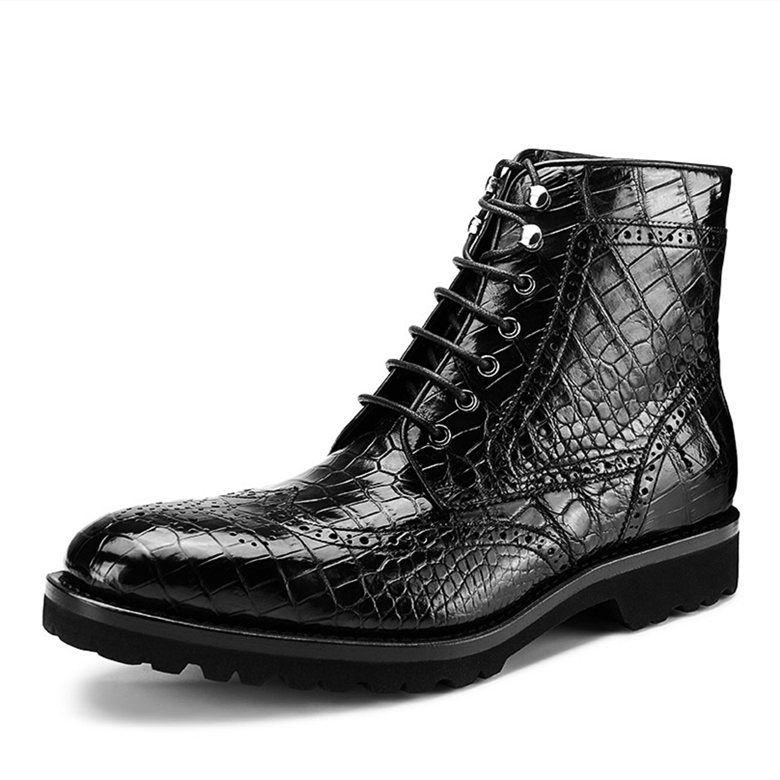 Luxurious appeal: You might already be aware that alligator boots cost a fortune. This is because genuine alligator skin is quite rare and expensive. Like other genuine leather products, alligator boots are also heavy on the pocket which is why they are considered a status symbol. Class-conscious men prefer to invest in a finely crafted pair of alligator boots to make a unique and elite style statement. Owing to its luxurious appeal, alligator boots are a perfect choice.
Exclusivity: Being rare and pricey, alligator boots are not that common. Of course, not all men can afford to own them which make these boots exclusive and unique. If you wish to own boots that you won't find any other men wearing, then alligator boots are the perfect fit for you. You won't find many men wearing these boots which will surely give you an edge and make the heads tilt wherever you go.
Soft and comfortable: Alligator boots are not just a visual treat but also a heaven for your feet. They are extremely soft and pliable. Alligator boots are designed from the belly portion of alligator skin which is free from follicle markings or bone structure which makes it extremely flexible. This flexibility and built-in pliability make these boots comfortable for your foot. Comfortability is an aspect for which you can't make a compromise. Comfortable shoes that keep your feet at peace are surely a great pick. Alligator boots not only let you move in comfort but also makes you extremely stylish and graceful.
Versatile nature: Alligator boots got a versatile appeal. Whether you desire to pair them up with a formal dress, a semi-formal attire, or a casual look, these boots literally go with every ensemble and every attire. Their versatility and stylish looks complement every attire. If you are looking for a pair of shoes for an official dinner to complement your suit, a semi-formal look for a business party with chinos, or a casual look with jeans, alligator boots look perfect with all attires and looks.
Durability: Genuine leather products are known for their durability and alligator boots are no exception. When you invest in a fine pair of alligator boots you are actually investing for a lifetime luxury. The durability feature makes the price looks justified as you can enjoy wearing a nicely crafted alligator boot for many years. All you need to do is to take necessary care of your botos and they will look good as new even when you wear them after years.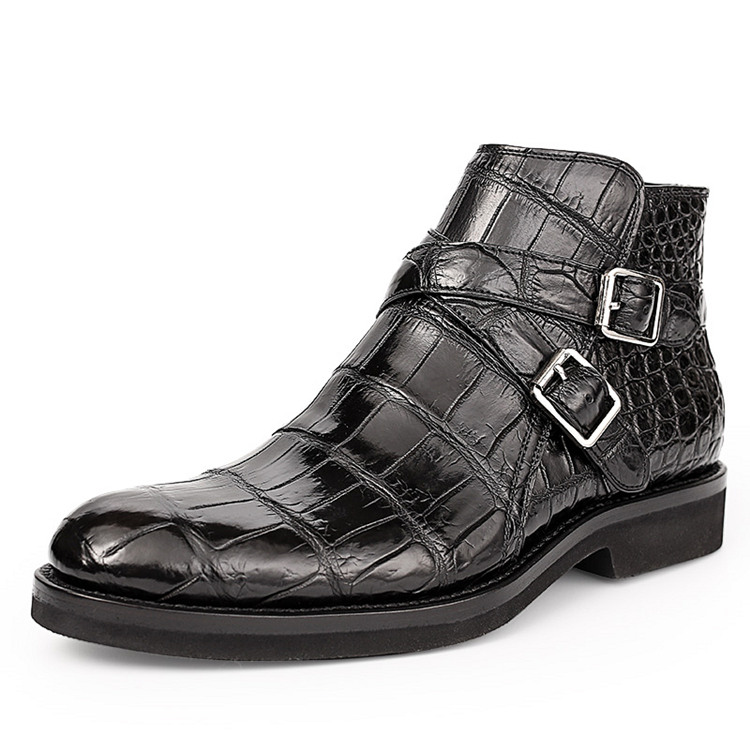 Style to perfection: Every man desires o look stylish and up-to-date. With a nice pair of alligator boots, you can style to perfection as these boots are evergreen and always in trend. Genuine alligator accessories have been topping the fashion charts for so many years now and the trend is here to stay. Genuine alligator products never go out of fashion so alligator boots are definitely a fine choice to upgrade your wardrobe. Almost all of the world-famous designers now offer alligator boots in their catalogs.
Perfect fitting: Being soft and pliable, alligator boots fit perfectly in the feet making sure that you can roam around freely and without the slightest discomfort. These boots have natural flexibility which offers enough room for your feet to breathe and adjust comfortably. Some of the boots even come with cushioned insoles to refrain your feet from tiring away during extended wear.
In a nutshell, Alligator boots are a great pick for men's wardrobe. Their style, comfort, versatility, durability, exclusivity, and luxurious appeal qualifies them as a must-have wardrobe accessory. The quality of complementing every attire and offering a perfect fitting makes them a worthy fashion investment. So, whether you want to invest in your wardrobe or you are looking for a perfect gift item for men then there is no better option than alligator boots.