How to Wear A Messenger Bag
It is quite unlikely that you haven't heard about messenger bags yet. If you have heard of messenger bags and have no idea what they are, let me elaborate in simple words. Messenger bags are shoulder or cross-body bags specially designed for men with a comfortably large strap to easily carry the bag, a lot of compartments to organize your belongings, fastening straps to maintain the length of the strap as required, and often come with a flappy top. These bags are worn over shoulders or in the cross-body style which means that your hands are free like a bird which is the best feature of these bags. These rectangle-shaped bags come in various sizes, shapes, colors, and designs to offer you a versatile look with every attire.
The history of messenger bags goes back to the Romans who used to carry leather pouches on their shoulders to carry coins. From that time these bags have been in trend in form of satchels, soldier's bags, postman bags, courier bags, and carryalls. The last century has witnessed the trend reaching urban fashion where men flaunt these messenger bags and has become a symbol of recent fashion.
Messenger bags are equally popular among hipsters and business people. They are quite versatile and enhance both casual and formal looks. Usually, these bags are made of sturdy material including leather, nylon, canvas, or vegan leather. The strap of good quality messenger bags is mostly padded to ensure that it is comfortable to carry and saves your shoulder from straining.
If you want to know all about messenger bags then keep reading through this article and learn all you need to about messenger bags.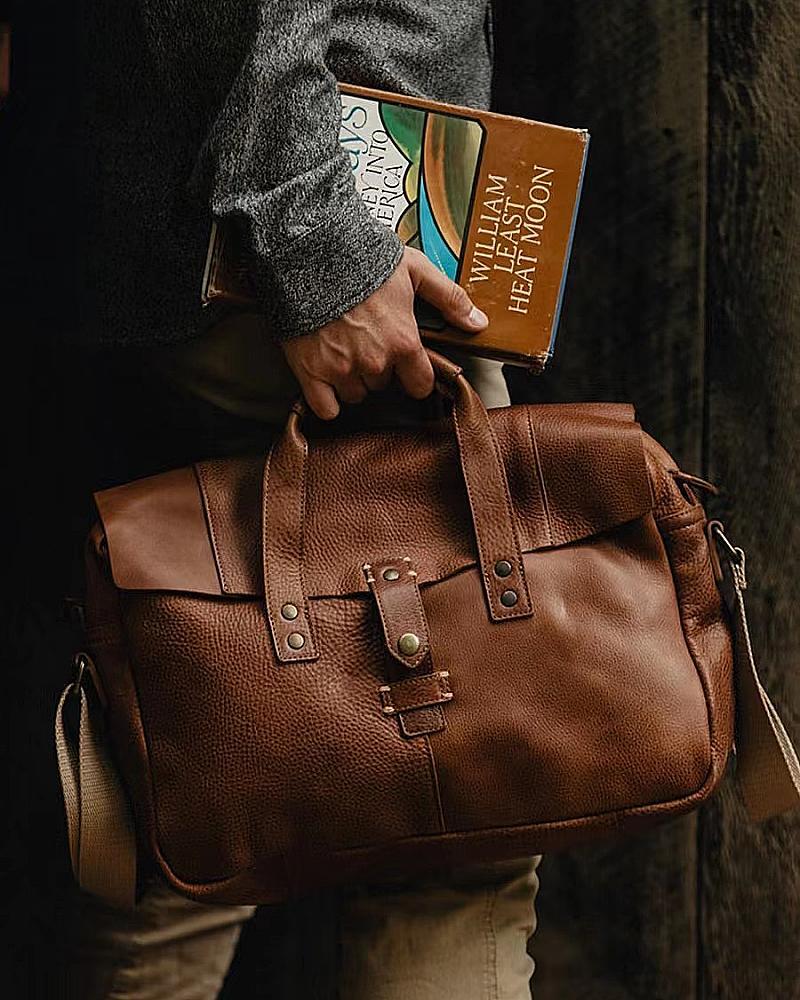 How to choose the right messenger bag for your style
Messenger bags are available in an appealing variety. You will find a wholesome range with varying colors, sizes, fabric materials, styles, and designs. You need to find the right messenger bag from this huge variety that matches your personal style and requirement. It can get overwhelming to choose the right messenger bag for your style. But don't worry we are here to guide you to choose the bag that suits your needs and style approach. To find the perfect messenger you need to take into account the following aspects.
Suitable size: Messenger bags come in a huge size range from small to medium and large bags. You must have an idea of your size requirements, the things you need to carry, and the space you need in your bag. You must restate in your mind the purpose of buying the bag and the things you would want to keep in the bag. Once you are certain about the space you will want in your messenger bag, choose the bag that offers that kind of space. Choose a messenger bag that can fit all the stuff you want to carry along with you.
Enough Compartments: Messenger bags are renowned for offering you compartments to keep your belongings organized. While buying a messenger bag make sure that it has the right number of compartments with perfect sizing to keep your belongings organized and intact. If you carry multiple electronic devices like a laptop, tablet, and cellphone then the bag should offer a perfectly spaced pocket to hold each item separately.
Color matters: You will find messenger bags in a variety of colors. The color you choose would match your own style statement and the purpose of the bag. If you are going to use the bag for a formal setup for your job then the bag be of decent color. The color should complement your formal look. The design and appearance of the bag should be as classy or as funky as your look so that it doesn't seem odd. Go for neutral color bags for a formal look and find a printed or bright-colored bag for a casual and funky appeal.
Adequate material: Messenger bags can be bought in a variety of fabrics and materials. To choose a bag that coincides with your style buy a messenger bag that has the required quality and is made with adequate material. If you need your bag to be of superior quality, durable and sophisticated at the same time then go for leather messenger bags. They add charm and class to your bag and enhance your overall appeal. If you want to buy something low-key then a fabric bag with a leather finish is also a good and affordable option.
Weight: Messenger bags are carried on shoulders or in cross-body style. This is why most people want to buy a bag that is lightweight so that when they insert their belongings the bag is still comfortable to carry. You need to make sure that the weight of the messenger is suitable for you to carry.
Additional features: There are many other additional features that you need to take care of while buying a messenger bag. If you need additional security for your bag then buy the one which has a zipped pocket beneath the flap instead of an open pocket or a buttoned pocket that is more exposed. Also, you will want to buy a messenger bag that has padded straps so that your shoulders will be easy while you are carrying the bag.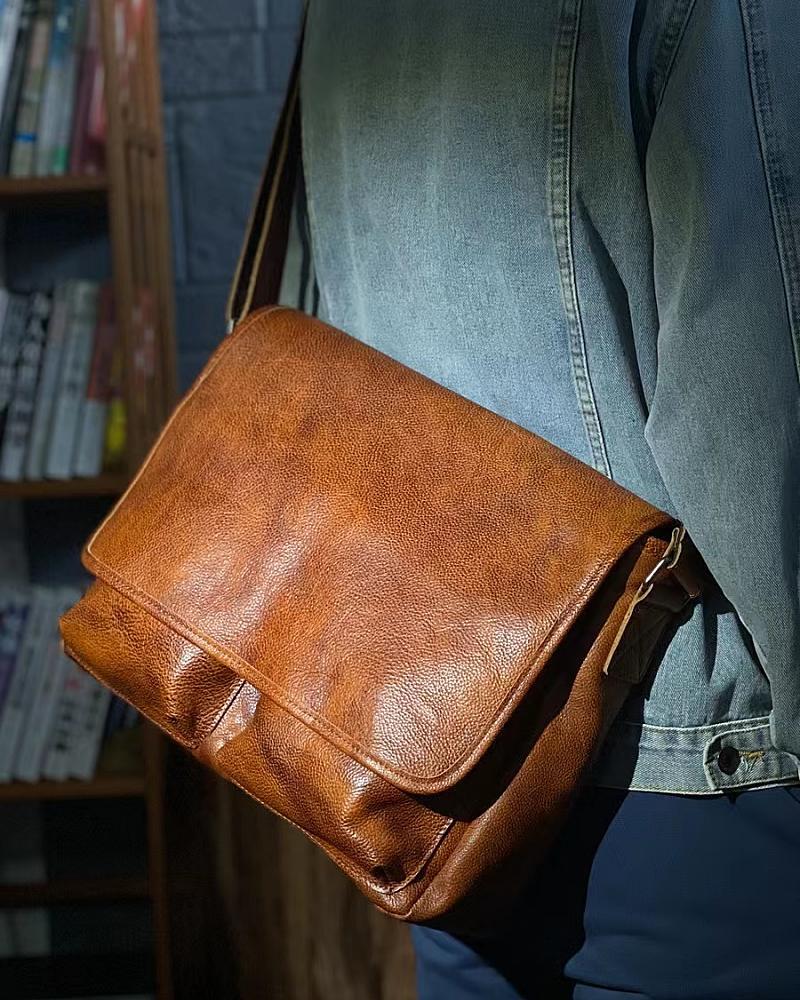 Types of messenger bags
Messenger bags come in various types, most of which are discussed next:
Satchel Messenger bags: These are the bags that have 2 vertical straps on the bag acting as a bag closure. These vertical straps are generally attached to the flap of the bag and are responsible to close or lock the bag. Usually, these straps have buttons that stun into the base of the bag and act as a lock.
Saddle Messenger Bags: Saddle bags are basically a subcategory of satchel bags. The major difference between these two bags is that the flap of this bag is rounded and appears like a horserider's bag.
Briefcase Messenger Bags: As the name reflects, these bags resemble a briefcase and have handles to carry. Mostly, these bags come in a leather material with straps, buckles, and small outer pockets.
Convertible Messenger Bags: These bags serve the purpose of both backpacks and messenger bags. These messenger bags come with straps that allow you to carry them as a backpack and also as a messenger bag. This dual-wearing feature is why we call it a convertible bag.
Verticle Messenger Bag: Normally, messenger bags are rectangular in shape with larger width in comparison to height, but they are also available in verticle shapes in which the height is larger than the width of the bag.
Military Style Messenger Bags: As the word military implies, these bags are sturdy to pass as a military bag. They have a lot of pockets or compartments to hold your stuff and usually come in canvas material with a leather finish. These bags are designed in earth tones and even in camouflage design (thus the name military).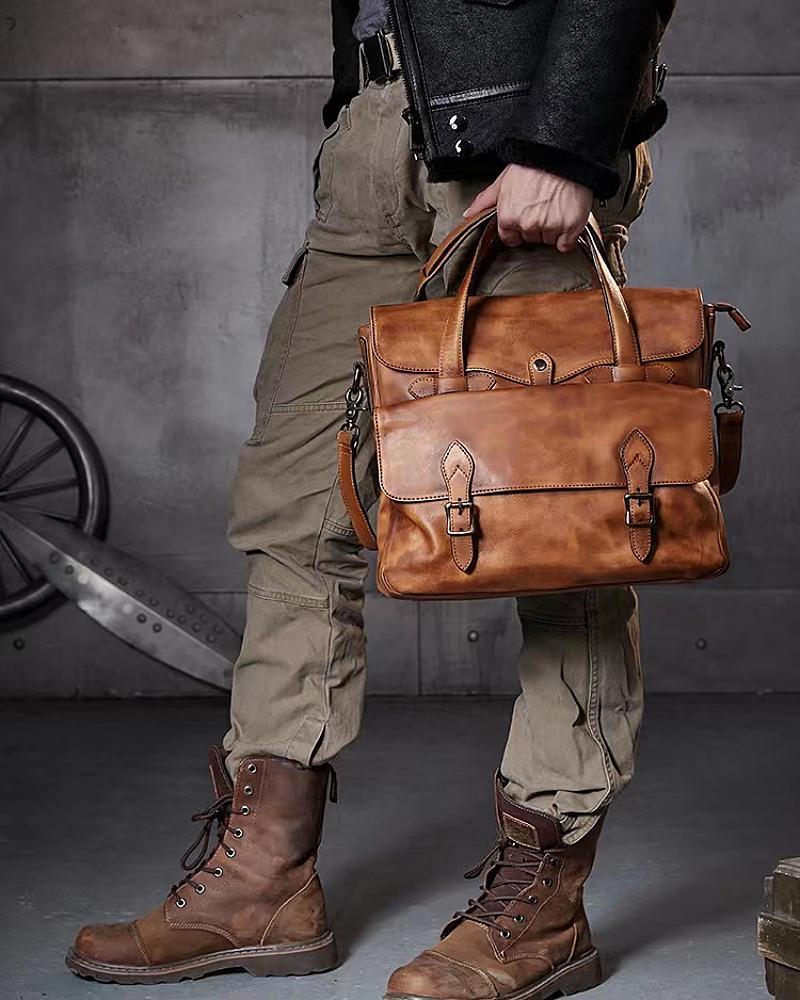 How to wear a messenger bag for casual occasions
For a casual occasion, you might want to style your messenger bag in a more informal and funky style. You can wear the bag casually by:
Wearing the strap of the bag in cross body style to easily walk while carrying the bag. You can choose the shoulder you like.
Fastening the bag in cross-body style at the front or back such that it fits perfectly on your chest or back. You can fasten the strap to attain this look which looks funky and trendy.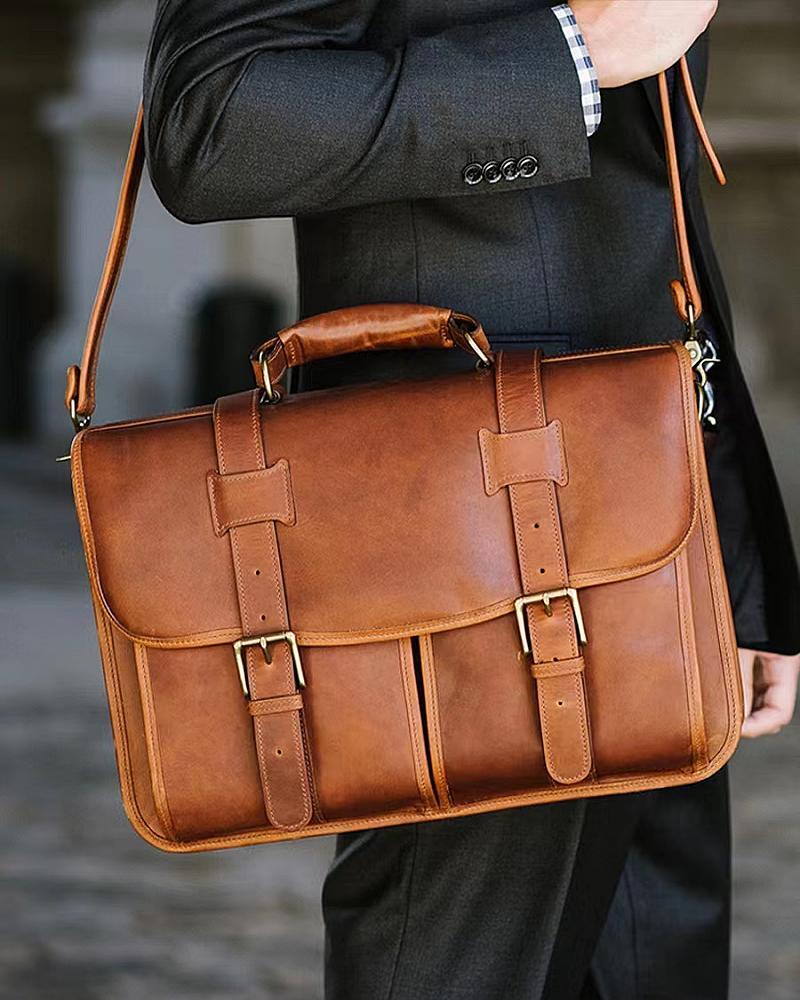 How to wear a messenger bag for business occasions
For business settings or occasions you would want to look formal yet sharp. So, for such occasions, you should style your bag by:
Carry the messenger bag with handles to style it professionally in a business setting.
Carry the bag on one shoulder. It looks quite graceful, decent, and sophisticated which is what you need in a professional and business look.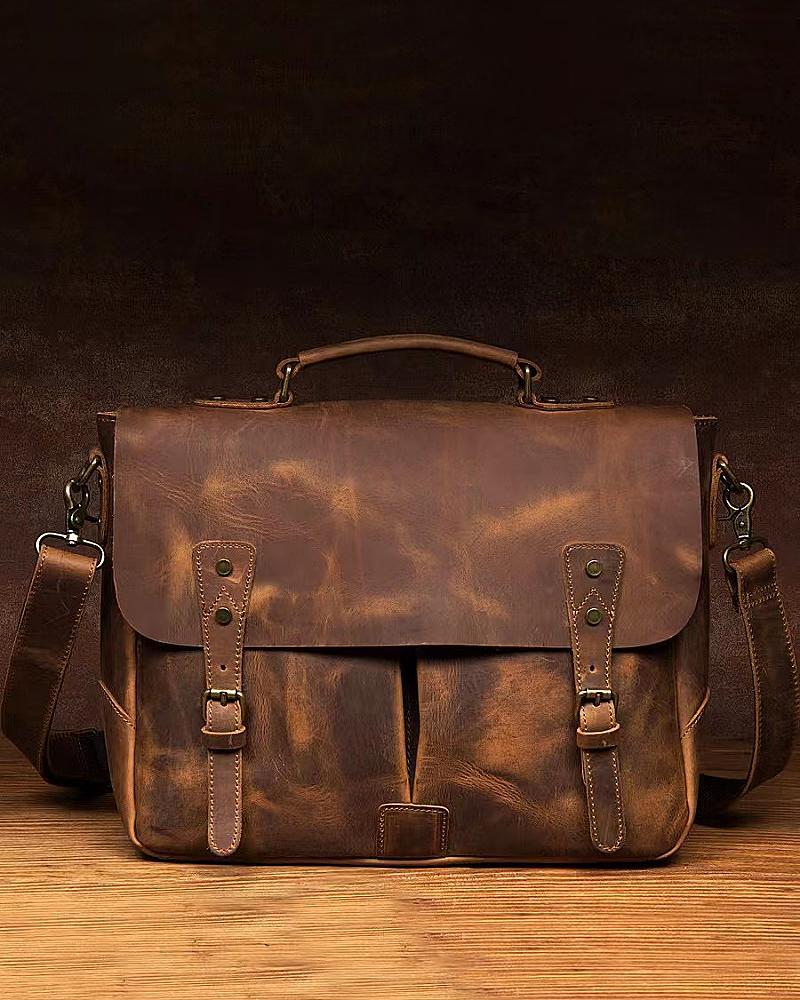 Dos and don'ts of wearing a messenger bag
While wearing a messenger bag there are some factors that you should keep in mind. Here are some Dos and don'ts that will ensure that you are wearing the bag as it is intended.
Dos:
Do make sure that the straps are padded while wearing the bag because extra padding keeps your shoulders at ease and offers you the comfort that you need to carry the bag effortlessly.
Do carry the bag in hand or carry it on one shoulder while wearing it with suits.
Do go for light or neutral-colored bags for formal and bright-colored bags for casual attire.
Do declutter your messenger bag now and then. Getting rid of belongings you don't need anymore will lower the burden your shoulders have to carry.
Donts:
Don't wear your messenger bags in a feminine style. It means do not carry it by cradling the handle in your arm as women do because you want to look classy and not questionable.
Don't fasten the strap too tight when you are carrying the bag over one shoulder in a formal look. The bag should be parallel to your torso and should look elegant. Don't fasten it tight so that the bag touches your stomach as it won't look graceful and elegant.
Don't keep your messenger bag loose when worn in a cross-body style. In cross-body style, the bag should be above the torso (when worn on the back) or near the stomach (when worn on the front) to look appealing and nice.
Don't forget to fasten your bag when worn in the back cross-body style and riding a bike. Because if you do so then the bag can compromise your foot movement and can even caught in the tire and cause an accident.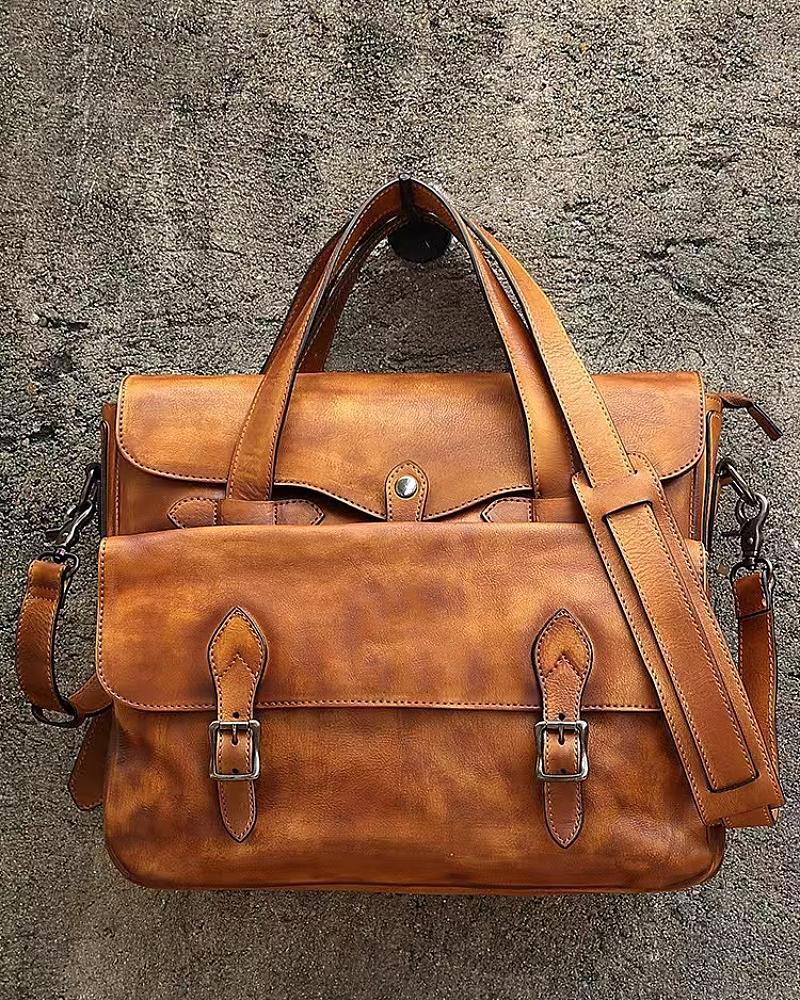 Tips for maintaining your messenger bag
Buying a perfect messenger bag takes a good amount of consideration, time, and money of course. But once you own a messenger bag, you also own the responsibility to maintain the bag to prolong its useful life and appeal. If you are a newbie to the messenger bags world and have no idea bout good maintenance tactics then don't worry because I got you covered. These tips come in handy to take good care of your messenger bags that they deserve:
Declutter the bag on regular basis. It is only human to keep the stuff that you really use and need on daily basis. Decluttering the bag regularly helps you get rid of unnecessary items which will lighten your bag and make it easier and more comfortable to carry.
Regularly wipe the inside and outside of the messenger bag with a damp cloth to keep it shiny and free from dirt dust and stains.
Dry your bag as soon as you can in case it gets wet to save your belongings and bag fabric from any probable damage.
When not in use, store your bag in a dry and cool closet.
Also, when keeping for storage, keep the bag preferably in a dust bag or some kind of box to protect it.
While cleaning the bag if you see any signs of damage then repair it as soon as possible to maintain the life and appearance of your messenger bag.
Never store the bag in a place with direct sunlight exposure as it can fade the color of your bag.
Empty and clean all compartments thoroughly on a regular basis. This will help you keep your stuff organized and refrain you from losing stuff (that you place and forget in any inside pocket)
Conclusion
Messenger bags are ruling the latest bag trends for men all across the globe. These easy-to-carry and spacious bags are perfect to carry your belongings while keeping them organized and safe. The latest trends ask for owning a good and stylish messenger bag. Make sure that you buy a messenger bag that not only matches your belonging carrying requirements but also looks stylish, trendy, and suitable for your usage.