BRUCEGAO's Alligator Leather Briefcase for Men
  BRUCEGAO's Alligator Leather Briefcase for Men will definitely add upgrade your wardrobe and add elegance to your style. Whether you are looking for a bag for a casual day out or one that suits your work wardrobe, you will surely find the Alligator Leather Briefcase from Brucegao perfect for your needs.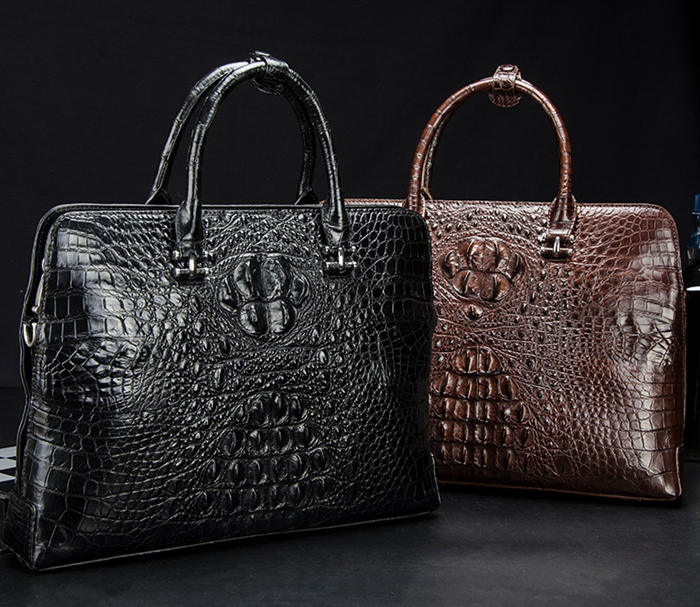 There are actually various styles to pick from. Most briefcase styles have a padded shoulder strap and hand grips for maximum versatility. You can also find models with a retractable handle and a pair of wheels. These styles are perfect for carrying heavy loads. There are plenty of colors to pick from as well such as navy, camel, brown and black, which are commonly used by professionals. You will also find brighter colors such as green, red and yellow. BRUCEGAO's Alligator Leather Briefcase for Men has multiple interior compartments where you can keep notes and files. There are also exterior pockets that provide easy access to smaller items such as your calculator and keys.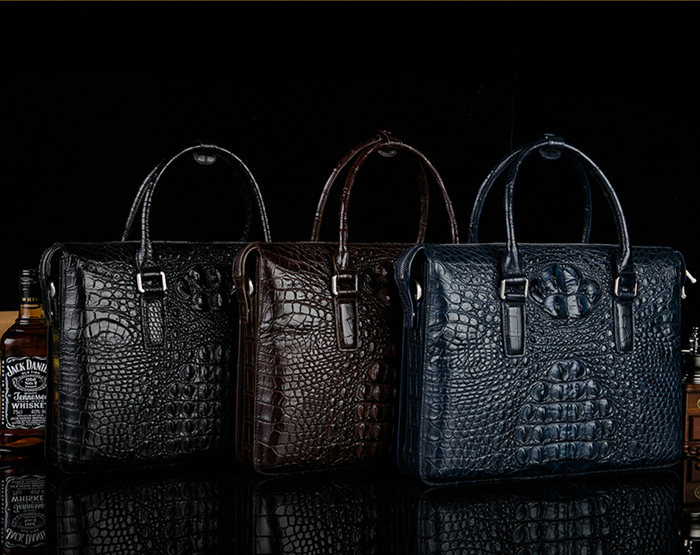 Brucegao uses an environment-friendly vegetable tanning process, so you are assured that the leather is hard-wearing. The process also preserves the leather's versatility and quality. If you want your leather briefcase to last for a long time, there are some things that you need to know. Here are some of them.
Use a soft sponge or clean cloth to apply a high-quality leather conditioner to the briefcase. Do this at least once a year. Remove the excess amount with dry clean cloth. If you live in a place with an arid climate, you need to do this every after a few months. If the climate is humid in your place, you can do it every 6 months.
Store your leather briefcase in a place away from dust, sunlight, humidity, and heat. You can put it in a fabric bag or box.
Allow the leather briefcase to dry completely if it's soaked in a lot of water. Lay the briefcase on a dry and clean floor. Don't put it near heat sources as it might just damage the briefcase. You can stuff the briefcase with newspapers to help it absorb interior moisture and hold its shape.
Don't wipe the leather briefcase with a dry cloth if you accidentally spilled water into it. If the water came from the winter weather, it may contain salt based substances that might damage the bag. Use a moist cloth instead to wipe the briefcase. Allow the bag to dry after wiping away the excess moisture.
Don't forget the interior of the bag. Wipe the interior of the briefcase at least once a month. Use a clean and slightly cloth to clean the lining of the bag to remove dirt, dust and other residues inside.
  These are only some of the best ways to care for your Alligator Leather Briefcase for Men. By following these tips, you can make sure that your briefcase will last for a long time. You can also keep it in tip-top shape and prevent any damage to it.
  Recommended Fashion Alligator and Crocodile Leather Goods: alligator briefcase, crocodile belt, crocodile bags, crocodile handbags, crocodile wallets, alligator handbags, alligator bags, alligator wallets, crocodile leather jacket, alligator leather jacket, crocodile shoes, alligator shoes, crocodile backpacks, alligator backpacks, crocodile briefcase.
Recent blogs: