Best Leather Briefcases to Wear with a Suit to Look Smart & Professional
Sometimes a kickass men's suit is just not enough to make your look for daily office wear stand out. You need something to accessorize your attire and show off your professionalism, confidence, and success. Women have so many choices to accessorize their office look, but men have very limited options in this regard. However, with the right choice of accessories, even these limited options can offer a lot of advantages.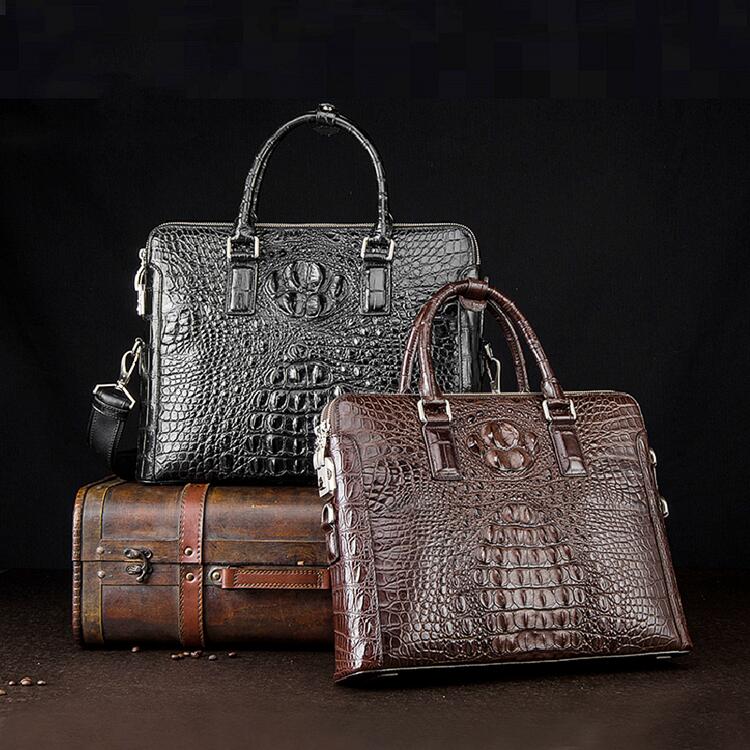 If you were wearing a great suit but caring some odd bag for work files or laptop, it would be counterproductive and even bring down your best suit's impression. But a genuine alligator leather briefcase can ideally remedy this situation. This single accessory can ramp up your style and show off your confidence. It will compliment your suit and make you look quite smart and professional.
Interested in some great options for the best leather briefcase bags for men? We have some amazing options available for you here: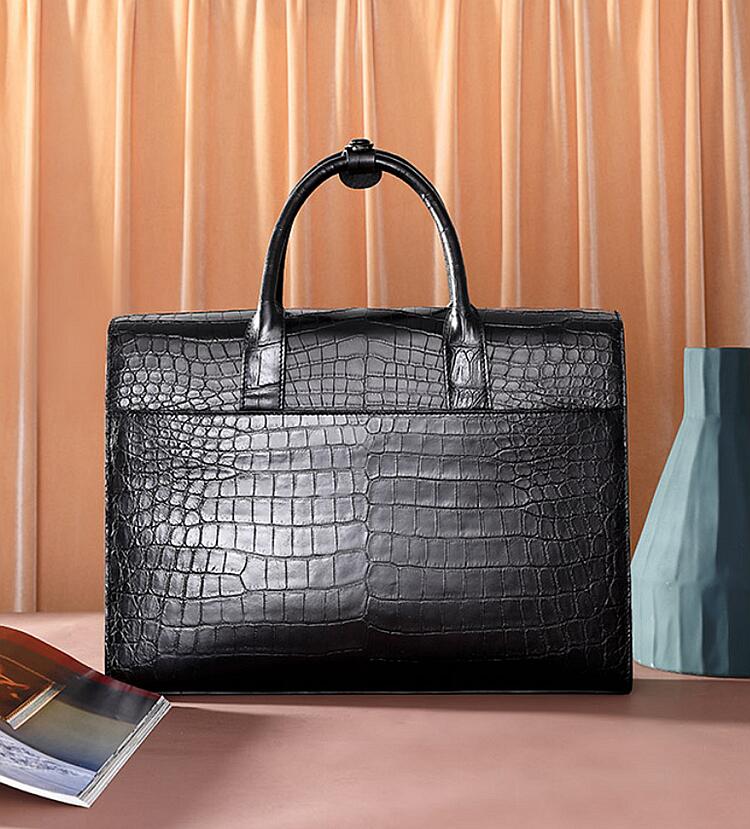 Formal Alligator Leather Flapover Briefcase Laptop Business Bag for Men
For a full-on professional look, choose formal alligator leather flapover briefcase laptop business bag for men. It is the best accessory for a complete business look that makes you stand out and exude confidence. This bag is made of 100% genuine alligator skin and is available in black for this trendy hand carry for men. It has a leather lining made of imported material and internal compartments to hold your electronic devices, files, and more. This bag has a unique design and is furnished with a secure lock closure for your laptop compartment. It is easy to use and carry every day to your office. It has ample room for all accessories. It matches the recent fashion code for formal men's wear. It is pretty low maintenance, and its top-quality material allows its original look to remain shiny for a long time, ensuring the long-term usage of this professional leather briefcase.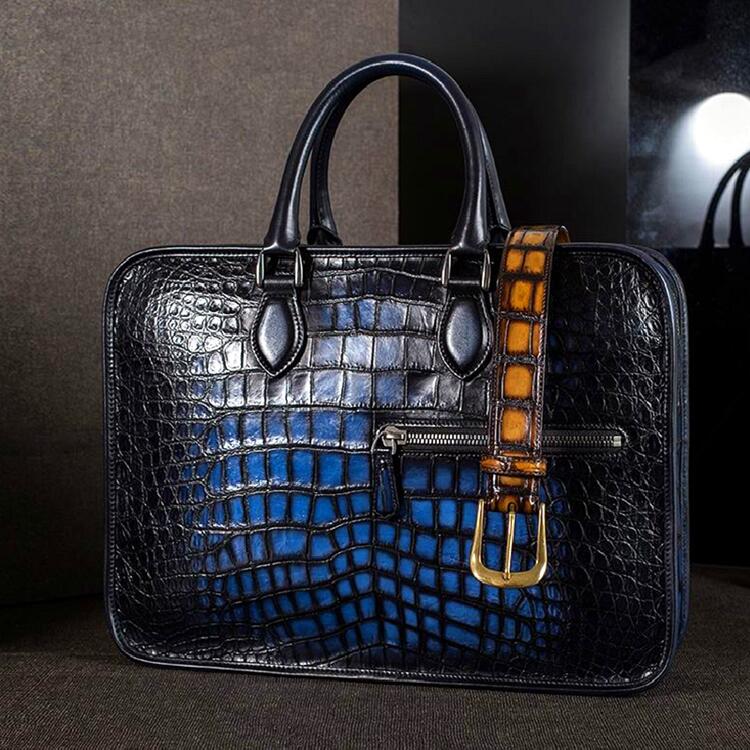 Alligator Crossbody Laptop Business Bag for Men
For the best collaboration between accessories and fashion offering professional support as a suitable briefcase, get an alligator crossbody laptop business bag. It makes your formal attire stand out with this ideal choice of crossbody business bag. It complements your professional look and makes you radiate confidence. This briefcase is made of 100% genuine alligator skin and is available in a variety of colors, including black, brown, blue, white, and burgundy. Whatever is your preference, you can find this bag uniquely suited to your suit for a daily office look. It's a briefcase-style business bag that holds your laptop and other accessories like a cellphone, files, pens, etc. It is a practical bag with a zipper pocket outside to place things for quick access, such as your mobile phone, your tickets, or ids. This fashionable bag offers high utility with its multipurpose design and high-end look. Its excellent quality material ensures its usage for a long time with its original sparkling look.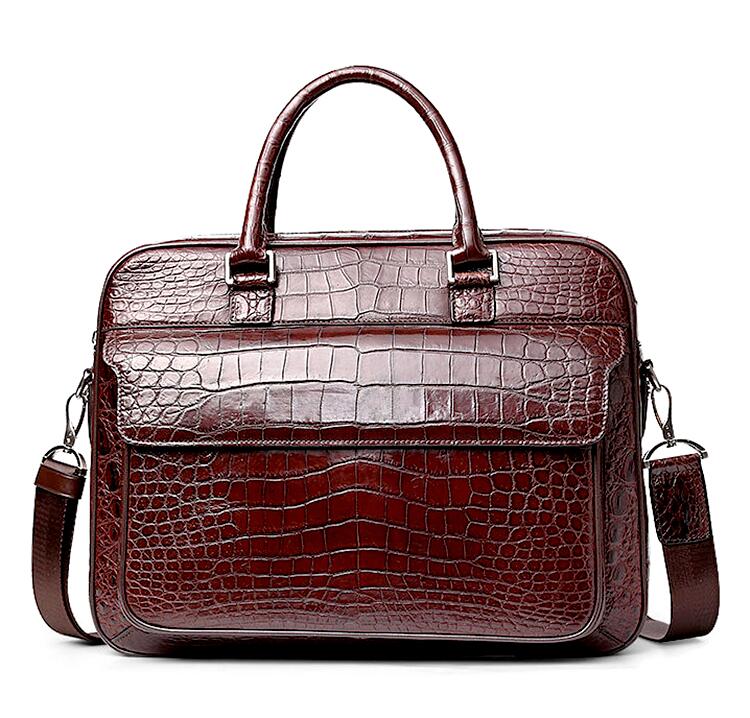 Alligator Briefcase Laptop Shoulder Messenger Bag for Men
There are several choices for professional briefcases for men, but the alligator briefcase laptop shoulder messenger bag for men definitely stands out. It is the ideal fit for an exceptionally professional look for your everyday office attire. This bag is made of 100% genuine alligator skin and Italian cowhide for the lining. The bag is available in two-choice colors, black and brown, both suit your preferences for professional outfits. The bag has a lot of space to carry a bunch of items like a laptop, ids, keys, cell phone, etc. It is very stylish and secure with a zip opening. The patterns on this bag are real markings of alligator leather, not some embossing patterns. It gives off a genuine vibe and a classic office look. This particular accessory makes your office attire smart and professional. It is easy to use and carry. This stylish bag becomes part of your daily look and gives you an extra jolt of confidence. This shoulder messenger bag makes for a quite practical yet fashionable choice for men.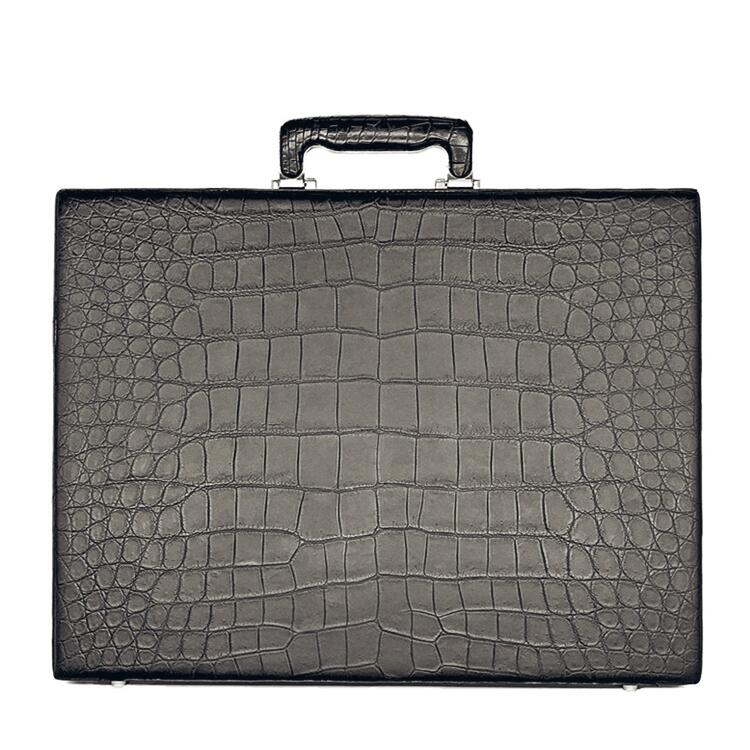 Hard Alligator Leather Attache Briefcase Executive Case for Men
If you have a high-powered job and would like to dress accordingly, then this hard alligator leather attache briefcase executive case for men is the best accessory for you. It has more than enough space to carry all your work files, laptop, ids, and more. It is made of 100% genuine hard alligator leather and is available in matte black. Its hard exterior makes it highly durable and offers extra protection for your laptop and delicate devices. It looks very stylish yet professional and compliments your confidence and sophistication. It adds finesse to your business attire and is easier to use as it comes with four protective feet made of metal at the bottom of the case. You can place this bag anywhere on the ground, and it stays elevated with the help of its metal feet, protecting the bag itself from any possible wear and tear from daily use. It is the best choice to accessorize your smart and professional look and works ideally to pull together any suit to make you look smart.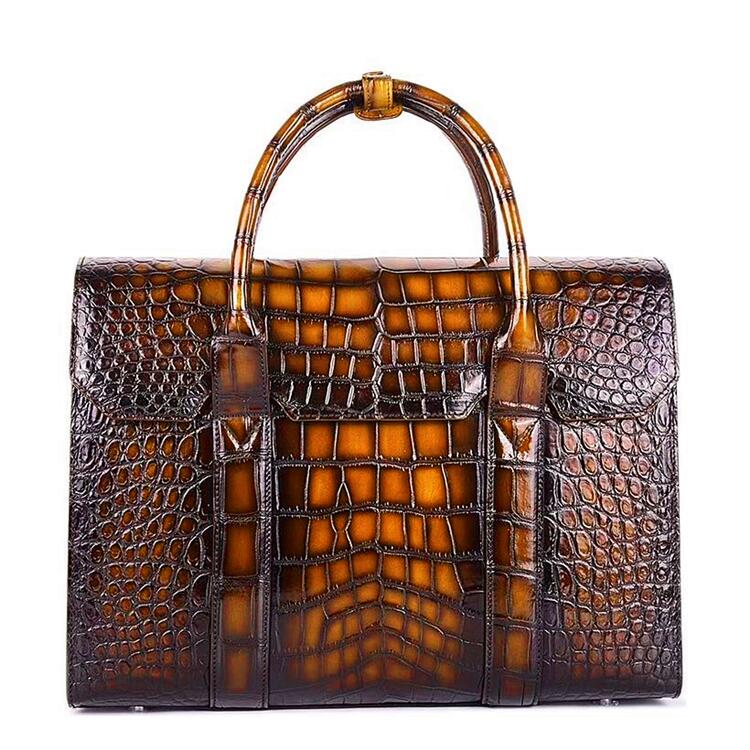 Alligator Leather Briefcase Messenger Bag Business Bag
This glamorous bag combines professionalism and fashion in the business world. Alligator leather briefcase messenger bag business bag is preferred by most men as a convenient accessory for their daily office attire. This bag is made of 100% genuine alligator skin and is available in an amazing color range. You may get it in brown, blue, or burgundy according to your dressing style and preferences. It is hand-painted and made to match the level of a couture bag, with its unique polish and hue making it stand out everywhere. This briefcase messenger bag has a clasp closure with spacious pockets and additional zipped compartments to handle all the documents, devices, and other things that you might need to carry. If you are into a highly professional look, get this carry-on for your office essentials. It becomes a part of your impression and shows off your confidence and professionalism with the best suit and briefcase combo.
Pick any one of these amazing briefcase bags as the best accessory for your suit to look smart and professional. Lead with confidence and let your personality and style shine through every day.