Unique Wedding Shoes for Men in 2022
Weddings are formal events where everyone dresses up. This can present a tough challenge to the bride and groom to not let anyone upstage them. Choosing a unique look for the wedding day is not only the priority of brides but grooms also. They also have to put some thought into what they are going to wear. Much thought goes into selecting their attire for their special day and putting together a unique look that compliments their bride's dress and signifies their dressing sense. It can be daunting to find the right pair of cufflinks, ties, or a pocket square. But if you are looking for unique wedding shoes for men in 2022, then we got you covered.
We have a range of ideal options for unique wedding shoes for men. These shoes are made of top-quality leather and have perfect design and stitching to make you stand out in the crowd. They are available in a variety of colors and patterns to match your unique style. Walk through our collection and find a unique pair for your wedding day.
Here is a list of top-quality unique wedding shoes for men in 2022: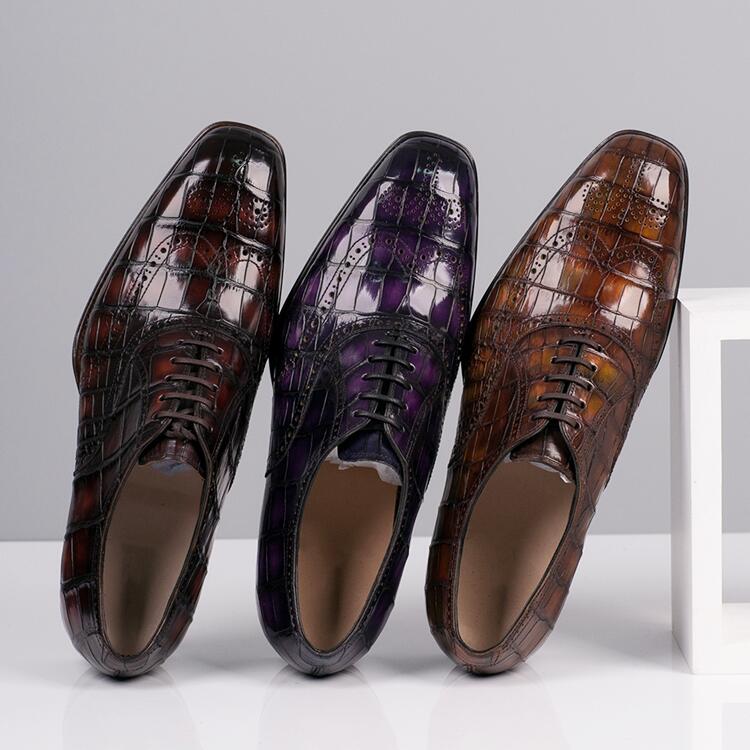 Alligator Wingtip Brogue Lace-up Oxford Formal Business Shoes
This formal business shoe makes for a great option for unique wedding shoes for men. The ideal combination of style and comfort to match your formal attire makes you stand out on your wedding day. Although it is a perfect shoe for a wedding, you can wear it anywhere. Whatever the event, this unique shoe is not just a match for your formal attire, but it also gives you confidence through its unique feel and looks.
These alligator wingtip brogue lace-up oxford formal business shoes are made of top-quality material and are available in various colors. They are comfortable to wear, and their high-quality material ensures long-term usage. They are 100% handmade shoes with a hand-stitched sole made to fit your feet perfectly. Wear these on your wedding day and make your day even more special and unique. Enjoy this unique shoe on your wedding day and have a blast.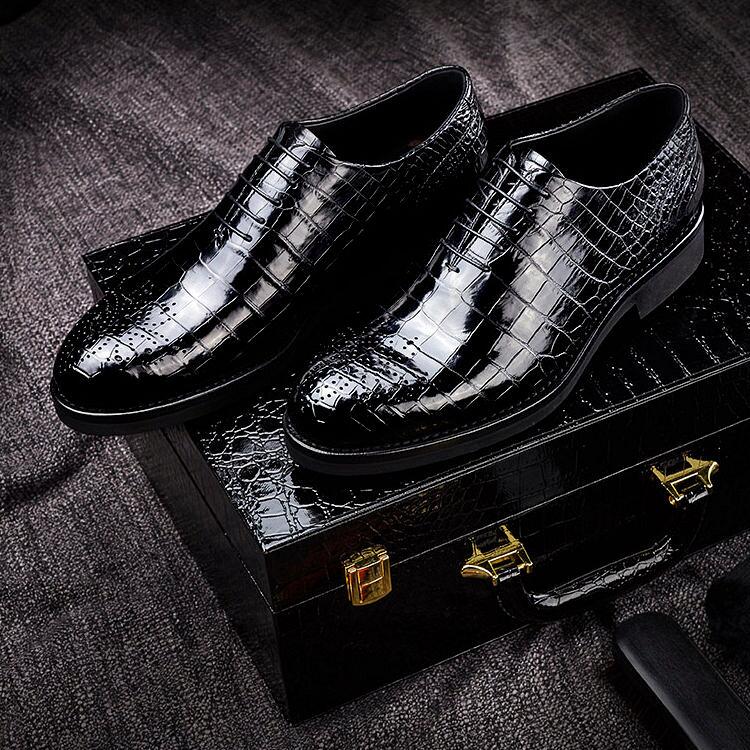 Alligator Leather Dress Party Wedding Office Oxford Shoes
Are you looking for something original to wear on your wedding day? Well, we have a unique idea for you. Wear genuine alligator leather dress party wedding office oxford shoes and stand out in every event. Whether it is your wedding or a business event, this shoe is well suited for all kinds of formal attires. This means that you do not have to bag this shoe and put it away after your wedding. You can wear it afterward. This unique men's shoe is 100% real alligator leather to ensure high quality and usability. It has premium quality materials so that you can walk comfortably in these shoes. They have pointed toes and are available in black color. If you like your look to display uniqueness from head to toe, you must consider these unique alligator leather oxford shoes. They are guaranteed to make your special day look a truly inspired and unique one.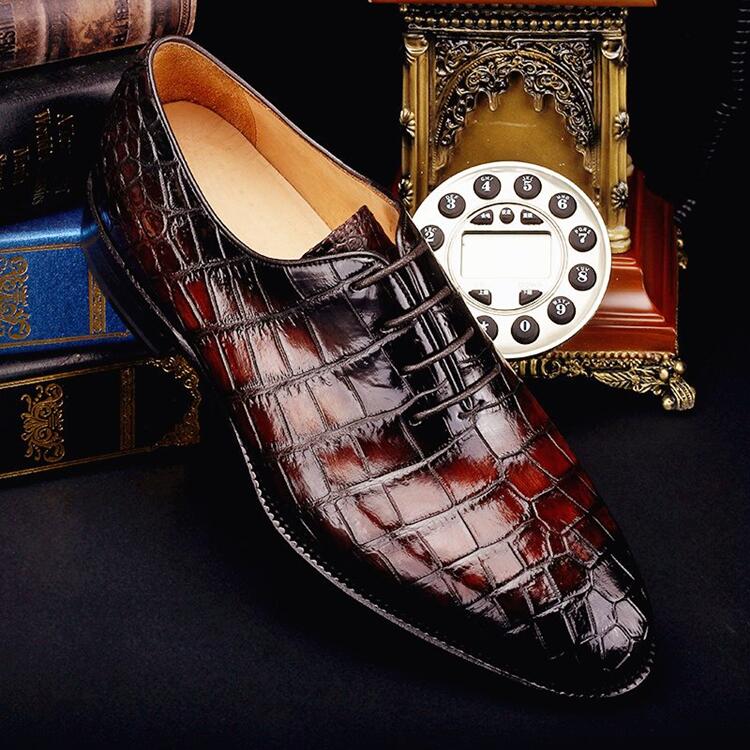 Formal Alligator Oxford Dress Shoes for Men
Some people like to go traditional with wedding attire. However, some of them choose to be quite formal. Suppose you prefer formal then you must have equally formal shoes to match your look and set the bar on high fashion and unique style on your wedding day. Our formal alligator oxford dress shoes are the perfect pair for your unique wedding look. These shoes are made from top-quality alligator leather and are available in a bright burgundy color. This unique pair of wedding shoes are 100% handmade, and even the sole is hand-stitched to offer excellent durability and support while walking. This classic pair of formal shoes is even water-resistant, allowing you to have fun without worrying about any damage to your shoes. This shoe and specifically this color will go with any shade of suit you choose to wear on your wedding day. It will not only match your attire but even enhance your look and make you feel especially well-dressed for the occasion.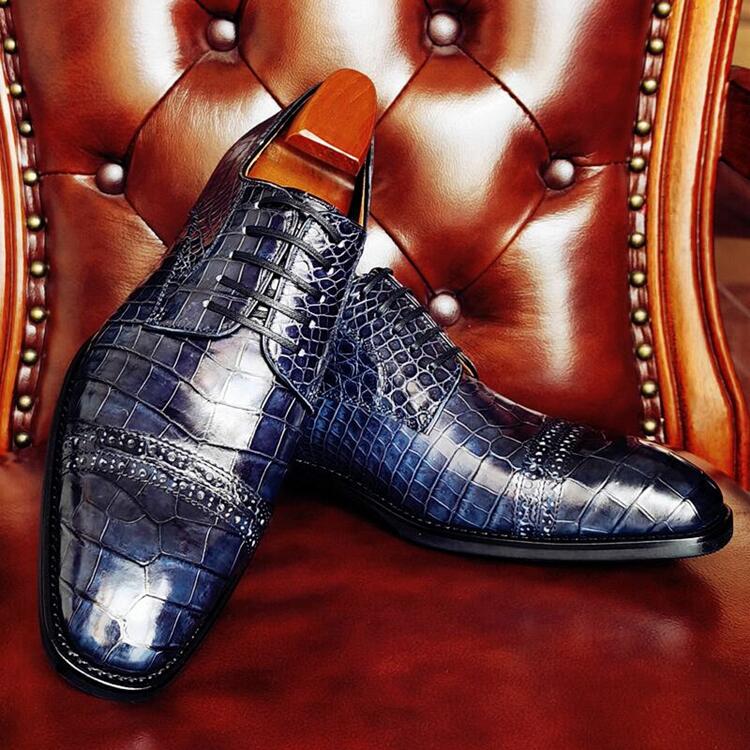 Alligator Leather Modern Cap-toe Derby Shoes for Men
The choice of a wedding shoe does not get any more unique than modern cap-toe derby shoes for men. These shoes have a unique look and are perfect for your wedding day. They will compliment your wedding attire and be unique among all the guests. This unique formal shoe is made with high-end materials. The lining material and insole of the shoe are made of cowhide imported from Italy. It is comfortable to wear for hours and is available in blue color. This particular color is worn in all seasons and is a good choice for unique wedding shoes. The look and feel of this particular shoe are distinct enough to set you apart in any gathering. Choose this alligator leather modern derby shoe for men on your wedding day and set the tone of the whole event.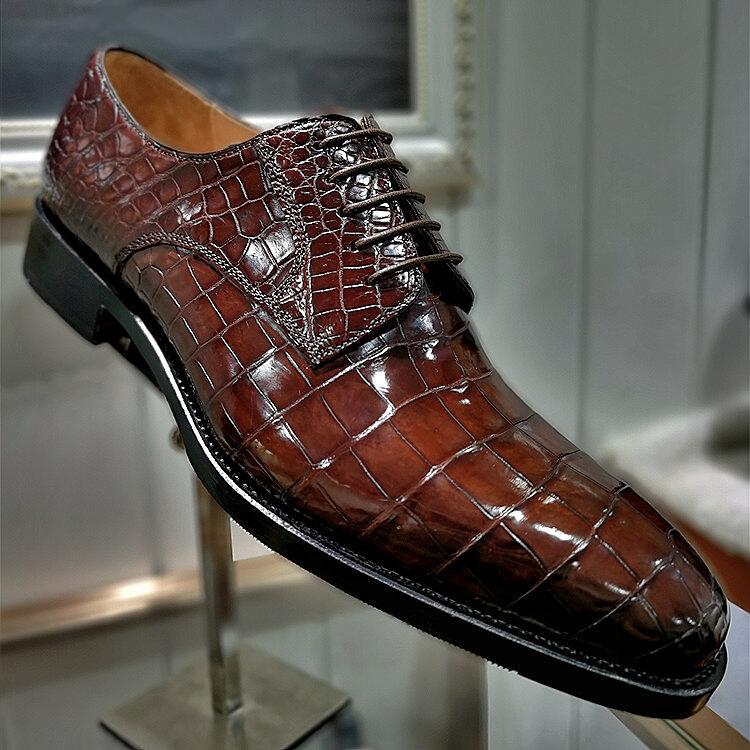 Alligator Leather Lace Up Derby Dress Shoes for Men
Your search for a unique shoe to wear on your wedding day, then this shoe is the right blend of uniqueness, style, and comfort to brighten up your special day and pull together your whole look for your wedding. It is made with 100% genuine alligator skin with imported quality cowhide used for lining and insole. This shoe is comfortable to wear and water-resistant. It is available in a striking burgundy color to brighten up your event even more. Wear this lace-up derby dress shoe for men on your wedding day, and let your unique style shine through.
If your wedding guests are dressed to impress, you as a groom must dress to kill. Choose your wedding shoe among our special collections and leave a striking impression on everyone. Make your wedding day even more special with your unique shoes that complement your attire ideally.