Best Leather Bags for Your Job Interview in 2022
Pandemic (COVID-19) disrupted our work-life as much as it upended our personal lives. But since the world is returning to the new normal slowly and steadily, work-life norms are coming back too. However, a huge number of people lost their jobs and now find themselves scrambling to look for new openings. The forced optimization of human resources within the workforce led to a serious decrease in the number of employees in almost all businesses and organizations. Getting a good job post-pandemic is quite challenging as there are so many people looking for a job at the moment and not enough job openings.
Do not despair if you are one of the people looking for a job at the moment. There are ways to improve your chances of getting hired. Experts agree that interviews are the most important part of the hiring process. No matter how polished your resume is, how great your references are, or how much experience you have for the expected job role, it generally boils down to whether or not you are able to leave a lasting impression with your interviewers.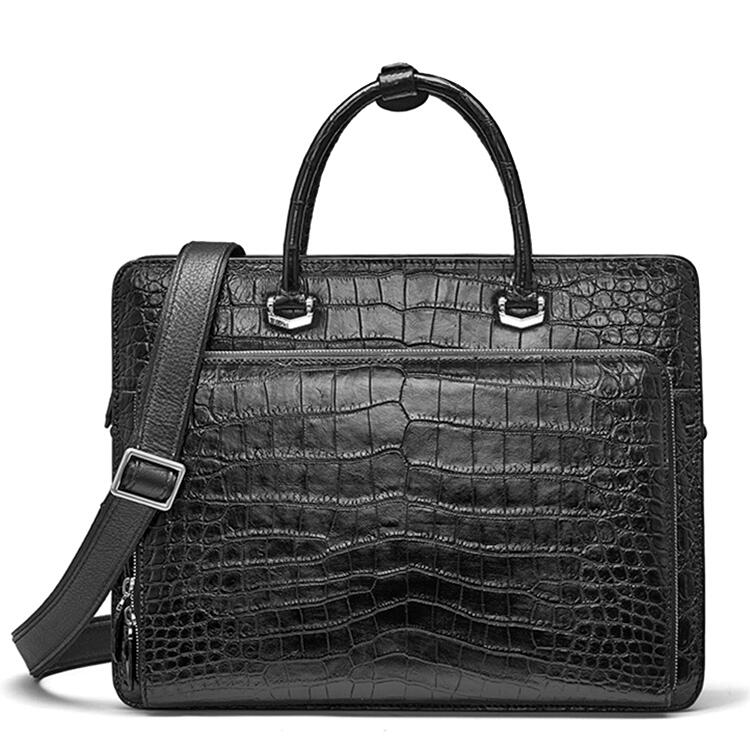 There are three important factors that decide your fate in a job interview:
Job knowledge
Communication skills
Personal presentation
The top 2 of these lists are easy to manage, especially if the job role fits your experience and you are a people person. But when it comes to personal presentation, looking the part matters the most. For men, it is always a formal suit with a matching tie, but what's special about it, if every candidate is going to wear the same. To stand out and set yourself apart in the pool of job interview candidates, you must accessorize your business look.
We have got some amazing options for the best leather bags for your job interview in 2022:
Luxury Alligator Business Briefcase for Men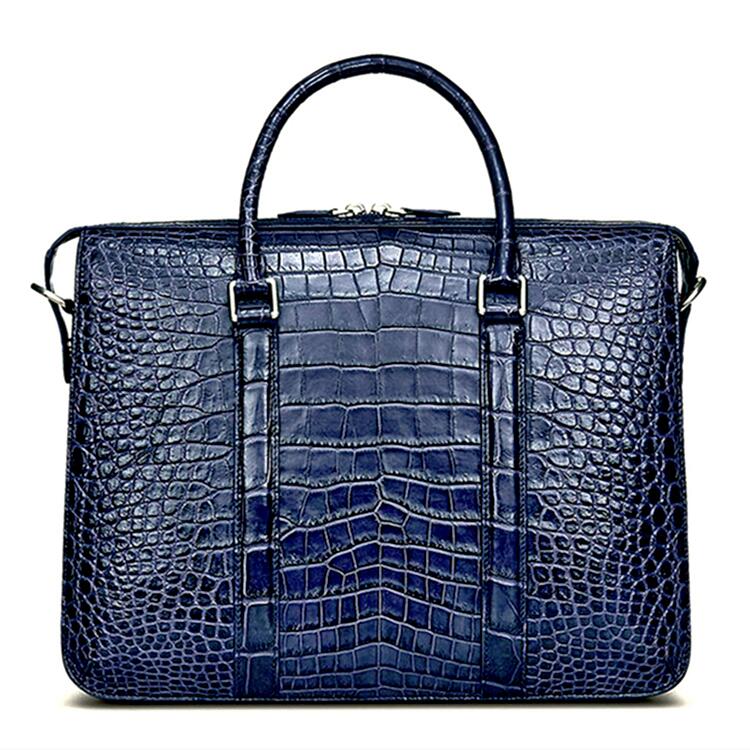 Go for this amazing luxury alligator business briefcase for men and accessorize your look for your interview day. Dress to impress and make yourself stand out from the competition. This is the right choice for you to add confidence and charisma to your look. This 100% genuine alligator skin bag is available in black, brown, and blue. It has excellent quality material and carries all your essentials, including a laptop, interview documents, cell phone, keys, etc. It has a zip closure and a uniquely elegant appearance of a high fashion vintage creation. Choose this bag to accessorize your interview outfit and accompany you on your interview, where you leave a lasting impression on your employer. Show your unique fashion sense and improve your chances of getting hired in 2022.
Crocodile Leather Flapover Briefcase Messenger Bag with Lock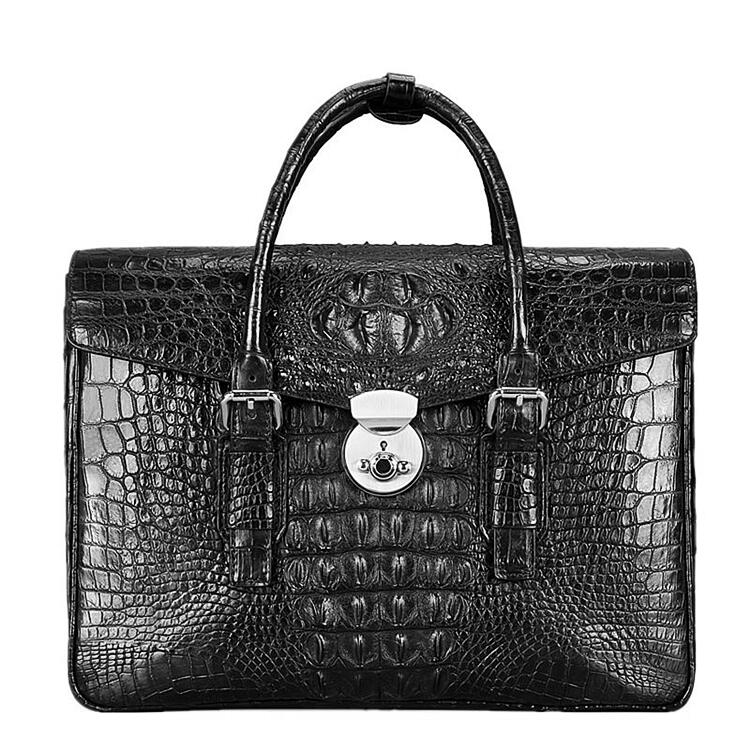 Chose this 100% genuine crocodile leather flapover briefcase messenger bag with lock to leave a lasting impression at your job interview. Show your professionalism and carry this wonderful bag as a perfect accessory to your business attire. This masterpiece is a multipurpose back with enough space to carry everything you need for your interview. It has a double handle which makes it easier to carry and move around. It is available in classic black and brown colors. The bag is made of original crocodile skin without any embossing at all. You can easily keep your documents, laptop, cell phone, keys, and more in it. It shows that you are ready and well-prepared to accept and excel in your job role. This high fashion accessory never fails to convey your confidence which is an additional benefit.
Crocodile Leather Briefcase Laptop Bag Business Bag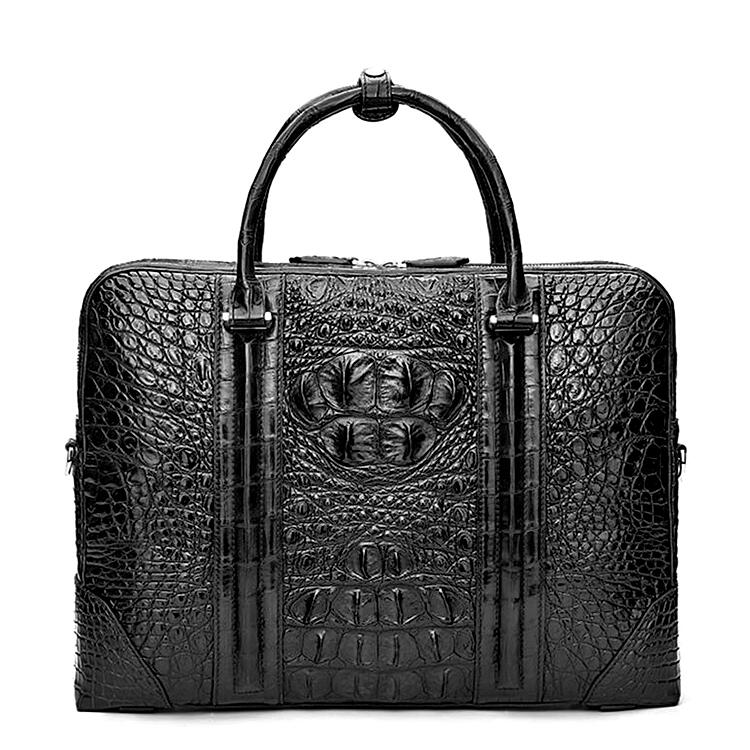 Have you considered accessorizing your interview attire with a crocodile leather briefcase laptop bag business bag to improve your odds of getting hired? If not, then you must consider it. This classic piece of handmade 100% genuine crocodile leather briefcase will definitely make you stand out from the competition. It is available in brown and black with an adjustable shoulder strap and a zip closure. The pattern on this crocodile leather bag is original and not embossed. Its design, inspired by Italian designers, gives your look a certain sense of palpable confidence. A successful interview depends on how well you leave a lasting impression. This bag is the perfect accessory for your suit to convey exactly that. Express your style and professionalism with this amazing genuine crocodile leather bag and lead with a winning attitude.
Alligator Briefcase Laptop Shoulder Bag Business Bag for Men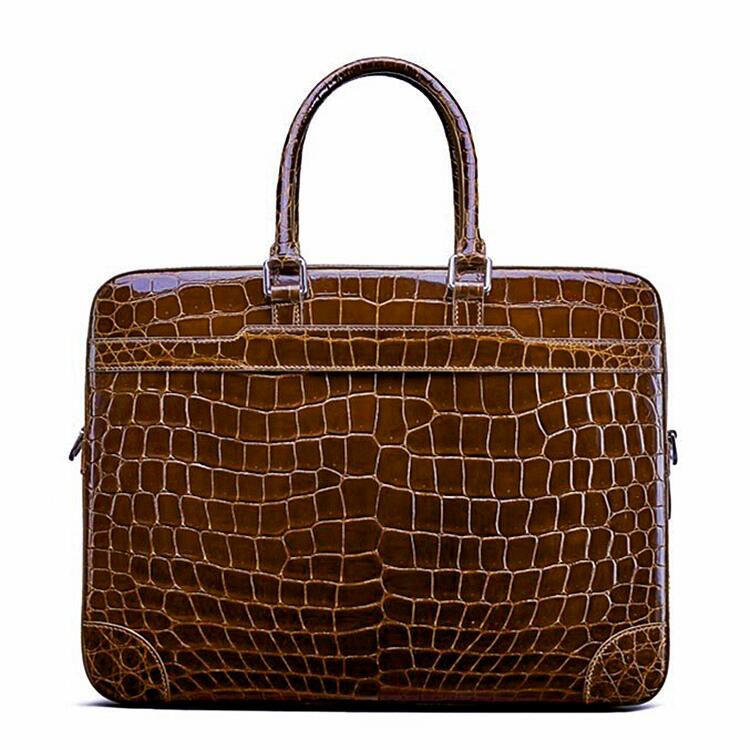 Worried about the competition in your upcoming job interview? Well, dress to impress and lead with a confident demeanor. Leave a memorable impression on your employer that gives you a better chance of grabbing that job. Accessorize your interview outfit with a 100% genuine alligator briefcase laptop shoulder bag business bag for men. It pulls your confident interview look together and boasts of your high fashion sense. It is the ideal hand carry to accommodate your laptop, cv, and other documents that you may need to bring for your interview. It even has two external pockets to carry your keychains, wallet, and cell phone. It is a 100% genuine alligator skin bag with a zip closure and real cowhide lining. You can choose between blue, burgundy, brown, and green as per your own fashion choices and preferences. Having options is great, and this bag allows you four.
Large Alligator Leather Business Trip Briefcase for Men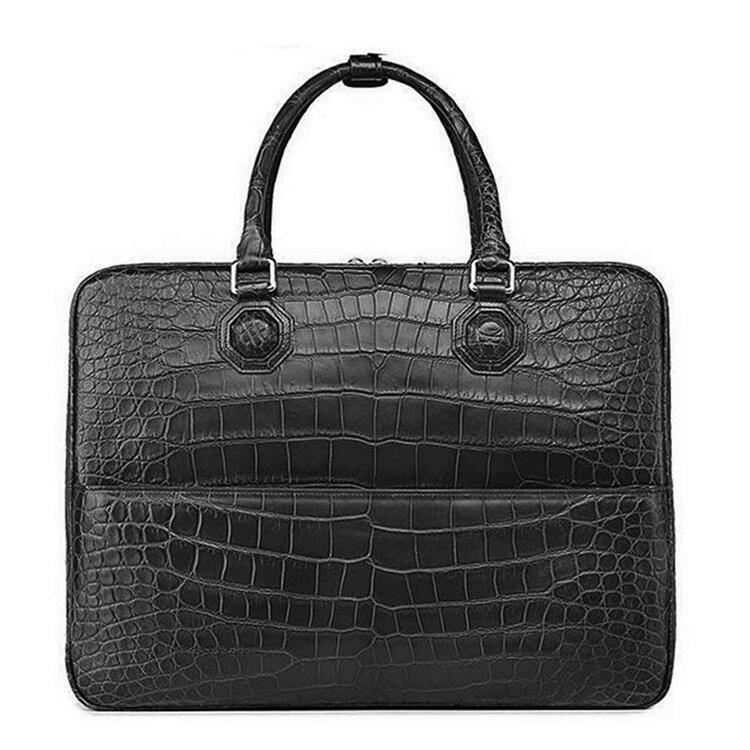 It doesn't really say job ready if you are not portraying the right look for it. Accessorize your interview dress with this large alligator leather business trip briefcase for men, and you are halfway to winning the job of your dreams. A professional look leaves a lasting impression on the employer, which improves your odds of getting the job you want. It is the perfect accessory and is available in black and brown color. It is made of 100% genuine alligator skin and Italian cowhide for the lining. It has ample storage space for all your interview essentials and comes with a zip closure. It can hold your laptop, documents, and several other small items.
All of these options are top-quality leather bags to accompany you on your interview and beat the competition before your interview even starts. Choose the one that is right for you, and you are all set to succeed.