What Is The Difference Between A Briefcase And A Messenger Bag
As a working professional, it's important to have a bag that not only looks good but also serves a functional purpose. For many, the two most common bags are the briefcase and the messenger bag. While they may seem similar, there are distinct differences between the two. Here, I will share the basic features, dynamics, differences, and usage of both bags to give you a clear picture of what bag is more suitable for you. So stay tuned and read through the end.
Understand Briefcases And Messenger Bags
To understand the difference between briefcases and messenger bags, it is necessary to first understand what these bags are, their dynamics, usage, history, and characteristics. After getting acquainted with the concept of a briefcase and messenger bag will you be able to understand the difference between the two and decide which bag is more suited to your needs?
Briefcase 
The briefcase is a hard-sided bag, shaped like a box with a firm handle to carry it easily. They are designed from varying material ranges including vinyl, leather, thin metal (mostly aluminum), plastic, or even long-lasting fabric. Most of the briefcases have a lock to offer the ultimate protection to the contents inside. Usually, it used to have only one single space to keep the belongings with a belt to hold the content in place, but with time the briefcase design has evolved and newer models come with compartments and sections to organize your belongings and assort them in separate partitions.
Briefcases are most commonly used to carry important documents and papers. You might have seen lawyers with nice and decent briefcases whereby they carry case briefs (from where the name "briefcase" came from). The use of briefcases is not limited to lawyers only, white collar jobs and business people also give preference to briefcases to carry their official belongings.
Originally designed to carry papers and documents, the inherent design has been upgraded to facilitate modern-day needs. This change in design can be seen in the addition of subsections, extra padding to carry laptops and other electronic devices, and externally accessible partitions.
Messenger Bags
Messenger bags are stylish, easy to carry, and spacious bags. These bags are rectangular and come with a strap to carry, and a flap that spreads as a cover over the top of the bag which is often buckled or clasped to offer security to belongings. They look smart to carry as well as functionally appropriate to carry.
The size of messenger bags can vary but the shape almost stays rectangular with a width greater than the height. The strap is often padded so that you can comfortably carry the bag. You can carry the carry over the shoulder or also in cross-body style. The straps are adjustable so you can adjust the size of the strap as per your needs to easily carry the bag.
These bags are designed with sturdy materials including nylon, canvas, leather, or vegan leather. Inside the bag, there are various compartments or partitions so that you can keep your belongings in an assorted and organized fashion.
Historically, these bags were carried by postmen or messengers on foot (hence the name messenger). Messenger bags have been in style since 1950 and the trend is surely here to stay. Now, these bags are most commonly carried by businessmen, white-collar job holders, students, and professionals.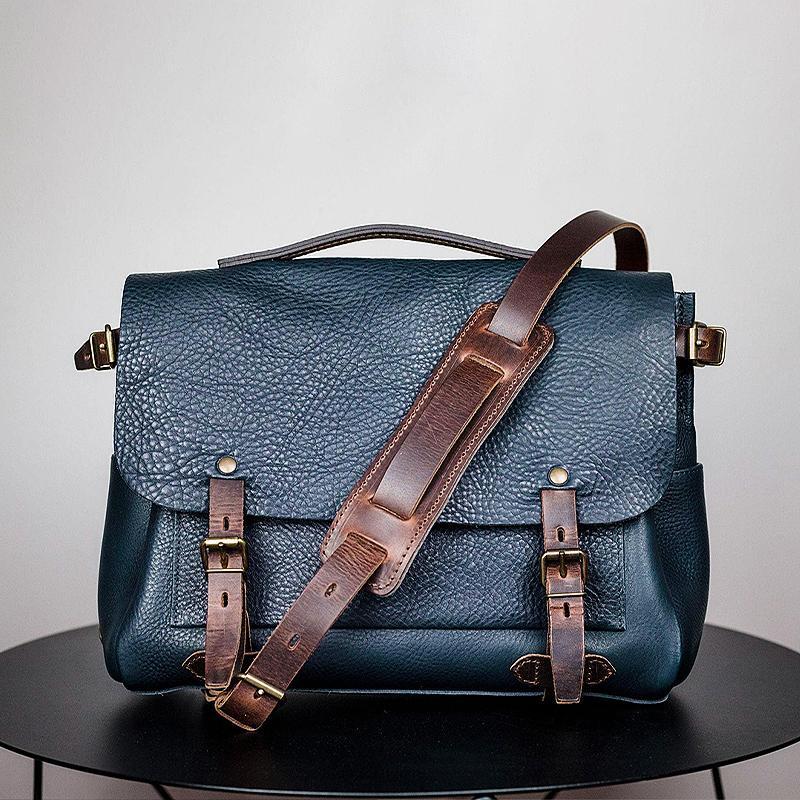 Differences Between a Briefcase and a Messenger Bag
Both Briefcases and messenger bags serve the similar purpose of offering a spacious bag for professionals, job holders, and business persons. But along with these similarities, there are a few differences that distinguish the two from one another. Some of the major differences are listed below:
Function: Briefcases are carried by professionals and businessmen for taking along their professional documents or flat gadgets. They are more of a formal bag that is carried in formal gatherings. Whereas, messenger bags can be carried for both formal and informal or casual meetings. They look equally stunning when carried by professionals or students.
Outer Material: Briefcases are hard-shelled whereas messenger bags are designed with comparatively flexible and soft fabric.
Shape: The briefcase comes in the shape of a rectangular box which often has a lock (numerical or key) at the top. Whereas messenger bags have a flap over the top of the bag that is often clasped or buckled.
Comfort level: Messenger bags are much more comfortable to carry in comparison to briefcases. You have to carry briefcases in hand that can cause pressure or strain over the hand (or arm), whereas messenger bags can be carried across the body (cross-body) or shoulder whereby the weight of the bag is distributed evenly across the body.
Looks: The briefcase offers a more classic and professional look. Whereas messenger bags are quite stylish and offers a versatile and funky outlook.
Accessibility: Messenger bags usually have more compartments or pockets which are easily accessible to you while you are wearing the bag. All you have to do is to carry the flap and you can get access to any inside pocket you desire. In comparison, Briefcases come with less number of pockets and you cannot get access to these compartments while walking. You have to set aside the bag, unlock it, open it, and then you can get access to the belongings inside the compartments of the bag.
Carrying style: You have to carry a briefcase with a handle. If the briefcase is stuffed with heavy electronics then it can strain your hand and arm but you still have to carry the briefcase. On the contrary, messenger bags are carried with help of a strap. The strap can be carried on the shoulder or can be worn diagonally which ensures that all bag weight is not put on one body part.
Storage Capacity: Messenger bags are much more spacious than briefcases. This is so because messenger bags are typically designed with flexible and soft material which allows you to stuff the bag as per your need.  You can carry irregularly shaped items with ease in these bags. On the contrary, briefcases are hard-shelled which restricts you to carry only documents and flat or slim electronics (laptop, tablet, smartphone, etc) without any space to stuff any extra belongings.
Price: Briefcases are usually much pricier than messenger bags. It is because briefcases are meant for formal setups and are designed with high-end outer material, whereas messenger bags mostly serve an informal purpose and can be designed with cost-effective materials.
Multi-functional: Messenger bags are multifunctional as you can carry those for hiking treks, picnics, and slumber parties, whereas briefcases can only be used in formal and professional setups offering only one functional approach.
Weight: Messenger bags are inherently light in weight as they are designed with soft and flexible material whereas briefcases are comparatively heavy owing to the hard material used in their design.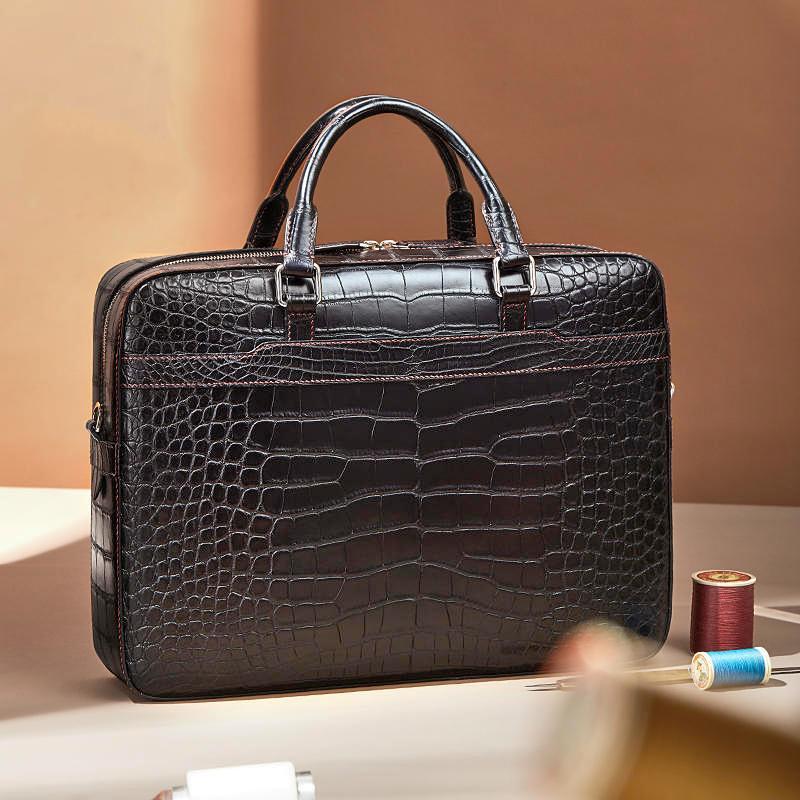 When to Use a Briefcase vs a Messenger Bag
Being acquainted with the basic design and differences between a briefcase and a messenger bag, it easier for you to understand when to use a briefcase or a messenger bag.
Before diving into the detail of when to use which bag it is essential to point out that the choice of the bag depends upon your functional needs or usage. You should ideally choose a bag that offers the functional capacity to meet your needs because at the end of the day, it is your carrying needs for which you need either one of these bags. With that said, let's see the rule of thumb of when to use a messenger bag vs a briefcase.
Briefcase
When it is more appropriate to carry a briefcase:
You want to carry a bag in a formal business setup like a financial institution, corporation, or law firm.
You are required to carry official documents that you want to carry smoothly in a safe bag.
You need to exhibit a professional outlook and make an impression
Messenger Bag
When it is more appropriate to carry a messenger Bag:
Your work setup is more of a creative nature like photography
You require to carry items that can't fit in a briefcase such as a pile of books, or personal items.
You strive to make a casual impression
You want to look stylish and modern
You are going for a non-professional event such as hiking or a slumber party
Your job commute is quite long and you can't carry a briefcase in your hand as it strains your arm muscles.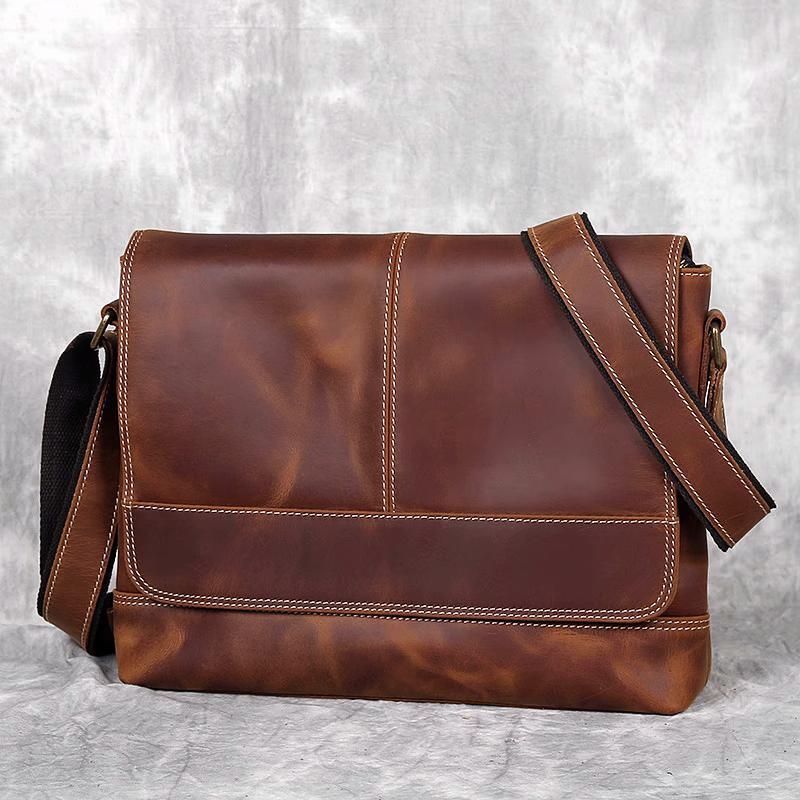 Conclusion
Both briefcases and messenger bags are perfect in their own way for your professional needs. No bag is better or worse than the other. Their unique features and differences such as style, comfort, price, function, accessibility, etc make them more useful for some people than others. All you need to do is to assess your personal needs and preference and choose the bag accordingly. The right bag will surely satisfy your functional needs and looks stunning at the same time complimenting your overall look and professional setup.