How to Repair An Alligator Belt: A Step-by-Step Guide
2023 has seen a major inclinator toward investing in worthy and trendy accessories by men. Alligator belts are one such accessory that every fashion lover owns. Although alligator leather is known for its durability, strength, and glossy appeal it can still get damaged with time. The good news is that you can easily repair it and wear it for years to come. Read this article through the end to learn about possible damages, repair techniques, and tips to take essential care of your alligator belts.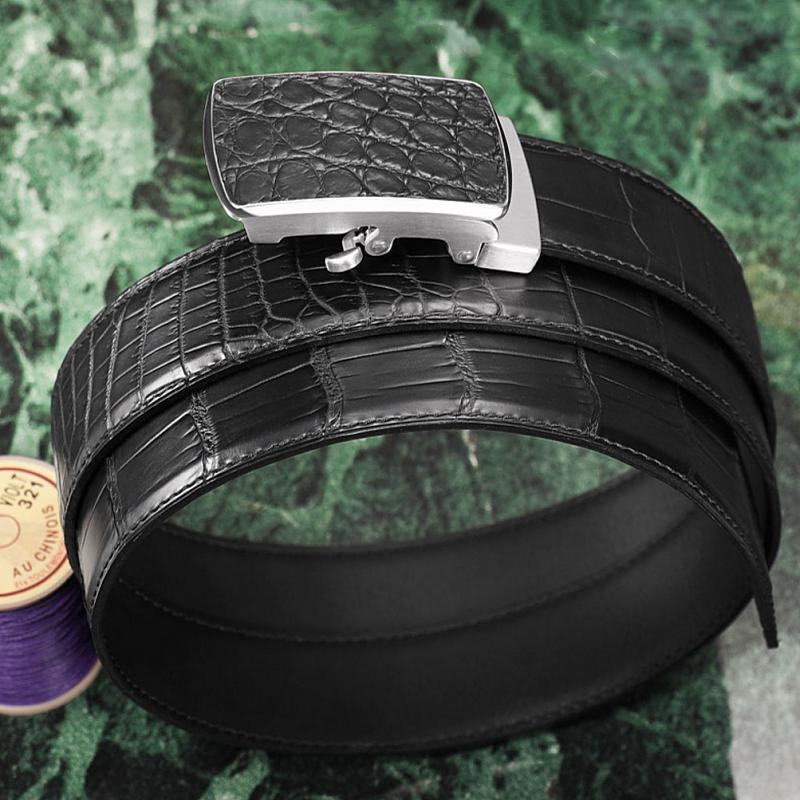 The Basics of Alligator Belts
To start with, let's explore the basics of an alligator belt and its characteristics before diving into the repair techniques.
Alligator belts are made with leather extracted from exotic alligators. Alligator skin has a unique texture and grain which is depicted in the belts designed with its' skin.
The belt's manufacturing starts by choosing high-quality and authentic alligator hide to ensure that there is no compromise on quality, design, and authenticity. The selected hide then undergoes proper cleaning, tanning, and dyeing. Through tanning, the hide is preserved by applying chemicals whereas dyeing gives unique and distinctive color and appeal to the hide. Usually, the color ranges from a lighter shade of beige to a darker shade of brown. Once hide is dyed in the desired color it is then cut into pieces by keeping in mind the required width and length. These cut of strips are then stitched carefully and afterward, are buckled up to make them ready as a final product.
The characteristics of these finely stitched and neatly designed alligator belts are what make them trending the fashion charts. These belts are famous among fashion lovers owing to these basic characteristics:
Durability: Alligator skin is strong and sturdy which makes it durable. Alligator leather is natural and is not a product of chemicals and artificial toxins, this is why it is durable and looks classy even after wearing it for years. Compared to other available leathers, alligator leather is water-resistant, stain resistant, and strong enough to withstand extreme climates. It means that you can comfortably wear this belt whether it is scorching heat or freezing cold outside because the alligator belt can withstand the temperature shift and still survive. Moreover, these belts are quite stronger in terms that they can't be torn down or stretched away easily. If you take proper care then these belts can be your style partner for the years to come.
Unique Texture: Alligator leather has a unique and eye-catchy pattern that distinguishes it from other types of leather. This texture is a result of passing by valleys and ridges that shape the texture on its skin surface which looks unique and visually appealing.
Stylish: Alligator belts are so in trend because of their stylish appeal and versatile look. They look equally amazing in both casual and formal attires. Whether you are pairing it up with dress pants or jeans, the belt simply complements every look. Alligator skin has a unique texture that can't be imitated by artificial design. This aspect makes these belts even more captivating. Alligator skin has a natural enamel look that makes the belts glossy which enhances the overall look. Alligator belts are a true style symbol in 2023.
Cost-effective leather accessory: As belts are produced with strips that can be cut down from a single skin, that makes the belts a cost-effective leather product. If you yearn to own a genuine leather accessory in your wardrobe then this is your chance to experience authentic leather in its purest form.
Comfortable: Alligator belts are quite flexible, soft, and supple, unlike many other types of leather. This quality makes them comfortable to wear as they are not stiff and can easily fit across your body until tied in the buckle. The edges of the belt are also softened to ensure the comfort of wearers.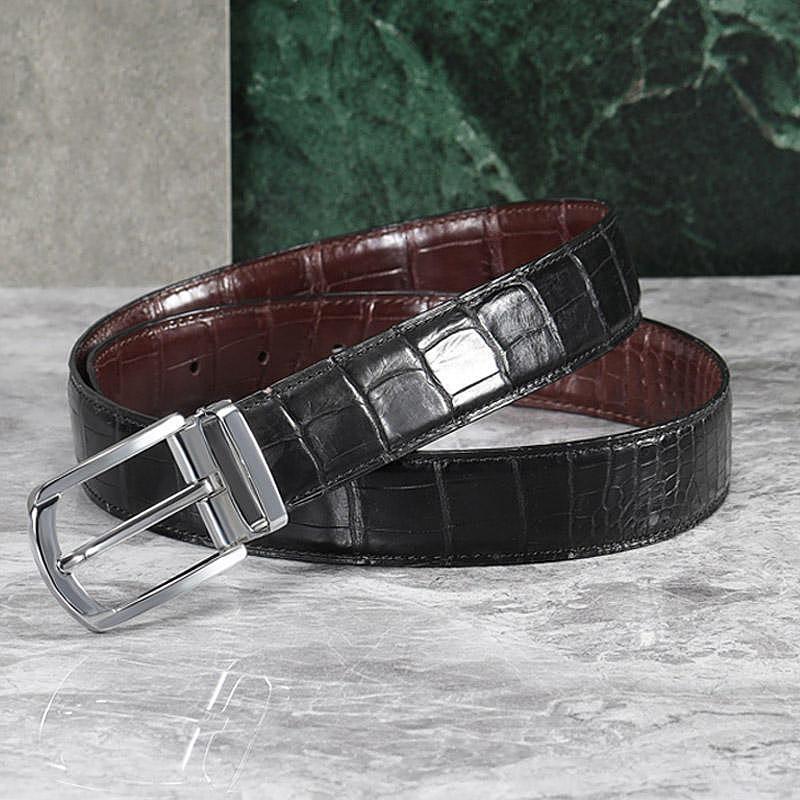 Common Problems with Alligator Belts
Alligator belts are the preferred choice for all fashion enthusiasts owing to their durability, unique texture, comfort, and versatile design. Although these belts are quite strong still they can face some issues and problems when worn. It is important to understand the common and probable problems that can occur with alligator belts to be better prepared to notice and resolve the problems to enjoy the belts for years to come.
Scratches: Daily wear and tear can scratch the surface of alligator belts. When rubbed against harsh objects or any such impactful accident, the belt can get scratched. While some of these scratches may be minor but the deep ones require professional help.
Cracking: Alligator belts can crack down when exposed to extreme weather conditions without proper conditioning. Cracks occur due to drying which can be prevented by applying an alligator leather condition.
Fading: Direct exposure to sunlight for prolonged hours can discolor the alligator belts. It can make the belts fade and dull in color.
Stitch can get loose: No matter how professionally sewn together, a stitch can get loose when the belt is frequently used. Loosed stitch can make the belt weak, making it open up from the sides and look untidy and messy.
Buckle: As you know already that alligator belts are designed with a buckle. These buckles can get loose or can get old or break with time.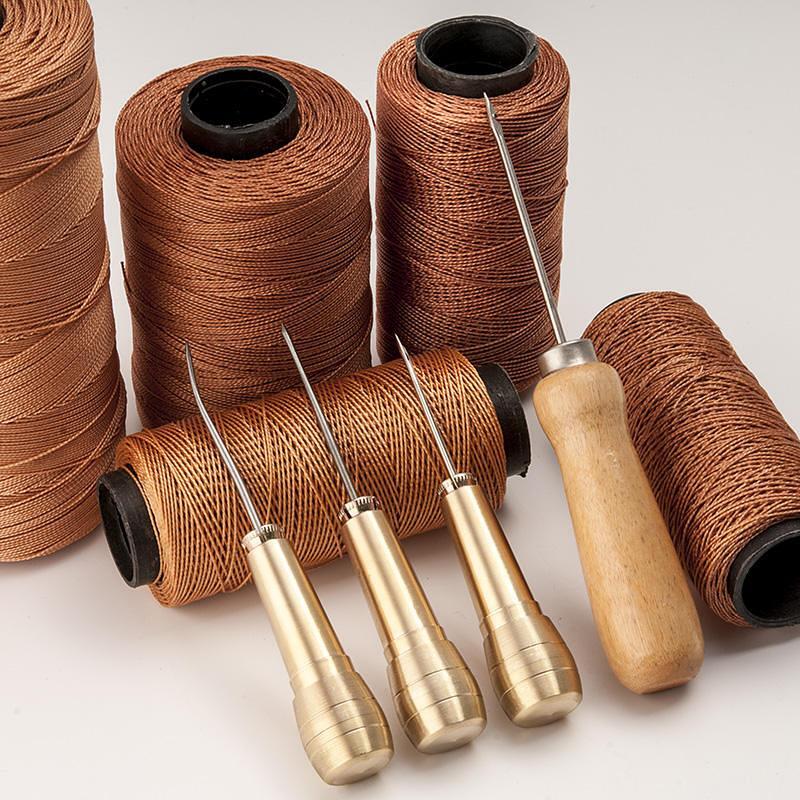 Tools Needed for Repairing Alligator Belts
You will need these tools in high-quality to repair the alligator belts:
Needle: You will need a specialized needle that is strong enough to pass the thick skin of alligator leather.
Thread: You need a high-quality thread that can pass the thick alligator leather and is strong to keep the alligator leather in place.
Leather Filler: It is a material that is used to fill up scratches and cracks to revive the shape of alligator leather while maintaining its texture.
Leather razor or skiver: It is used to level up the alligator leather and remove excess filler.
Leather Conditioner: The conditioner helps to keep the belt soft and supple. An alligator leather-specific conditioner should be applied regularly to keep the belt shiny and crack-free.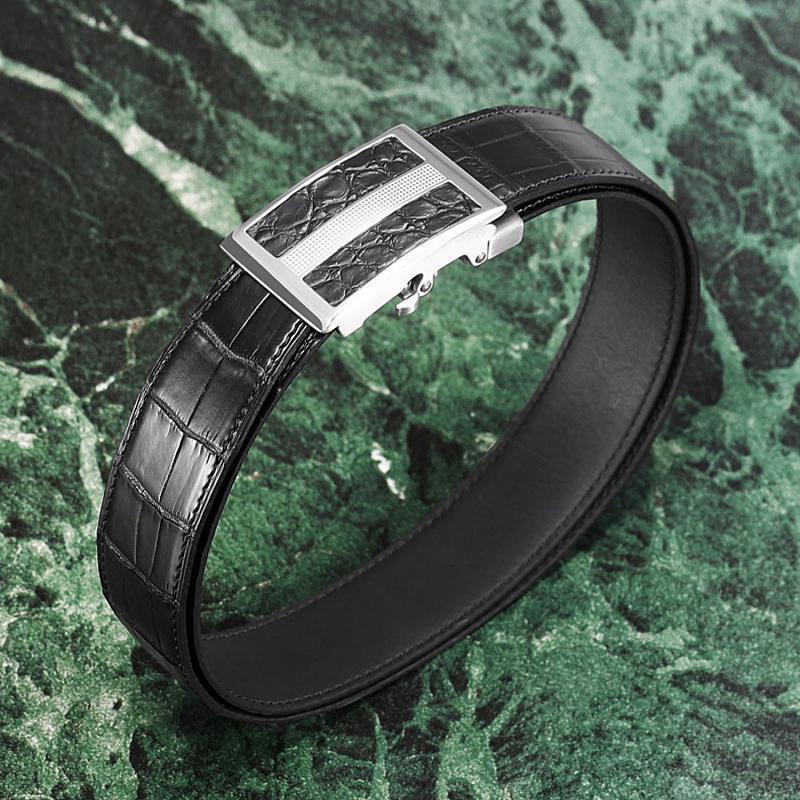 A Step-by-step Guide to Repairing Alligator Belts
It is okay if your alligator belt faces some issue that needs to be repaired. All you need to do is to be acquainted with the repair method so that you can repair it on your own you can. Here is a step-by-step guide so that you can understand how to repair alligator belts.
Step no 1: Cleaning
It is essential to clean the alligator belt thoroughly to prepare it for repair. Cleaning is done to get rid of any dirt, dust, or debris that has accumulated on the alligator belt. You can clean it away with the help of a mild cleaner specifically designed for alligator leather and a soft clean piece of cloth. While cleaning the belt, make sure that you rub the cloth gently as a harsh rub can further damage the belt owing to its delicate surface.
Step no 2: Inspect to locate damage
After you have cleaned the belt thoroughly, inspect it keenly to highlight the area that is damaged and needs repair. When you have located the issue or damage, check the severity of the issue (in case of multiple issues give attention to each problem in detail) and remember the location so that you can properly repair the area that needs attention.
Step no 3: Fix Loose Stitch
If the issue with the belt pertains to loose stitching then don't worry it only requires the re-stitching of the affected area. You will need a heavy needle that is strong enough to pass the thick alligator leather. With the help of a strong needle and sturdy thread, you can sew back the stitches that got loose. While sewing makes sure that the thread color matches exactly with the belt color or else it will be noticeable after stitch and will ruin the overall appeal and look of the alligator belt.
Step no 4: Fill in the Scratches
To deal with scratches you will need a repair kit specially designed for alligator leather products. The kit will come with user instructions from the manufacturer. Make sure to religiously follow the instructions about filling the scratched surface and smoothing it later to look flawless. Always make sure that the color of the fill is identical to that of the alligator leather. If the color differs even slightly then it will be visible after smoothing out the scratches and will appear as a discolored patch.
Step no 5: Fix the Cracks
To deal with cracks on the surface of the alligator belt, you will need a leather filler. You can use a puffy knife to apply the leather filler to the desired area. Let the filler set in and dry out completely. Once it dries, smooth it out or sand it to ensure that the surface is smooth and leveled.
Step no 6: Apply the Conditioner
No matter what was the actual problem with your alligator belt (from the ones mentioned above). Once you are done with the repairing part, it is essential to apply a conditioner afterward. Make sure to use a conditioner that is specially designed for alligator leather products. Conditioner helps to retain the look of alligator leather like it was earlier when new. A good quality conditioner will moisturize the surface of the belt to prevent any future damage. Apply the leather conditioner by following the instructions that come with the bottle. Also, make sure to buff the belt gently by using a clean soft cloth when you are done with conditioning. It ensures that the conditioner is spread out evenly on the surface and Is not blotting on any particular area.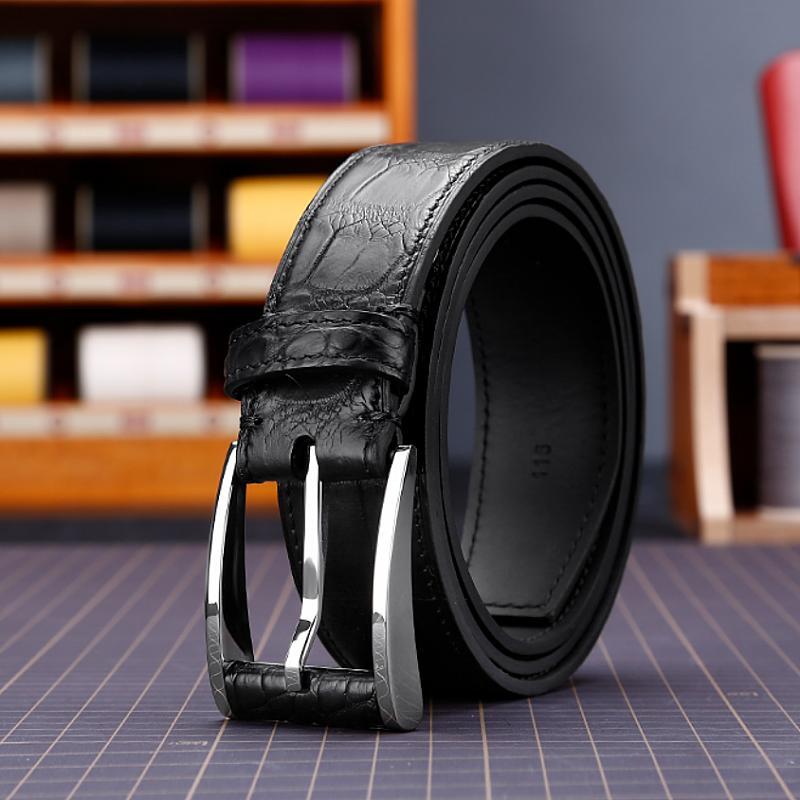 Tips for Maintaining Alligator Belts
Certain tips can help you enjoy your alligator belts for as long as you, please. These simple precautions can save your belt from potential damage and prolong its useful life.
Refrain from exposure to water. Though alligator leather is a bit water-resistant if exposed to a large quantity of water, it can get damaged. So make sure that you don't pour any liquid on the belt and if you do accidentally then wipe it with a clean soft cloth asap and allow it to dry out naturally.
Regularly clean the belt with a soft and clean cloth to make sure that you leave no room for dust, dirt, or debris to settle down. If you get a stain on your belt then you will need a damp cloth to clean it. Remember to use mild soap for cleaning and refrain from using strong chemicals and harsh cleaners that can be harmful to the belt.
Apply a good alligator leather conditioner on the belt regularly. Conditioner keeps the belt soft and supple which makes sure that it won't get cracked. Always remember to buy a conditioner that is specifically designed for alligator leather products. To apply the conditioner use a soft and clean piece of cloth. Let the belt soak the conditioner completely and then wipe off any excess conditioner.
When not in use, store your alligator belt in a dry and cool place away from direct sun exposure. It is better to keep the belt in a dust bag so that it can e protected from dust and moisture. Never fold the belt while storage as it can result in creases that can ruin the shape of the alligator belt.
Don't tighten the belt too much. When stretched, alligator belts can get damaged due to being delicate. This is why it is advised to wear them at a level that is not too tight to get stretched.
Conclusion
Alligator belts are known for their durability, unique texture, and luxurious appeal. Though they are tough and water-resistant as compared to other available leathers, they can still get damaged over time. Be it a loose stitch, loose buckle, scratch or crack you can always repair the alligator belt to keep wearing it for a long time. Also, follow the precautionary tips to prevent the belt from getting damaged.