The Best Exotic Leather Boots For Men in 2022
Buying the Exotic Leather Boots is not about going for the material but there are several other things that you need to check. On top of everything, there is the design that you get along with its unique features. BRUCEGAO brings a complete range of Exotic Leather Boots for men and here we have the best of the best.
You should be looking for Exotic Leather Boots that are best in terms of material, style, and uniqueness. The following are the best exotic leather boots for men in 2022.
1. Alligator Skin Zipper and Buckle Boots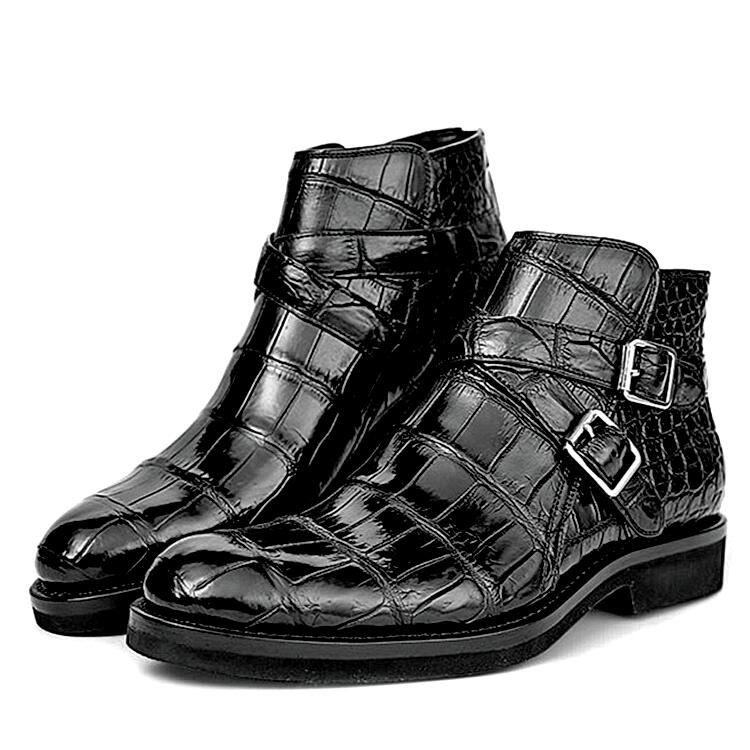 The first one that we will be discussing here does not come in the traditional lace-up design, but it brings a different style to the front. On the front, some buckles and straps are for cosmetic purposes. The upper material of this boot is made with 100% pure alligator leather bringing that natural unique skin print.
To make sure that the interior of this boot is also comfortable for you it comes with a cowhide that is known for its softness and breathability. To bring an easy wearing and removal experience, it comes with a zipper design on the back.
· Premium outsole
Walking with this boot will be as comfortable as it gets. It is only because of the premium outsole of this boot that is made to withstand different weather conditions. Whether you are walking in snow or rain this boot will face no issues. Similarly, it will be comfortable to wear in indoor conditions.
· Edgy design
The boot is made with a pointed-toe design that makes its style edgy and stylish while maintaining the best comfort that you can ask for.
2. Casual Alligator Leather Wingtip Lace Up Boots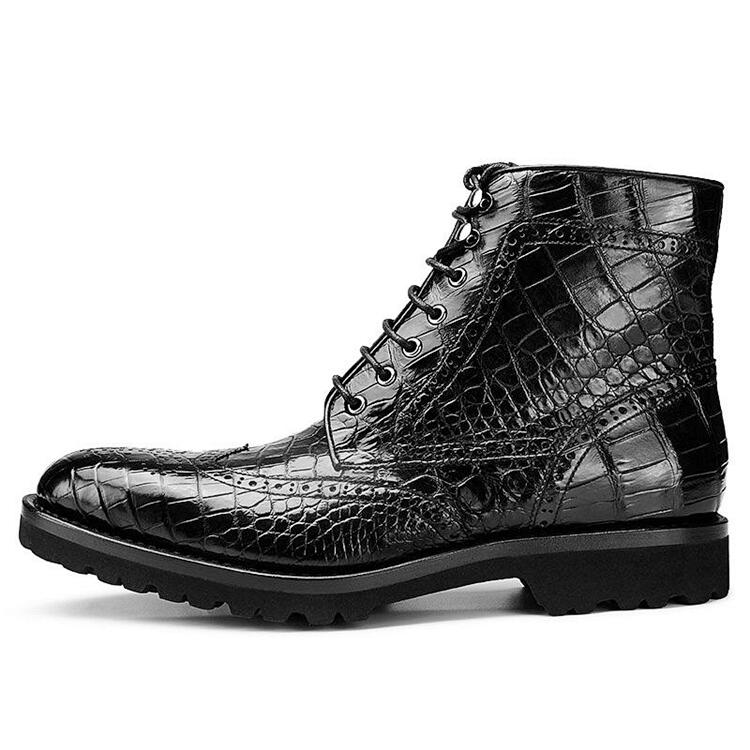 Some men are just not easy to go with the non-conventional designs. This is where this conventional lace-up boot brings the best value. It will bring the necessary satisfaction you are looking for but also ensure that you stay in the best style possible.
Speaking of its styling options, it comes with a pointed-toe front along with a high ankle back that is perfect for casual and party wear.
· Premium materials used
This Alligator leather boot is not only premium in its style, but it is also premium in the materials and the comfort of wearing it. It is because of the usage of the right materials for the outsole, insole, and upper surface.
The outsole is made with premium rubber to provide the best grip on all types of floors. The insole and internal surface of this boot are made with cowhide from Italy to keep it comfortable. However, the outer surface comes in 100% pure alligator leather with natural skin prints.
· Easy to wear and use
The traditional lace-up style of this boot not only makes it very easy to wear and remove but you can also have peace of mind that it is not going anywhere. Additionally, the lace-up method is more reliable than zippers and buckles.
3. Crocodile Hornback Buckle Ankle and Skin Zipper Boots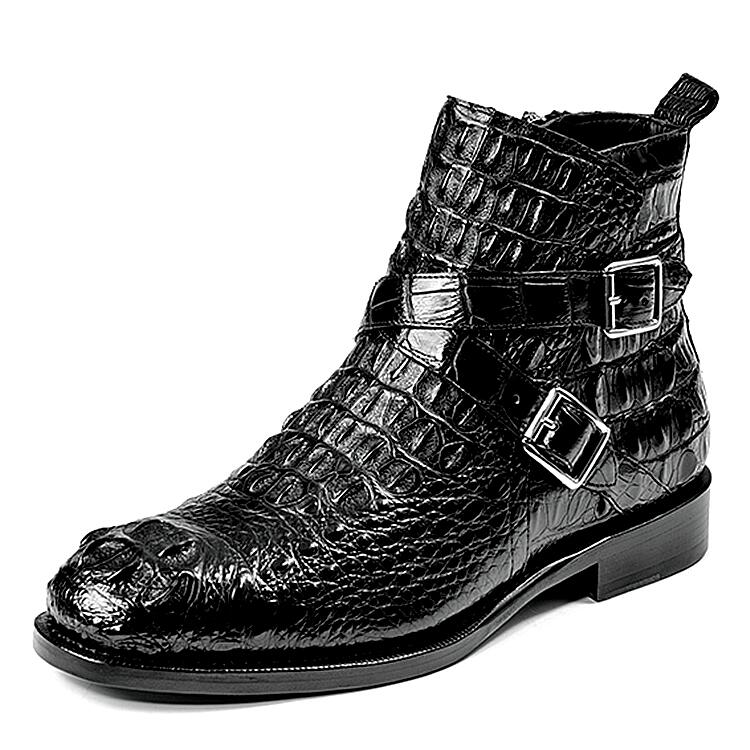 All the luxury and style of this boot come from the leather it is made with and the way this leather is specifically cut. While most crocodiles are cut in a specific way to obtain their leather, the Crocodile Hornback leather is cut in a unique way making it unique and more premium in terms of looks and feel.
· Latest style
Most of the boots these days are made with different styles and a common thing we see is the removal of the traditional lace design. Well, these boots also come without laces and there are buckles on the front. The durable metallic zipper on the side makes wearing and removing them easier than ever.
· Durable boot
While the crocodile skin is known for lasting long, all other parts of this boot are also made to last. The outsole is made with wear-resistant rubber while the internals is made with pure cowhide meaning this boot is a very durable one that you get.
4. Classic Alligator Chelsea Boots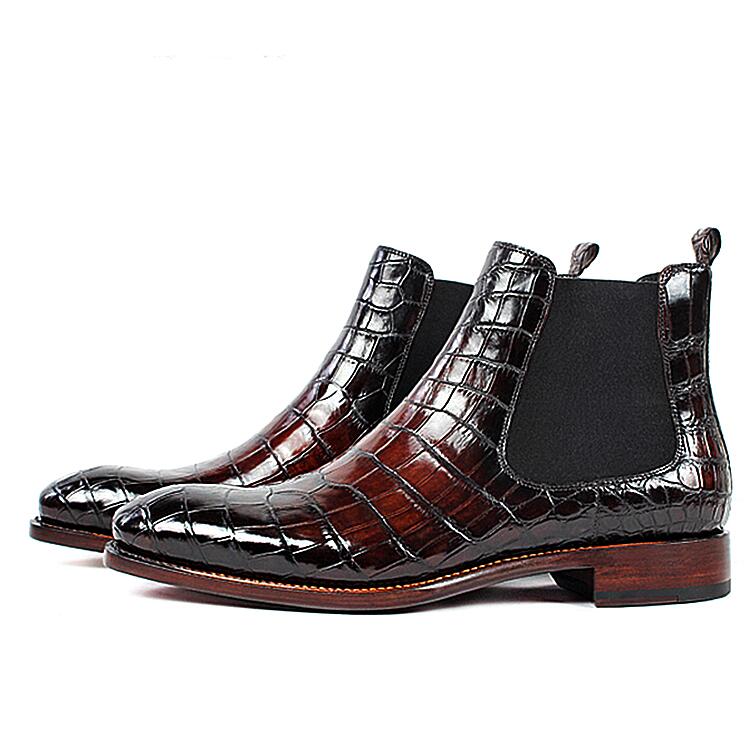 Do you want to stand out in the crowd and catch everyone's eyes with your boots? If yes, then these are the boots that you need to buy. The design element is not unique here, but this boot offers way more than other exotic leather boots.
Starting with its outer appearance you will note that it follows a natural alligator skin pattern because it is made with 100% pure alligator skin. Next up, the two-tone design of this boot makes it a perfect casual boot.
· Easiest and most comfortable wearing
This boot comes without lace, buckles, or zippers. There are durable elastic scraps infused in the leather. So, the boot will automatically adapt to your foot bringing the best comfort and easy wearing and removal.
· 2-tone appearance
Chelsea boots are known for party and casual wearing and the dual-tone color appearance and options to select from different color choices make it a perfect option for men who want to be unique.
5. Alligator Leather Wingtip Dress Chukka Boots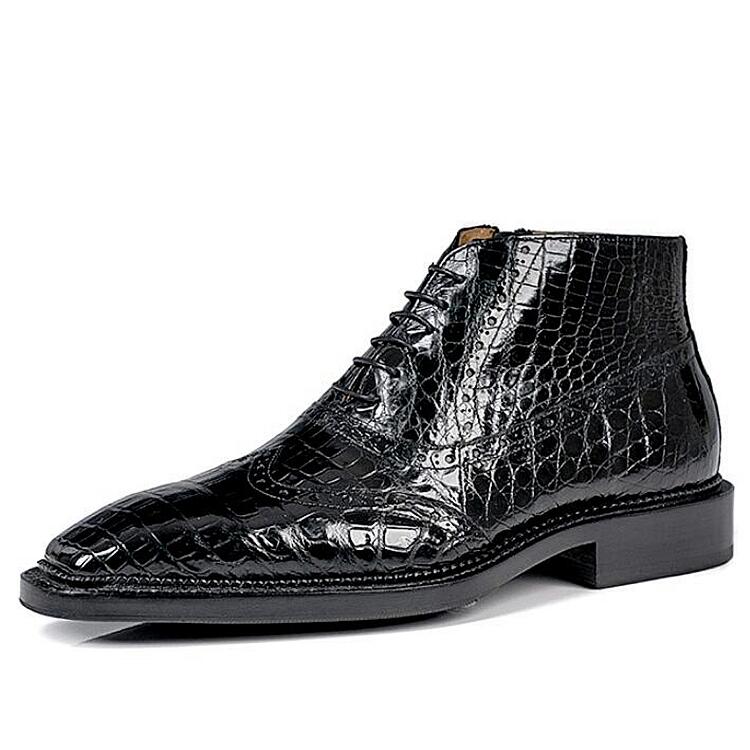 Are you in search of some formal dress boots that look premium and unique at the same time? The only thing you need is this boot. From its design to its looks and all its features it is a perfect dress shoe. The usage of 100% pure alligator and cow leather along with other durable materials also makes it an amazing choice.
· Traditional design
To keep this boot classy and formal it comes with a traditional height and lace-up design with no fancy buckles or zippers.
· Premium handcrafted boot
A unique feature about this boot is that it is 100% handcrafted meaning that the design, finishing, and everything else about this boot is going to be very durable and high-quality.
Verdict
If you also want to upscale your style, then getting Exotic Leather Boots is a must for you in 2022. These boots ensure to enhance your overall personality and look. However, knowing which one from the exotic leather ones you must buy can be a tricky thing. So, if you are also confused, select one from the above-discussed articles as they are the best in the Exotic Leather Boots category.