How to Measure Your Feet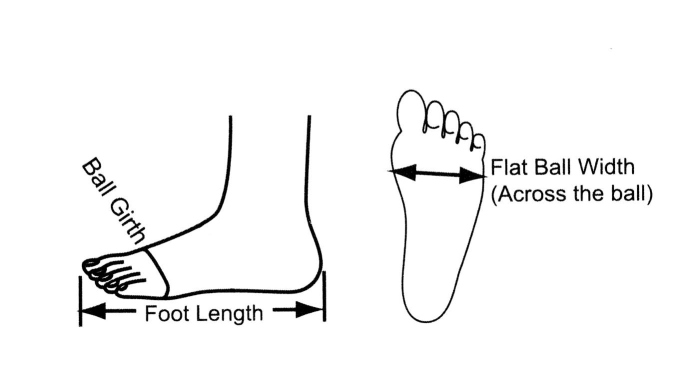 Step 1 – measure the length and width of your foot
– To measure your foot length, place a sheet of paper on the floor. Place your bare foot on the paper and get someone to mark your longest toe on the paper and also where your heel finishes. Measure the length between the two marks
– Also put a mark on the paper beside your ball joint and little toe. Measure this and it will give part of your width measurement.
– If intending to wear socks or stockings with the footwear please ensure you measure the foot length wearing these.
– Remember to do this with both feet.
Step 2 – measure the ball girth (width) of your foot
Measure your ball girth (width)
– Using a household tape – measure the widest part of each foot. Tape measure should be placed behind the little toe and over the joint by the big toe and bring the ends of the tape measure together.
Warm Tip
   Usually, we have most sizes in stock. In case yours is out of stock we will handcraft it in 4-6 days. No additional charges for customized orders.
  BRUCEGAO's shoes are made entirely from the highest quality crocodile and alligator leather which have natural stretching and fitting properties. If you are in-between sizes, we recommend purchasing a size-smaller. If you have wider feet, we suggest buying a bigger size for better comfort of your feet.
  We offer free returns and exchanges, so if you order a pair that is not quite right, we will either exchange it for you or give a refund in full.
  To be eligible for a full refund the shoes must be unused, unworn, undamaged and unmarked, and in their original BRUCEGAO online store packaging. Returns Policy