Luxury Apple Watch Bands, Luxury Apple Watch Series 6 Straps
Luxury apple watch bands and luxury apple watch series 6 straps for sale, all our luxury apple watch exotic leather bands straps are free shipping worldwide. We only offer high-quality and high-end luxury apple watch bands and best apple watch bands straps to our customers.
Our all luxury watch bands are 100% compatible with Apple Watch so you can easily swap out your band within a few seconds. Our adapter went through countless iterations to get it just right. Works with Apple Watch Series 6, 5, 4, Apple Watch Edition.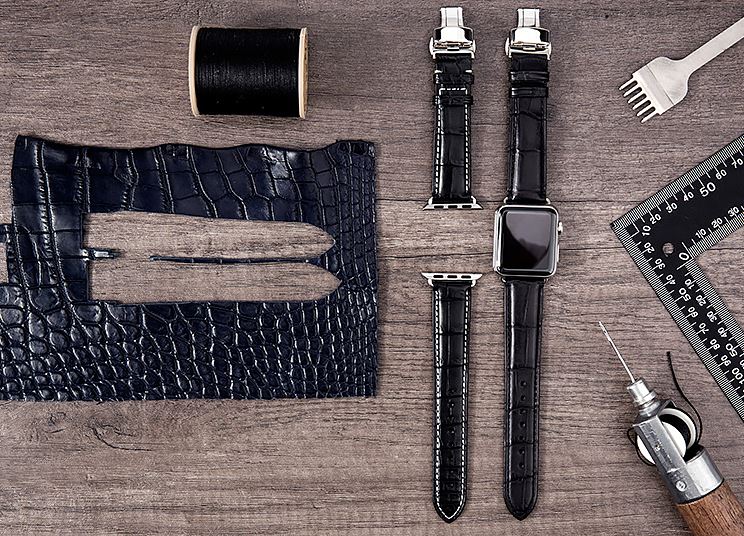 Why Choose BRUCEGAO's Luxury Apple Watch Band
How many Apple watchbands do you own? Is it one, two, three, or ten…? You change your attire every day, and the watch should match the style or occasion. Currently, there are many third-party sources of bands for Apple Watch, Apple Watch 2, and Apple Watch 3. It has become hard to decide between the brands. That is where BRUCEGAO steps in to help. We have the best bands on the market. Although there are made using exotic leather, they will not break the bank.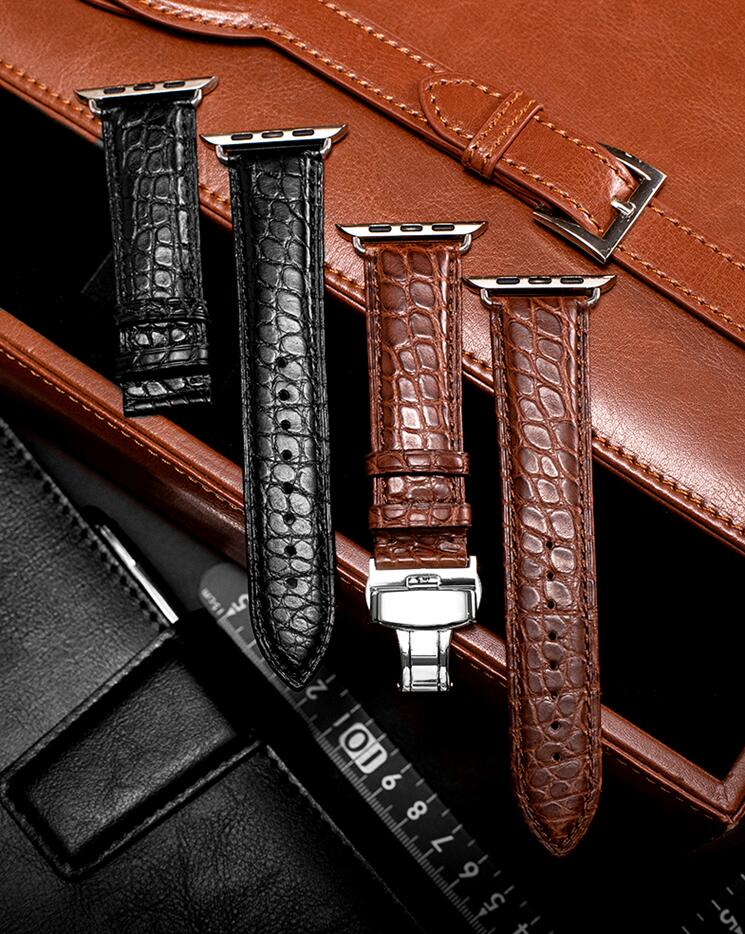 Features of BRUCEGAO's Luxury Apple Watch Bands
BRUCEGAO's watchbands are becoming popular with our customers who purchase other products such as bags, iPhone cases, among others. As the items on the site, the watchbands are handmade and high-end. Made using exotic leather, each product is perfect and highly functional. Here are the features that set our waistbands apart:
Made of 100% Genuine Alligator Hides
Alligator hides are the most durable and fashionable leather in the world. The finishing gives the leather a smooth velvet soft exterior. The thickness is just right and does not feel cumbersome.
German Steel Buckle
In addition to using select alligator leather, the watchbands use components from different suppliers spewed across the world. As you can see, the buckles come from Germany, but we assemble the final product in Hong Kong. The underlining is top grain cowhide from Italy. Using high-quality materials, allows us to provide assurance that the product will last and never disappoint.
Padded a Tapper Cut Strap
For your comfort and durability, the strap is heavily padded with refined edges. This makes wearing the watch more comfortable and enjoyable.
Sturdy Adapters
BRUCEGAO's technicians have ensured that the adapter is robust enough to withstand day-to-day abrasion. We provide a mini-screwdriver, which you can use to tighten loose screws. Now, you do not have to worry about the screws falling and getting lost.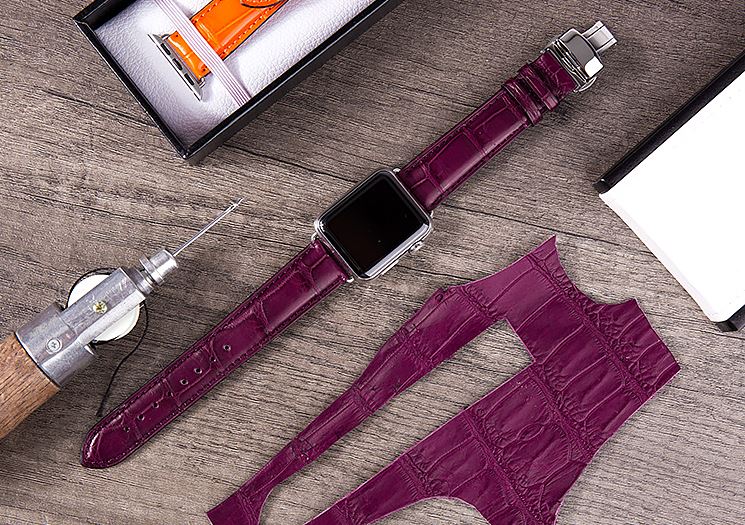 Why Choose Us?
BRUCEGAO's 40-year long commitment to quality and class ensures that your product will be among the best in the market. In terms of quality, alligator skin is the best. Each product is handmade by our experts who make high-end bags, shoes, and iPhone cases. With master-class fabric stitching and leather of unparalleled quality, you are in for a treat.
Are Luxury Apple Watch Bands from BRUCEGAO Expensive?
Some brands charge up to $450 for a single pair of watchbands. Well, that is the cost of the latest Apple smartwatch. Although we use 100% genuine alligator hides, and the products are reasonably priced. In fact, each leather hide is handpicked. The individual components come from across the globe, and the prices are reasonable.
Our Promise
Let us face it you are looking for class, comfort, and quality. BRUCEGAO's delivers on all its promises to customers. Our products will not disappoint you. However, they will put a smile on your face. Shop around and compare us with the competition. Ultimately, you will grasp the value we offer.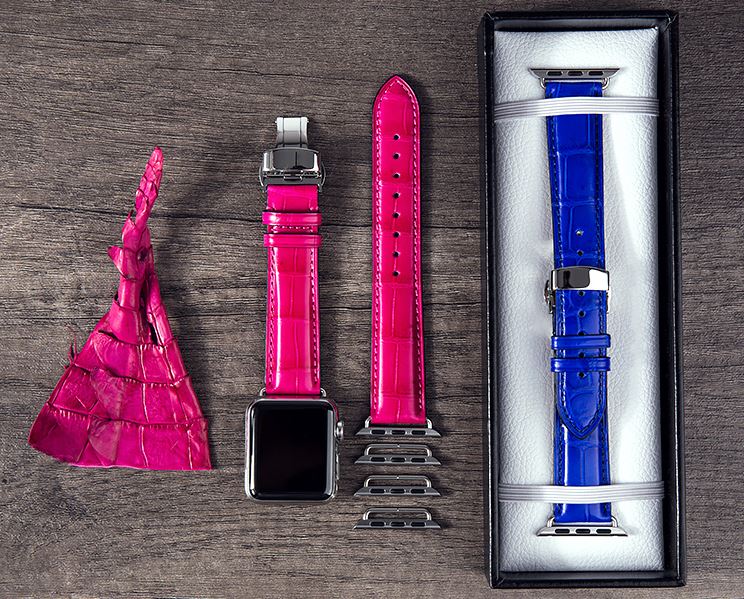 Why Crocodile Skin and Alligator Skin Are the Best for Luxury Apple Watch
Luxury apple watch band affects several factors that pertain to the experience you will have with your watch. Therefore, it is important that you choose the band to wear well. The best material that has ever been used in making the luxury apple watch band is Exotic leather. Therefore when you want to buy the luxury apple watch band, always think of alligator or crocodile skin since these are some of the best skins used to make exotic leather. There are various reasons why the next luxury apple watch band you buy should be made from crocodile or alligator skin. Here are some of the reasons why.
Gives You Longevity and Hence Value for Your Money
When you buy a luxury apple watch band made from crocodile or alligator skin, you should expect that it will serve you for a long time. This is also as long as you make sure you are taking good care of it. The crocodile and the alligator have skin that is generally tough and able to endure the tough conditions associated with where they live. Therefore when the same skin is used to make your luxury apple watch band, there is absolutely no reason to doubt its longevity. This is also dependent on the condition that you buy genuine leather and not just any other leather. In this regard, you need to make sure that you avoid those other cheap non-lasting materials since they will not serve the purpose that would be expected for your luxury apple watch band. This is the number one reason you will find many people willing to spend more to buy luxury apple watch bands made from crocodile or alligator skin.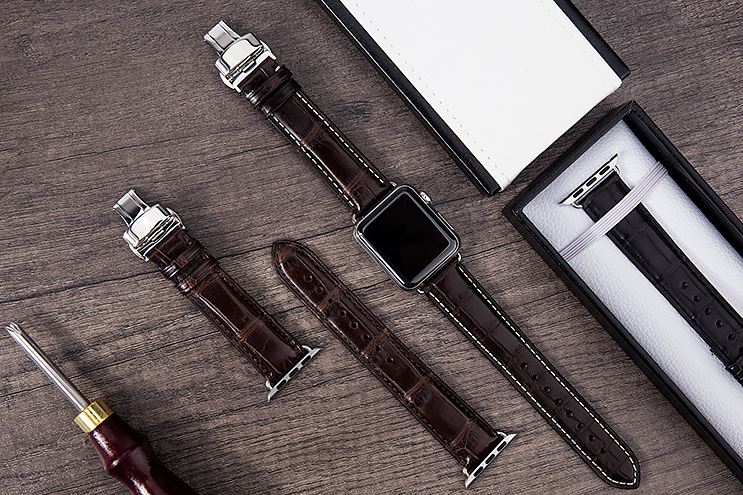 A Unique Exotic Look Associated with Class
The luxury apple watch is associated with elegance and class. Therefore, if you are wearing such a valuable watch, it looks better is the band matches the look on the watch. For this reason, you would like to buy the luxury apple watch band that will relay class and elegance. The best you can buy is the crocodile or the alligator luxury apple watch band since it matches this very well based on the elegance and style it is associated with. Don't go for the cheap bands that will wear out quickly giving your luxurious watch a bad look. This makes you become bored when you are wearing this watch. You need the watch band that you will be comfortable to show even in executive meetings. Therefore, the crocodile and alligator skin should be the first and final choice for you.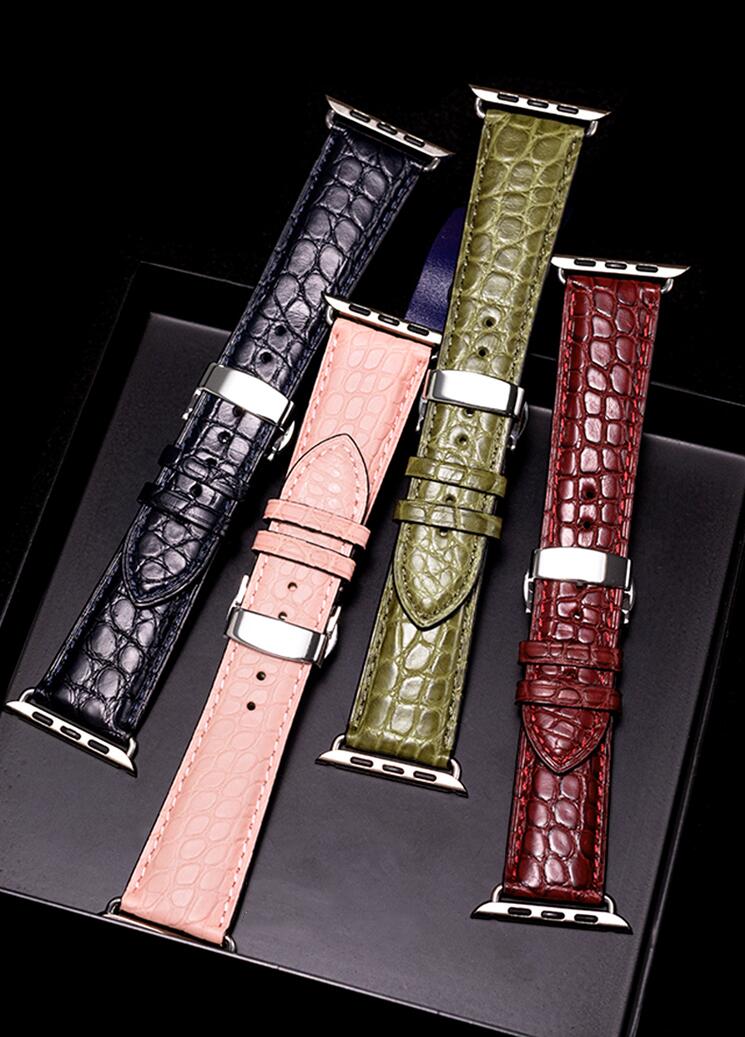 Comfort and Protection of Your Skin
You want to make sure that you have a high level of comfort on your skin. Therefore, the choice should be organic material that does not make your wrist area sweat and also that does not make your skin feel irritated. Definitely, the best choice here is the crocodile skin and alligator skin what we would call breathing skin. Therefore, make sure you are buying this type of material.
When you are buying a luxury apple watch band, you should be cautious to observe the above. This way, you will always be comfortable using the band.